In an ever growing creative world, it is easy for us to get bored of what we look at every walking day of our lives. We are constantly looking at ways to keep us interested, finding things that will make our heads turn. Think about it. You walk into a bakery because the cakes on display are something you've never seen before. You would want to get your hair cut by a salon that has introduced the current hairstyle trend.
Fact is, visual content can never be undermined. Visuals engage you more than any other form of advertising and play a more important role in our lives than we can imagine.
And this is exactly what brands today are tapping into. Visual marketing, the use of visual media like graphics, gifs, images etc. to promote your brand's identity, has gone beyond the average social media fan pages and is being used in numerous ways, each more creative than the last, to create higher customer engagement, have a more loyal fan base, increase sales and narrate your brand's story.
For more inspiration, here are 10 businesses that are at the top of their game when it comes to leveraging visual marketing.
1.  Target
Target, one of the largest discount retailers in the United States of America, has been lauded for their brilliant Pinterest strategies. They recently collaborated yet again with David Stark, designer and event producer, to build one of the creative campaigns that we have seen in recent times. 'Best. Party. Ever' was started sometime last November to help others host that perfect party without the fuss and hassle. It was all the more successful because it involved Pinners personally as well.
An added advantage Target has over its competitors is that it doesn't only use pictures of its products, but frequently combines both text and pictures to make Pins, creating a fresh and fun way to engage their fans.
Target knows that they cannot neglect the importance of visual marketing. Figures point in that direction as well. Target's 2.5 million pins have fetched them around 500k followers, their Facebook page has over 23 million likes and their Twitter account has close to 2 million followers. Target understands how to portray their brand visually, successfully.
2. Nike
It's the world's largest manufacturer of sports equipment but their visual marketing goes beyond hiring the most famous sportspersons to sell their products.
At 42.9 million Instagram followers, Nike had the second highest number of users following a global brand in April 2016, and that speaks volumes about the kind of stories they post. That's correct, instead of merely posting images and videos of their products, their posts tell stories about success, perseverance and hard work.
Posts generate 94% more views when they have visuals and graphics in them and a recent infographic shows how visual content can influence human emotions. By using certain colours along with inspirational quotes, various emotions can be elicited within the viewers , and this is precisely what Nike does. Their visual branding touches your emotional chords – they don't want you necessarily buy Nike to succeed, they simply want you to succeed, regardless of your standing or skill.
They call out to everyone who has a dream to "just do it"; that's the only way to achieve it.
Image Courtesy – Nike via Instagram
3. Coca-Cola
 For a minute, let's just talk numbers.
1. Cola Cola is the second most recognized word in the world, after 'hello'.
2. With 48.6% of the worldwide carbonated soft drink market share in 2015, Coca Cola leads by a huge margin – Pepsi Co. market share was only 20.6% in comparison.
3. More than 1.9 billion Coca Cola drinks are sold in 200 countries worldwide everyday.
That itself should tell you that very important for Coca Cola is marketing, which is mainly built on visual marketing. They focus on consumer satisfaction, brand stories and interactive customer experiences. They have over 100 million likes on Facebook, 1.5 million followers on Instagram and are active on Tumblr as well, with their page divided into four categories. Their social media accounts are designed to be engaging, interesting and are reminiscent of the standard Coca Cola brand that everyone is familiar with.
The brand now spends more money on creating content than on advertising on television. This video on their 2020 Initiative Strategy will tell you exactly what their visual marketing entails.
4. Starbucks
For 64% of people, customer experience is more important than price of a brand.
Starbucks is one brand that focuses mainly on this aspect of visual marketing.
More than coffee, they sell lifestyle, customer satisfaction and experiences. Their Instagram page, which has over 11.5 million followers, is filled with images, not just of brand promotion but of experiences and relationships, all in the background of a great cup of coffee. Whether they're talking about Thanksgiving or a rainy day, their page seamlessly encompasses the interests of their fans, the variety of their coffees and the values of their company.
5. Volkswagen
Visual content is more than forty times more likely to get shared on social media than any other type of content.
Volkswagen is one brand that uses this optimally. It has created a brilliant visually appealing timeline on their Facebook page using images from the past and present to walk users through the company's history and life, starting from the day it was founded to present-day Volkswagen news.
Considering how 93% of the most engaging posts on Facebook are photo posts, it is only natural that Volkswagen uses images of their products carefully to attain maximum impact. Their Pinterest strategy is similar: their page is full of images that depict the versatility of Volkswagen along with facts, history and future of the automobile brand.
By using visuals and experiential storytelling, they have ensured they have a loyal fan base along with a mass fan following across the internet – a step closer towards becoming the real 'people's car'.
6. Grammarly
A platform meant to boost your English skills and help you with your poor grammar, Grammarly did what most teachers couldn't even imagine – they made grammar fun, and, in the process, also got millions of fans from over the globe.
It doesn't matter that they have a frighteningly disproportional employee-fan number – they have a team of about 100 employees and over 7 million fans across the world.
Grammarly has built a kingdom of grammar nerds and transformed many of those averse to the concept by quirky, fun and creative images that portray the correct use of grammar.
Their visual marketing is aimed at using humour and wit to create ironic images and memes to garner a fan following, something they have succeeded in – Facebook is their most steady platform with over 6 million likes and their average organic reach is 10% of their total followers.
7. Kate Spade New York
American high fashion design house Kate Spade New York has a very strong presence on both Facebook and Pinterest, mainly because of their visual marketing strategies.
Colour, fashion and sophistication best describe their Facebook page. They have said it themselves on their website, "…our exuberant approach to the everyday encourages personal style with a dash of incandescent charm. We call it living colorfully."
Kate Spade's Facebook page matches seamlessly with who they are. Their presence on the Internet showcases their brand image, thereby enabling their customers to connect with them more. They are very particular about their branding, so despite not having very many Pinterest boards, they are able to generate interest in their page by displaying colour, culture and life.
It has been shown that posts with images have 2.3 times more engagements than post without pictures, which explains why most of their posts have images along with short captions and a follow up link – by adding a link, they arouse the curiosity of their customers.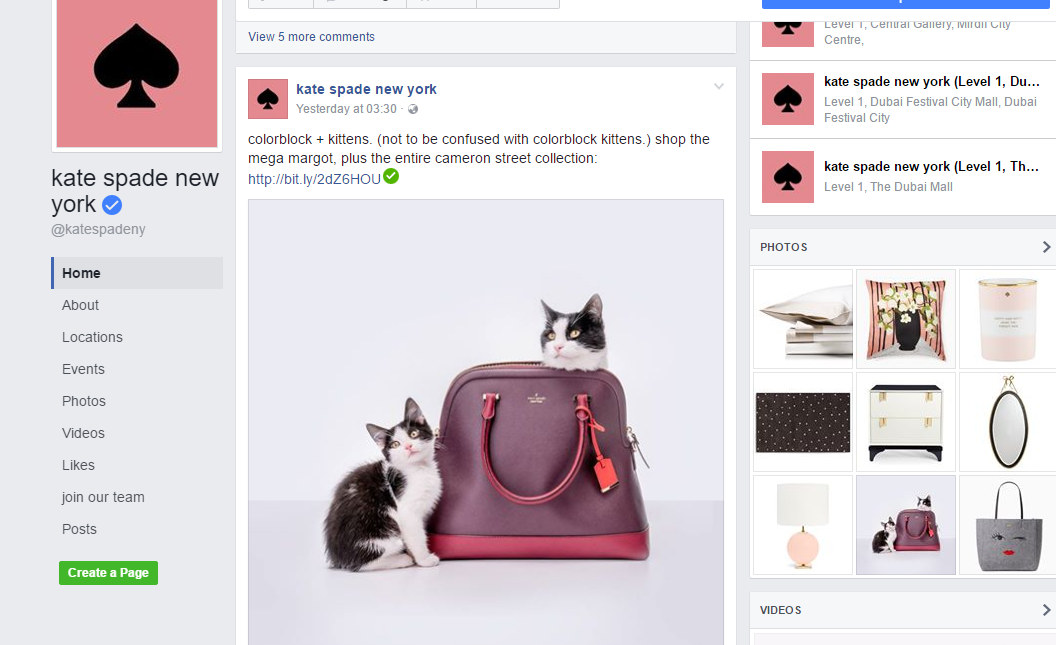 8. Lisa Curry
Former Australian competition swimmer, Lisa Curry has won over 50 medals in international competition, including 24 gold medals and 21 silver medals. She is also one of Australia's most famous speakers as well as a personal trainer and writer and has a massive presence on social media platforms.
According to Socially Sorted, her engagement rate was at 69% during the Olympics and it normally stable at 40-50% otherwise. The average engagement rate for a Facebook page is 2-5%. The figures seem unbelievable, but Lisa uses visual marketing to her benefits.
By using text and images together, she creates inspirational quotes that urge you to stay fit and healthy. She also regularly posts videos of how to live a healthy life and encourage people to work out. Her active social media presence along with the kind of the images she posts across Pinterest, Facebook and Twitter have garnered a worldwide folllowing.
Image Courtesy – Lisa Curry via Facebook
9. Whole Foods Market
American supermarket Whole Foods Market is known for selling preservative-free foods that are also free of artificial colours, flavours and sweeteners. They have an excellent understanding of how to tell visually appealing stories.
They post informative visual graphics including images, videos and infographics that don't just prove to be beneficial for viewers, but are also colourful and attractive. They are also responsive to posts on their Facebook page.
By posting quick recipes, informative graphics and links to articles that will draw the viewer's attention to them and replying to customers within only a few hours, they have utilised visual marketing in a way that's effective as well as interactive.
10. Sharpie
American writing material manufacturer Sharpie's main customers are school-going students and 86% of their Facebook followers are aged 13-24. Students get bored very easily and want new products very frequently. How then could Sharpie, a company based on writing supplies, cater to this need and expand their fan base?
Sharpie dug deep into how teens use social media.
According to Pew Internet, 92% teens said they go online daily with 24% admitting to being online almost constantly. Facebook dominates the social media world with 71% of teens actively using the website.
By making content visual and more engaging, they were able to grow enormously. After launching their Back to School campaign, where they redesigned products as well as their website and launched several new items, their market share grew to 89% of their category.
They promote self-expression by frequently posting new videos about how to use Sharpie tools in new ways and encouraging users to get creative with their products via their YouTube channel.
They also their cover image on Facebook often and actively provide their users with creative tips and ideas along with pictorial inspiration.
Despite producing a humble product with otherwise limited uses, by simply getting creative with visual marketing, Sharpie has managed to change the way people view stationery.
Visual marketing today cannot be ignored and brands themselves are actively incorporating the idea into their budgets. 71% of all marketers will plan to increase visual content in 2016 and 65% of senior marketing executives say that photos, videos are infographics are key to communicating their brand story. Whether you want to increase business or revive your idea, visual marketing is important in helping you take your business to new levels of success.
Featured Image Courtesy Of Slide Share