Are you one of those people stuck in a boring 9-5 job? Does your day only involve staring listlessly at that seepage stain on the wall which suspiciously looks like a Stormtrooper? All that the creaking ceiling fan, the broken coffee machine and the myriad stains on the wall do is enhance your prowess at playing spot the celebrity stain doppelganger when your work environment should be inspiring you to brainstorm on an upcoming project.
Well, some companies looked into the problem of dull workspaces reducing creativity and the will to work, and decided to have a synergy between work and play at the office. They have come up with cool and creative work spaces to augment their employees' morale as well as inspire them to be just as out of the box as the offices they work in!
1. Epic Systems Corporation
is a tech company which manufactures software for mid size and large medical groups, hospitals and integrated healthcare organizations. That sounds dreadfully boring doesn't it? Well to override this assumption, Epic Systems Corporation has built one of the coolest workspaces for its five thousand lucky, lucky employees at it's headquarters in Verona.
Taking inspiration from Indiana Jones, the New York City subway and the New York Stock Exchange, they have created a work of art instead of an office.

Photo Courtesy – glassdoor.com
2. Wieden + Kennedy
is an independently owned advertising agency headquartered in Portland. But it's not the Portland office that dazzled us, albeit being just as aesthetically appealing; it's their New York office that takes the cake. While expanding, in an effort to minimize fragmentation of the building, they decided to put in a sweeping 'coin' staircase which served the dual purpose of a staircase and a seating stadium, connecting the various floors.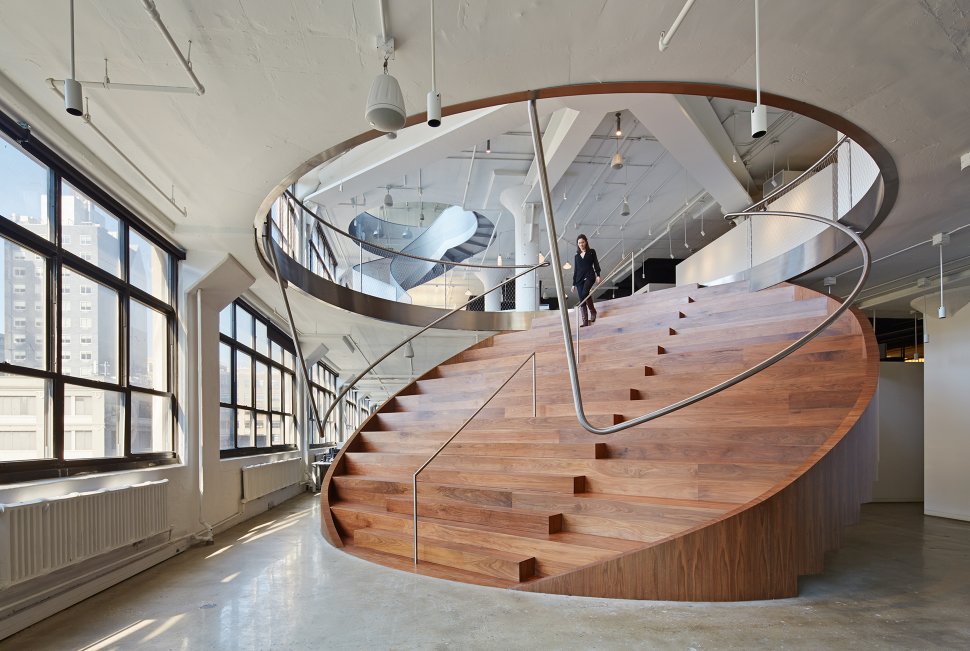 Photo courtesy – Inc.com
3. Selgas Cano Architecture Office
Spanish architects Jose Selgas and Lucia Cano have designed a truly jaw dropping office for their own practice. Located in the woods of Madrid, Spain this marvel serves as a catalyst to natural ventilation as well as an ode to innovative and unique architecture.
Photo courtesy – Iwan.com
4. Google
Google is famous for having the most playfully themed offices spread all over the continents. Firm believers in the 'all study and no play will make Jack a dull boy' theory, they have endeavored to create a balance between work and play in the office space by providing various intriguing modes of relaxation. Be it impromptu band performances, gaming rooms, slides or just a tryst with nature, they have done it all.
Photo courtesy – boredpanda.com
5. Pixar
Working at the animation giant Pixar, Emeryville, has to be a dream come true for every kid and adult alike. To motivate and channelize individual creativity, the employees at Pixar are given an option of customizing their cubicles with their preferred characters and stories. And if that wasn't enough, the hallways and common rooms are filled with life size characters giving the employees a feel of their perfect fairy tales.
Photo courtesy – creativeblog.com
6. Ogilvy and Mather
A Chinese advertising agency, Ogilvy and Mather transfixed us with its wacky office design. The company follows a theme of amusement parks and carnivals throughout the office, bringing out the inner child of the employees from time to time to help them with their taglines. Like the carousel never stops turning, neither do the cogs of the employees.
Photo courtesy – creativeblog.com
7. Inventionland
The corporate headquarters of Davison Design and Development, Inventionland, located in Pittsburgh is one of trendiest invention hubs in the world. Companies and professionals from across the world come here to innovate and reinvent their products. The invention factory is like Willy Wonka's chocolate factory except it transforms ideas into creative products instead of churning out chocolates. Just because they have 'creationeers' instead of oompa-loompas doesn't mean the workspace has to be any less wonky!
Photo courtesy – officesnapshots.com
8. Comvert
this Milan based company manufactures clothing and accessories for skateboarders and snowboarders all over the world. Going with along with it's target audience, it decided to rev up it's interior decor with mobile furniture and graffiti walls. If that wasn't cool enough, they even built an inhouse skating rink at the beck and call of the employees!
Photo courtesy – viralnova.com
9. The WonderFactory
The brainchild of creative directors David Link and Joe McCambley, this New York based web designing company gives you a creative ride from beginning to end. Going with rad bookshelves as doors and amazing graffiti on the walls, it has definitely earned the right to be called one of the coolest nests built!
Photo courtesy – officesnapshots.com