Looking for an AirBnB in Delhi can get hectic. There are so many great places to choose from.
You open and scroll through the website and take a look at all of them one by one. Each AirBnB is highly ranked, well reviewed and located in the heart of the city, so how do you choose the one perfect for you?
We understood the ordeal and decided to help fellow travellers out. We took the most reviewed AirBnBs that ranked 5 on 5 on every measure and found what really sets them apart.
All the BnBs have been put up by 'superhosts', which means that they meet AirBnB's criteria for outstanding hospitality. Additionally, the properties also have wifi and air conditioning available because no good stay can happen without them.
So, read on and find your new favorite!
1) Loft With a Zen Terrace Garden & Bar Counter
Mani offers a loft with an expansive garden terrace full of greenery complete with a ceramic Buddha statue, bar and a great view of the sunrise and sunset.
What sets it apart?
Exclusive access to a beautiful terrace with a gazebo and bar counter and a study room with books of various genres. There is also an exclusive kitchen that comes with all basic appliances. Even international adapters, hair dryer and an iron is available on request.
What should you know?
You should know that cooking non-vegetarian food is not allowed in the loft. However, you are free to order takeout!
Book it at Terrace Room with Gazebo @ Green Park Hauz Khaz Village by Mani
2) Apartment With A Rajasthani Theme And An Amazing View
A fellow traveller himself, Nalin rents out an apartment in one of the most popular spots of the city. Beautifully done up in Rajasthani decor, the place is one of the 3 properties that he provides for stay at AirBnB.
What sets it apart?
A fantastic location that is the hub of art, culture and food in Delhi. There is a mesmerizing view of Hauz Khas fort and lake from the apartment. Both Indian and continental breakfast is provided and included in the price.The host can curate personalized trips for you. There is also the option of an airport transfer.
What should you know?
Nothing really. The place seems fantastic and each review was great!
Book it at Heritage Apt 3@ Hauz Khas Village by Nalin
3) Airy Room And Outdoor Space With An Indian Family
Jayati and her parents offer a spacious room and cute balcony in their home for stay and love to show travellers the warmth of an Indian family hosting.
What sets them apart?
The option of home-cooked vegetarian meals, advice on navigating through the city and even classes on cooking Indian food. They can also help you arrange trips to nearby cities. The room, also, is huge and has enough space for an extra mattress, if needed.
What should you know?
You should know that non-vegetarian food and smoking is not allowed in the house. You can smoke in the common area of the ground floor though.
Book it at Sunny, Airy, Huge Room & Balcony – 1 min from Metro by Jayati
4) Beautifully Designed Studio With a Blooming Balcony
Vinita and her husband, Pravesh open up their lovely home in Green Park (which also featured in a Bollywood movie) to travellers. They are passionate about cooking and gardening and love to see flowers bloom and add color to their balcony.
What sets the place apart?
An immaculately home designed by Pravesh himself and the view of a historical monument from it. There is also a library and a guitar available for use. The hosts are very considerate and even provide phone numbers of delivery and grocery outlets.
What should you know?
You should know that you might have to climb a bit. The house is on the 2nd floor and there is no facility for an elevator.
Book it at Charming Studio with Terrace Garden by Vinita
5) Cozy Apartment With a Travel Desk
Anmol and Migmar are on their way to fulfill their dream of travelling to 20 countries before this year ends. They are currently living in London and Anmol's mom Sumeeta is managing the BnB. They are proponents of a popular Indian saying which translates to 'The guest is a god' and provide travellers with a comfortable and homely stay.
What sets them apart?
A storage service for your luggage even after your trip so you can pick it up as per your convenience. The trio have a travel desk and can organize transportation and same day outstation trips. They also exchange foreign currency to INR. Moreover, there's the option of a home-cooked breakfast by 'super mom' Sumeeta who Anmol says makes the best aloo parathas in the world!
What should you know?
We couldn't find any problems with the BnB but a few reviews say it's a shared room. So, it'll be helpful to clear that up before you book.
Book it at Anmol & Migmar's HomeStay 1: Now with air purifier by Anmol, Migmar & Sumeeta
6) Ground floor Room For a Private Yet Safe Stay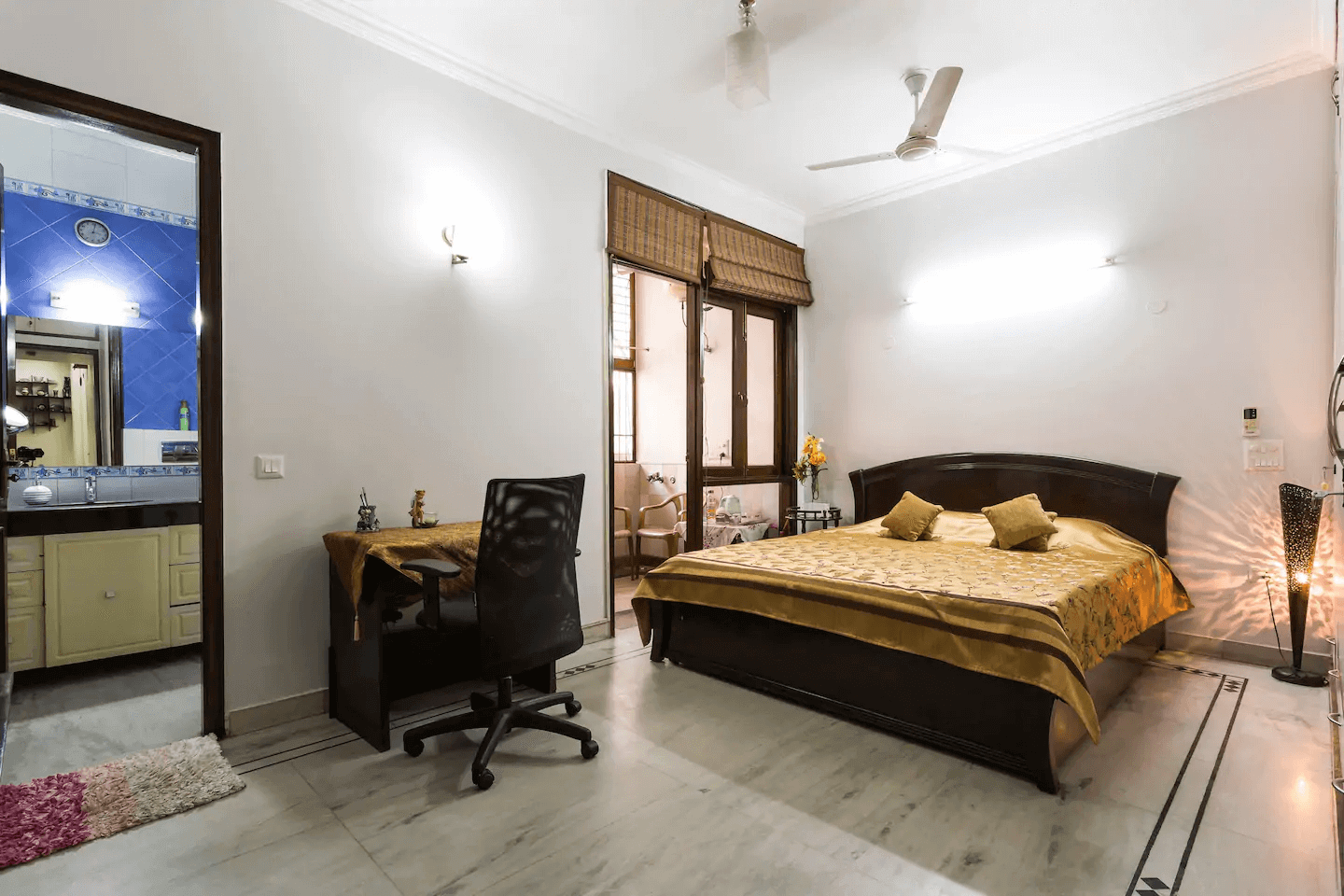 Ritesh loved the concept of a BnB as soon as he knew it. While he takes care of the technicalities, his wonderful parents do the actual hosting. They are friendly, considerate and well-travelled themselves.
What sets the place apart?
You get to know what authentic Indian hospitality is like- warm and sweet. The elderly couple understands the hesitations of travellers and helps them get comfortable. To ensure privacy, the property has a small private sit-out place attached to the room and a separate entry and exit door through it.
What should you know?
Smoking is not allowed in the room. However, since the room is on the ground floor stepping out to grab a smoke shouldn't be a hassle.
Book it at Large, Safe BD, 5 min Metro, Free fast WiFi #1 by Ritesh
7) A Cozy Room With Roof Deck And Lush Garden
Sunil is a retired chemical engineer who has lived in many different places in India and abroad. He loves to read anything interesting he can find his hands on and looks after his garden when he isn't entertaining passionate travellers.
What sets the place apart?
The roof deck where you can go for a clear view of the sky and a smoke. There is the convenience of Sunil's cook Shankar who can take care of your meals. The kitchen also comes with a plethora of working appliances and is fully-stocked with breakfast items.
What should you know?
Since the description says that the roof deck is open for smoking, we assume it is not allowed inside.
Book it at 3 Room Ind. Dream Suite. A Home away from Home by Sunil