A fresh well-crafted cup of coffee is one of the simple pleasures of life.
Piping hot espresso in the freezing winter and iced latte for when it's a bit warm- there's a coffee for every season and every mood if you are in London.
So we put together some of the best places that appreciate a cup of coffee as much as we do (well, possibly much more than us).
Drop in at these lovely cafes for coffee so wonderful that you can't help but order every time:
Monmouth Coffee Company

Monmouth Coffee Company offers some of the best coffee in London.
Located in Covent Garden, The Borough and Bermondsey (open only on Saturdays), they source coffee from small farms in countries such as Colombia, El Salvador, Ethiopia, Indonesia and Kenya in small quantities.
This practice ensures sustainable and quality trade since coffee is seasonal, and the natural cycle of a coffee plant yields only one to two crops a year. Hence once a particular lot is over they move to the next one they bought.
They also deliver the coffees of your choice via their website. But if it is in small quantities, you will find it only in the shops.
Department of coffee and social affairs

Finding Department Of Coffee And Social Affairs shouldn't be difficult – they already have 14 cafes in London and two more underway.
They brew single origin coffee, that is, their coffee comes from only one producer, crop or region in a country. The coffee once imported, is roasted at their roastery in East London. Their coffee thus remains of the same quality and taste and is 100% traceable.
They have a cold brew coffee lab where delicious experiments with coffee go on.
Looking for a lovely coffee and fresh sandwiches at your next meeting? Host it here! Book them for gatherings on hourly, half-daily and daily basis with a tab or discount!
Fabrique Bakery

Fresh bread and coffee go hand in hand.
Originally from Stockholm, Sweden, Fabrique Bakery uses traditional methods to make artisanal sourdough bread by hand and bake it in a stone oven for a light, fluffy and soft texture. In addition, their coffee comes directly brewed from Sweden.
Head here for a breakfast of blueberry bun and delicious cappuccino.
The Gentlemen Baristas

Gentlemen Baristas makes affordable yet delectable coffee across 8 locations in London. Their coffee comes from co-ops and single estates of Kenya, Honduras and Nicaragua.
The shops here bring back the charm of an old English coffee shop. The motto 'Well-mannered coffee' guarantees good service, food and of course, coffee.
They also have a coffee school for amateurs and professionals alike that teaches everything from basics to advanced techniques of coffee making.
Algerian Coffee Stores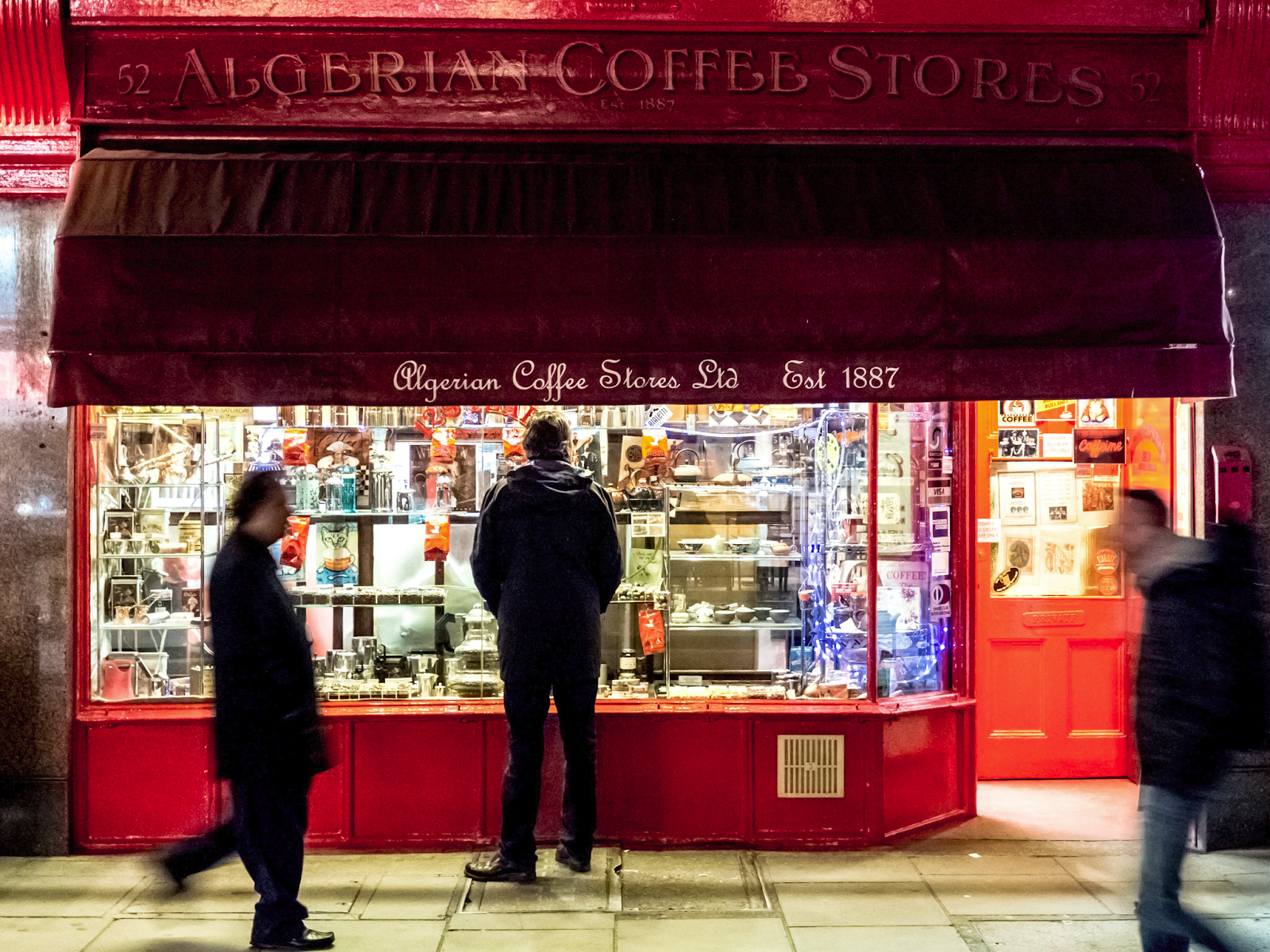 Algerian Coffee Stores is a 133-year-old coffee and tea shop in London, providing delicious and quality coffee at prices as low as £1. The shop has an old school vibe with its original features like wooden counter and shelves still in use.
Head here for a calming cup of coffee in busy London.
They also stock a variety of coffees such as Yemeni Matari, Malawi and Indian Monsoon Malabar.