Beyond The Beach: Top 10 Tropical Islands For Much More Than a Swim
Think of tropical islands and crystal-clear blue water and pristine white sand appear in my mind.
A dip in the ocean is the next thought.
And that's what most really think.
While beaches have their fair share of fans, I have met many people who don't like to swim, prefer the hills than the coast or are looking for something more than just sitting around on a beach every day.
And the thought of that beaches is all that a tropical island can offer makes them strike it off of their travel list.
But what most people don't realize is that there is so much to do on tropical islands even if you don't' swim. Tropical islands scream a beautiful summer with or without beaches.
So, head to one of our top 10 tropical islands that offer much more colour than blue and white:
1) Koh Lipe, Thailand
Koh Lipe, also called 'Maldives of Thailand', is one of the 51 islands of Southern Thailand that make up the Tarutao Marine National Park. Despite scenic views, it is not very well-known, and that makes it the perfect destination for a laid-back vacation.
There are three main beaches in Koh Lipe- Pattaya, Sunrise and Sunset beach. Pattaya is your best bet for partying and fire shows and the other two for silence and serenity.
During the day, take an art workshop from Lipe Art Garden or go for an adventurous hike to Koh Adang Viewpoint to get a bird's eye view of Koh Lipe and nearby islands.
Go to Walking Street on Pattaya in the evenings to eat freshly cooked day's catch, drink delicious cocktails and maybe get a permanent bamboo tattoo to cherish your time here.
At night, check out the phenomenon of bioluminescent phytoplankton in Koh Lipe. Even if you wouldn't like to swim with the plankton, the fluorescent blue gleaming against pitch-black water will be an unforgettable sight to see.
2) Seychelles Islands
Seychelles Islands are said to have the most beautiful beaches in the world. But what's lesser known is the variety of wildlife that thrives here.
Ditch the beach and cycle around to see the rare Black Parrot. It's the national bird of the archipelago and found nowhere else in the world. Go to Aldabra, a quaint island out of people's reach to see the largest population of Giant Tortoises found anywhere.
While in Seychelles drink from the world's largest coconut Coco de Mer which can weigh up to 20 kilos!
In the mood for something harder? Head to La Plaine St André and visit the 250-year-old estate of Takamaka Bay rum distillery to watch rum fermentation and taste their five local rums. Head next to the rustic wood restaurant on the estate for lunch and even more rum.
Try Seychelles' delicacies that are like no other- shark (yes, shark) chutney, a plantain sweet called ladob and octopus salad.
3) Langkawi, Malaysia
Langkawi is a group of 99 islands on the Western coast of Malaysia. Although famed for scuba diving, this island with turquoise waters has a lot to offer other than water sports. I went for a couple of days and ended up regretting how small my trip was.
Go to the 125 metre-long curved Langkawi Sky Bridge for an exciting (and a bit scary) view of Telaja Tujuh waterfalls and the islands around. Visit Underwater World Langkawi to see over 500 species of marine life such as stingrays and turtles without a step into the water.
Try delicious Malaysian food influenced by South India and China. Spend your evenings laying on bean bags or hammocks at the beach and enjoying live music at one of the popular bars along Jalan Pantai Chenang. For some thrill, feed eagles at Singa Besar Island.
4) Bora Bora
Photo credits: Boraboraphotos.com
Bora Bora is an island of French Polynesia with clear water and white sand beaches. While it is well-known for its luxurious bungalows on stilts, there are plenty of other things that make it a top choice for anybody who wants to explore this paradise.
Head away from the coast and explore Bora Bora's well-preserved lagoon. Venture on your own or join a lagoon excursion for a full-day trip that most of the time also includes shark and stingray feeding. For a souvenir, go to Tahiti Pearl Market, pick a pearl of your choice and get it mounted into jewellery.
Feeling adventurous? Head for a hike to extinct Mount Otemanu Volcano in the middle of the island. Due to fragile volcanic rocks that don't support the weight of humans, no one has successfully climbed it yet. Even if you are not up for the challenge, the climb to the base is scenic, and you can spot abandoned cannons from World War II and historical ruins on your way.
5) Andaman and Nicobar Islands
Andaman and Nicobar Islands are a group of 572 islands located in the Andaman sea and have some of the most beautiful beaches of India. However, the islands, along with pristine beaches, also have a rich history and are home to many indigenous tribes.
You will arrive first to Port Blair via a flight from Kolkata, Bangalore or Chennai. It is the most commercial island of the archipelago, and you can enjoy a variety of local food here. Go to Havelock Island from Port Blair via a seaplane or a ferry. Trek through the island or hire a moped to discover local shops, waterfalls and wildlife.
The Cellular Jail or Kaala Pani (Black Water), a prison under the British rule is an important landmark of the islands. A part of the jail was converted into a hospital, and history enthusiasts tour the rest. A daily light and sound show showcasing its history is conducted every evening and is worth a watch.
Another major attraction is a full-day trip to Ross Islands, dive into history here through picturesque ruins of Presbyterian churches and buildings engulfed by trees and inhabited by wild birds.
I have been hooked to this place since my closest friend showed me pictures and spoke about how fantastic it was to have lived here all her childhood. The 12 year old looked at photos of the beautifully green island and started a travel bucket list.
7) Srilanka
There is so much to do in Sri Lanka that a couple of days won't suffice. While going to Colombo is always an option, Kandy, a few hours away from the capital is a calm and laid-back town worth venturing.
A peaceful town situated on top of a plateau, Kandy is perhaps most famous for Temple Of The Tooth. It is said to house the relic of Buddha's tooth. North of it is Dambulla, which has the beautiful Dambulla caves, a 2000-year-old UNESCO world heritage site with more 153 Buddhist statues.
Also, be sure to try your hand at cooking Srilankan cuisine, it is aromatic and delicious. There are plenty of local chefs willing to teach tourists for a small fee.
8) Bahamas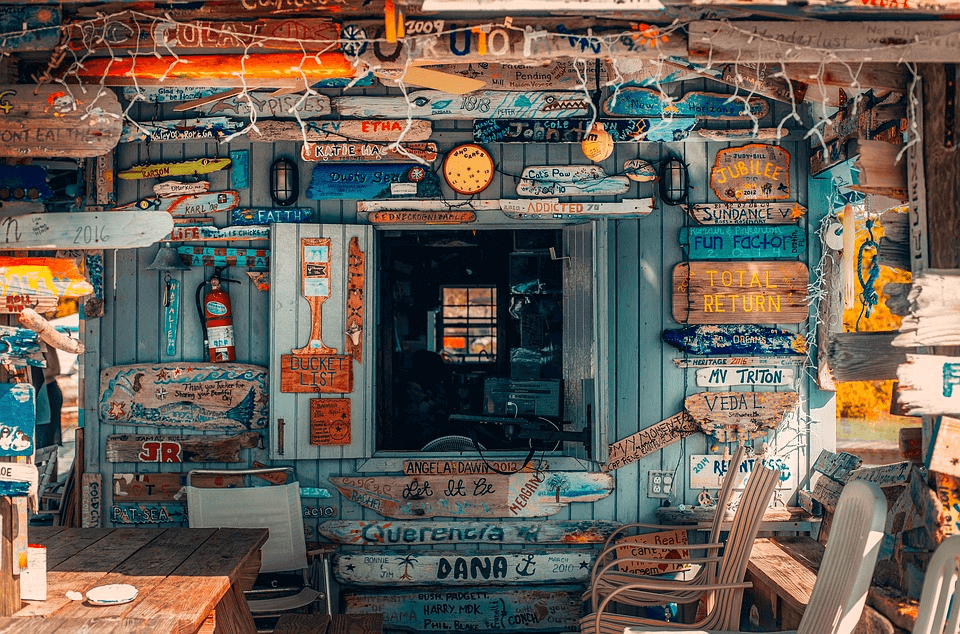 The Bahamas is enriched in natural beauty and history. There is so much to see even if you don't want to step on a beach.
The Clifton Heritage National Park honours the legacy of those who first developed the Bahamas. Hike through one of its trails and see the ruins of an old plantation and an Amerindian cave.
The Queen's Highway on Eleuthera Island is another fascinating destination. It was initially constructed to replace a piece of natural land but now is called 'narrowest place on earth', and that's not without reason. Beneath the glass bridge, you can see the mesmerizing sight of the blue Atlantic Ocean and turquoise Caribbean sea meet.
Another historical landmark is Fort Fincastle which was built on Bennet's hill to protect the town of Nassau from enemy attack. Made in 1973, the fort now offers a beautiful view of Nassau and Paradise Island.
Leading to the fort is the Queen's staircase built by African slaves in the 1970s. The 66 steps were carved out of limestone and later renamed after Queen Victoria. Locals provide daily tours of both the places and a great way to understand the way of life in the country.
9) Bali, Indonesia
Bali is home to serenity, peace and vibrant culture. Rejuvenate here in spring water at the ancient Tirta Empul Temple which locals believe has healing powers.
For some thrill, head to Mount Agung, an active volcano that the Balinese believe replicates Mt Meru, the centre of the universe. It's an energizing hike to the top, and you can take a break to visit Pura Besakih, the most important temple in Bali located on the slopes.
Rent a cycle and ride around to explore Bali in the best way. See picturesque rice terraces, ancient buildings and interact with the friendly locals to know their customs and way of life. To delve further into Balinese culture, head to Ubud palace to watch the famous Ramayana ballet.
10) Barbados

Visit Barbados for a vacation full of amazing sights and a fascinating history.
Take a tour to Harrison's Caves for a mesmerizing sight of stalactites, stalagmites and a clear underground river. Visit the Nidhe Israel Synagogue, one of the oldest synagogues in the western hemisphere. Built in 1654, the building houses a recently discovered mikveh and been declared as a UNESCO protected property.
If you are heading here between December and April, be sure to go to Morgan Lewis Sugar Mill and see how sugar was traditionally made in the Caribbean by harnessing wind power. The mill offers a beautiful view of the island too.
Head to Cheapside Street Market, a famous market for both locals and tourists to enjoy fresh fruit and home-grown coconuts. Roam around and gorge on the fruits or buy souvenirs from one of the stalls.
A fun way to spend time in Barbados is to see the Drag Show on Sunday nights at Ragamuffins and watch their fantastic resident drag act where the women perform and interact with the audience.