There is so much to love about Blue Tokai; most inspiring, however, is their passion for Indian coffee.
While the founders admit that instant alternatives and tea have somewhat sidelined coffee in India, Indian coffee is recognized amongst the best in the international coffee community. They want to bring back the glory of Indian coffee to its home. So, Blue Tokai uses only Arabica specialty grade beans grown in South Indian estates.
Alongside cafes, they make deliveries of freshly roasted coffee, sell brewing equipment and have a coffee training centre which conducts classes and workshops on all things coffee.
Honestly, we absolutely love their coffee. So, we thought it's only fair to show our love by going on a mega coffee spree across Blue Tokai's 12 cafes in Delhi-NCR, what they are great spots for and just to see everything they have to offer.


1) Saidulajab


Saket's Champa Gali is an up-and-coming lane with cafes, restaurants, shops and an art gallery lined up. While Champa Gali is brimming with a crowd on the weekends, Blue Tokai Coffee Roasters was one of the first ones to open when very few knew that Champa Gali even existed. A minimalistic theme with an indoor and outdoor area, it has circular windows that give a view to their roastery and is quite a fascinating sight for coffee lovers.
Address:
SAIDULAJAB ROASTERY
KHASRA 258, LANE 3, WESTEND MARG,
SAIDULAJAB, NEW DELHI 110030
+91 88104-77197
CAFE HOURS: 9:00 AM TO 10:00 PM
https://goo.gl/maps/P968wvAUVEE6fFzn9
2) Hauz Khas market


Big Fat Sandwich, Blue Tokai Coffee & Miam teamed up for an extraordinary food experience in Hauz Khas. Visit here to enjoy your coffee with Grandma's special sandwich or a piece of walnut pecan pie. Hauz Khas market is quaint and calm, so the blue Tokai here is a perfect place for a relaxed, indulgent meal.
Address:
HAUZ KHAS MARKET
HAUZ KHAS ROAD, HAUZ KHAS,
NEW DELHI, DELHI 110016
+91 88104-82519
CAFE HOURS: 9:00 AM TO 10:00 PM
https://goo.gl/maps/TmAzznv3xRixZnYZA
3) Basant Lok Market


Located in the PVR Priya Complex, we say skip the popcorn and cold drink during the interval of your movie and try an iced latte and parsley garlic cheese fries before at Blue Tokai instead.
This outlet is smaller than the others so we'd recommend grabbing a quick bite rather than lounging here on the weekends.
Address:
BASANT LOK MARKET
PVR PRIYA COMPLEX, BASANT LOK MARKET,
VASANT VIHAR, NEW DELHI 110070
+91 72900 97259
CAFE HOURS: 9:00 AM TO 10:00 PM
https://goo.gl/maps/bBkYdCNsUT4QDty96
4) Deer Park


Blue Tokai in Deer Park is located right next to The Piano Man and is perfect for coffee after a jazz and wine night. Marvel the moon at their outdoor seating as you sip creamy coffee before heading home.
Address:
DEER PARK
B6 Commercial Complex, Safdarjung Enclave,
Opposite Deer Park, Near Mother Dairy, New Delhi 110029
+91 96671-58787
CAFE HOURS: 9:00 AM TO 11:00 PM
5) Greater Kailash 2


The Greater Kailash 2 outlet is perfect for a shopping break. A collaboration with Big Fat Sandwich at this outlet, a cup of coffee and a juicy sandwich for lunch will get you back in spirits to continue shopping spree.
Address :
Blue Tokai x Big Fat Sandwich
M 31 ground floor
Local shopping complex
Greater Kailash 2
New Delhi 110048
+91 93159-71957
CAFE HOURS: 9:00 AM TO 11:00 PM
https://goo.gl/maps/W4zA9a5corYAcBFw6
6) Rectangle Building, Saket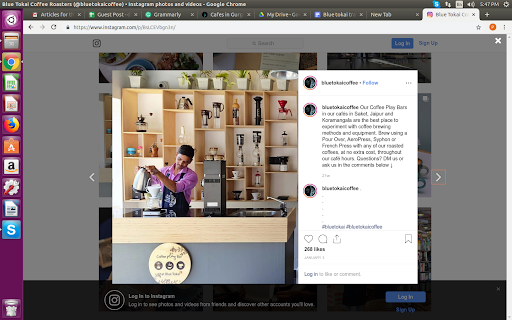 We love the outdoor space of this Blue Tokai. Light wood table and chairs with plenty of potted plants and fairy lights, this space would be perfect for a cup of joe post-office to unwind with friends.
Address :
Blue Tokai Coffee
R-1 Ground Floor, Unit No. 1 & 2
Rectangle Building 1
Saket
New Delhi 110017
+91 8810404964
CAFE HOURS: 8:00 AM TO 10:00 PM
https://goo.gl/maps/yrvZ1croMQ8Y1nff9
Noida


7) B block, Sector-5


Noida people don't have to despair; Blue Tokai recently opened its door in Noida at the sector-5 market. Noida has many universities where classes and exams get hectic sometimes, and students crave a good cup of coffee every time there is a break, this is the solution to your woes.
Blue Tokai is very quaint, so it's even great for study sessions and last-minute revisions with energizing coffee on exam day.
Address:
The Shop Noida, B-126, Udhyog Marg, B Block,
Sector 5, Noida, Uttar Pradesh 201301
Landmark: diagonally opposite payTM office +91 93199 70303
CAFE HOURS: 9:00 AM TO 8:00 PM
https://goo.gl/maps/t2n3CiefDghpe2f4A
Gurugram


8) Galleria Market


The coffee here comes with a good read! Blue Tokai has collaborated with Bahrisons Booksellers, a 66-year-old family-run bookshop at Galleria market. Come here to get delicious coffee and lost in the world of books.
Address:
R-1, 2nd floor, Galleria Market
DLF Phase – IV, Gurgaon, Haryana 122002
+91 72900 97348
CAFE HOURS: 9:00 AM TO 10:00 PM
https://goo.gl/maps/v2aDEWEv1N19WViU8
9) DLF Cyber City


This one is a no-brainer, Cyber City's Blue Tokai is the perfect spot for office goers who are looking for a cup of coffee to bring them back to life on a busy day. Alternatively, if there is no time for a lunch break, take a coffee to go and make work fun again.
Address:
DLF CYBER CITY
Building 5, DLF Cyber City
Gurgaon, Haryana 122002
+91 93151 58536
CAFE HOURS: 8:00 AM TO 8:00 PM (Mon – Fri)
(Closed on Saturday and Sunday)
https://goo.gl/maps/eYUKm2W21oNMLdY18
10) Ambience Mall


These guys are killing us with their amazing collabs, at Ambience Mall Blue Tokai is serving coffee with Suchali's Artisan Bakehouse's decadent treats. Come to this one in Ambience mall to give your hands a break from holding all those shopping bags and give your soul a treat.
P.s. Suchali's Artisan Bakehouse also does a coffee cream cruffin that is made from Blue Tokai's blends.
Now you know where to go for coffee when there isn't a Blue Tokai nearby 😉
Address:
Ground Floor, Opposite Pantaloons, Ambience Mall,
DLF Phase 3, Sector 24, Gurugram, Haryana 122002
+91 96671 08787
CAFE HOURS: 10:00 AM TO 11:00 PM
https://goo.gl/maps/o37evsinLFEkDMZ77
11) Cyberhub


Blue Tokai has clubbed with AMPM cafe & bar at Cyberhub and specially roasts fresh coffee for them. It's given us the option of clubbing our continental fare with decadent coffee. Blue Tokai x AMPM cafe is great for anybody who doesn't want to drink alcohol on a night out but enjoy a cafe cum bar's vibe. It is also suitable for a group of drinkers and non-drinkers as there are plenty of options for both now!
Address:
At AMPM Café & Bar Building 10, Block C,
UGF Unit/C, Unit 1A DLF Cyber City, DLF Phase 2, Gurgaon
+91 9354276935
CAFE HOURS: 10:00 AM TO 12:00 AM
https://goo.gl/maps/f9XChPhhJpnnUmLCA
12) M.G. Road, Sikanderpur


The Blue Tokai here is perfect to stay sober up from Saturday night drinks at the surrounding lounges and clubs. It is also an excellent option for a Sunday morning breakfast. Nothing like the smell of fresh coffee to awaken your senses, is there?
With its expansive seating arrangements we think it'll be particularly great for large events and book clubs as well.
Address:
PLATINA BUILDING, 19 MG RD, SIKANDERPUR,
DLF PHASE 1, GURGAON 122002
+91 72900 97261
CAFE HOURS: 9:00 AM TO 9:00 PM
https://goo.gl/maps/W1GYGhm2mg6wyB7E7
Address and google links of Outlets


SAIDULAJAB ROASTERY
KHASRA 258, LANE 3, WESTEND MARG,
SAIDULAJAB, NEW DELHI 110030
https://goo.gl/maps/tgmYsqUcsL1L61dP9
HAUZ KHAS MARKET
HAUZ KHAS ROAD, HAUZ KHAS,
NEW DELHI, DELHI 110016
https://goo.gl/maps/TmAzznv3xRixZnYZA
BASANT LOK MARKET
PVR PRIYA COMPLEX, BASANT LOK MARKET,
VASANT VIHAR, NEW DELHI 110070
https://goo.gl/maps/bBkYdCNsUT4QDty96
DEER PARK
B6 Commercial Complex, Safdarjung Enclave,
Opposite Deer Park, Near Mother Dairy, New Delhi 110029
https://goo.gl/maps/Un5V1dDScyyVf7vw5
GK2
Blue Tokai x Big Fat Sandwich
M 31 ground floor
Local shopping complex
Greater Kailash 2
New Delhi 110048
https://goo.gl/maps/W4zA9a5corYAcBFw6
SAKET
Blue Tokai Coffee
R-1 Ground Floor, Unit No. 1 & 2
Rectangle Building 1
Saket
New Delhi 110017
https://goo.gl/maps/yrvZ1croMQ8Y1nff9
NOIDA
The Shop Noida, B-126, Udhyog Marg, B Block,
Sector 5, Noida, Uttar Pradesh 201301
https://goo.gl/maps/t2n3CiefDghpe2f4A
SIKANDERPUR
PLATINA BUILDING, 19 MG RD, SIKANDERPUR,
DLF PHASE 1, GURGAON 122002
https://goo.gl/maps/W1GYGhm2mg6wyB7E7
GALLERIA MARKET
R-1, 2nd floor, Galleria Market
DLF Phase – IV, Gurgaon, Haryana 122002
https://goo.gl/maps/v2aDEWEv1N19WViU8
DLF CYBER CITY
Building 5, DLF Cyber City
Gurgaon, Haryana 122002
https://goo.gl/maps/eYUKm2W21oNMLdY18
AMBIENCE MALL
Ground Floor, Opposite Pantaloons, Ambience Mall,
DLF Phase 3, Sector 24, Gurugram, Haryana 122002
https://goo.gl/maps/o37evsinLFEkDMZ77
CYBERHUB
At AMPM Café & Bar Building 10, Block C,
UGF Unit/C, Unit 1A DLF Cyber City, DLF Phase 2, Gurgaon
https://goo.gl/maps/f9XChPhhJpnnUmLCA