Let's face it, creative blocks are real. Inspiration is needed, sometimes even to facilitate a creative designer's originality. We bring to you a carefully assorted list of the best creative blogs for designers! Hop down for more.
1. Creative Roots
You'll find creativity springing from the traditions of the middle east, but you'll also find the cosmopolitan of the American continent. Yes, Creative Roots brings forth art illustrations and design blogs from all corners of the world, and it does it well.
Follow them here.
Find Rodney Boot, the founder, here.
2. The Selby
The Selby is a unique project and the brainchild of Todd Selby, a photographer and illustrator.
Apart from the usual featured artworks, The Selby goes one notch higher and brings to the table artists in their workspaces. An artist's personal space is documented for everyone to borrow inspiration from.
Follow it here.
Find Todd Selby here.
3. Savage Chickens
We don't remember seeing something as quirky as this before. Little sketches of chickens with the craziest of sentences. Savage Chickens indeed.
Follow them here.
Find Doug Savage, the illustrator, here.
4. I Like Architecture
Working with buildings? Working on structures?
I Like Architecture is a wonderful collection of the best of among all contemporary designs and concepts from a varied number of places.
Follow them here.
4. Creative Live
If you are looking for instructions and well-prepared tutorials, this is the place to be. With curated classes by the world's top design experts, the blog is sure to captivate your creative senses.
Follow them here.
5. Good Design Makes Me Happy
This is one personal blog you should not miss. With some of the best and upbeat artworks from the photographic as well as illustration community curated by Hannah Dollery, this is sure to take your breath away.
Follow them here.
Find Hannah Dollery here.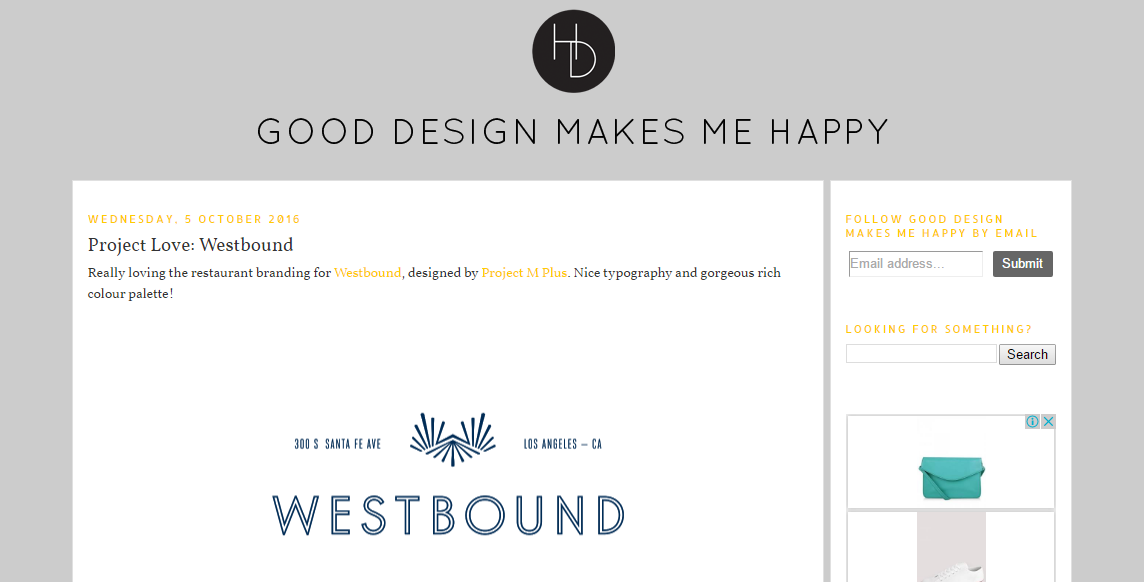 Images Courtesy of GDMMH
6. Identity Designed
Identity Designed features visuals from designers all over the world. Even more, it lets you share your own project. And with a 100,000 monthly views, the offer sure is tempting.
Follow them here.
Find David Airey, the founder, here.
7. The Fox Is Black
The Fox Is Black was originally started as a place that could house the most brilliant of ideas. This was Kitsune Noir, and the year 2007. Today the blog features the best of contemporary culture.
Follow them here.
 Image Courtesy of TFIB
8. Illustrator's Lounge
Comics, graphic novels, paintings. You name it, and you'll find your inspiration ready. A carefully curated destination, Illustrator's Lounge shall readily inspire you in the best of ways.
Follow them here.
9. Inspiration Hut
You get to choose from over 20 categories and once you do, it's an entire world of all things beautiful that stares right back. From beautiful fonts to off-stream art, Inspiration Hut offers you all.
Follow them here.
10. From Up North
Daniel Nelson brought this baby to life in 2009. Since then, the blog has been a top favourite. With graphic designs, photography and illustrations, the place has a lot going on.
Follow them here.
11. Tiny Showcase
It has a beautiful name, it has a beautiful purpose. Tiny Showcase offers the most phenomenal of artworks at the best of prices, and gives away a part of everything it earns to a charity chosen by the artist himself. Follow them here. Find the founders, Jon Buonaccorsi and Shea'la Finch, here.
12. On Animation
This is the era of visuals and graphics, and if there is one thing we never fail to be grateful for – animation. For all you wonderful animators out there, we've got some inspiration. So whether your next masterpiece is built on the lines of Alexander McQueen or the phenomenal mouse, this blog will always have your back.
Follow them here.
13. Many Stuff
Charlotte Cheetham believes in the unconventional. Be prepared to witness experimentation like never before. If you are looking for the same, go pay her a visit.
Follow the blog here.
Find Charlotte Cheetham here.
14. Wandering Bears
Wandering bears harbours the best collaborations in the current art scenario. As an addition, it also organises regular workshops and seminars around the same.
Follow them here.
Find the minds behind this wonder here and here.
Which ones are your favourites?