Introducing people to the idea of creative entrepreneurship through formulating a start up, paving a way to sharing that key idea with the world parallel to earning out of it; Start ups are certainly well executed by the brave, who believe in themselves. Today, we bring to you an up close conversation with Sunaina Harjai, Director of Hats off Accessories, which brings to us leather shoes handcrafted to make you in awe of them.
It's a 100% desi initiative, completely homeward bound and subsequently contributing to Make in India. It has gained a lot of popularity for its design and ease of distribution through e-commerce and social media platforms (Instagram, Facebook and Twitter). Let's get started!
Q. Before asking you about Hats off Accessories, we are really curious to know about Sunaina, the person.
As a person, I'm extremely inquisitive and like to keep myself informed about a lot of things and not just fashion. I have studied fashion retail management from London College of Fashion and Pearl Academy. And during my college time, I was always involved in internships. I worked with companies like Formula One and Salvatore Ferragamo, took part in events, extra curricular activities, attended workshops on various topics, as I strongly feel all these things are more important in order to inculcate good business values and knowledge along with academics.
Coming from a shoe-making background, I have always been passionate about working towards something I like. And clearly I didn't have the patience to get an MBA, job experience and then launch my brand. In terms of interest, I like to try and participate in various things which help me align my goals and keep my horizons wide. I enjoy everything – sports, music, dance, movies, travel, food and that is what my brand is also inspired by.
Q. How did the idea of Hats Off Accessories come about?
The idea was simple – during my studies in the UK, I realized how retail brands actually function. Along with branding, a huge chunk depends on manufacturing. In my family's business, most of the shoes are manufactured in our own facility, Siddharth Exports. That's what gave me the idea of about working on our own vertically-integrated shoe brand, which provided leather and good quality footwear at affordable prices, along with an emphasis on branding.
Inspiration has been derived from a lot of things, however, I think the ultimate motivation has been to highlight the legacy of shoe-making, as my father has been in this for over 30 years, and my brother is also a footwear designer, and I wanted to be the one to unite all the various verticals and launch our homegrown brand. There are so many successful entrepreneurs and brands, and I think each has an inspiring story which eventually inspires many of us to start something of our own. This is a start up, which I have built from scratch. We are glad we have one of the best manufacturing units, owing to my family's business, as one of our resources. We have a factory in Noida, and have a team of designers, merchandisers and craftsmen who work with us.
Q. Are there any memorable stories or anecdotes that you would like to share regarding your work?
I think the most memorable stories are when people spot us and tell us that we are doing a great job and that they already know about Hats Off Accessories. I think that's the best feeling.
Being a start up, we got to work with a lot of young graphic artists, photographers, IT professionals and students who are starting out like us and we are glad that so many vibrant people identify with our brand.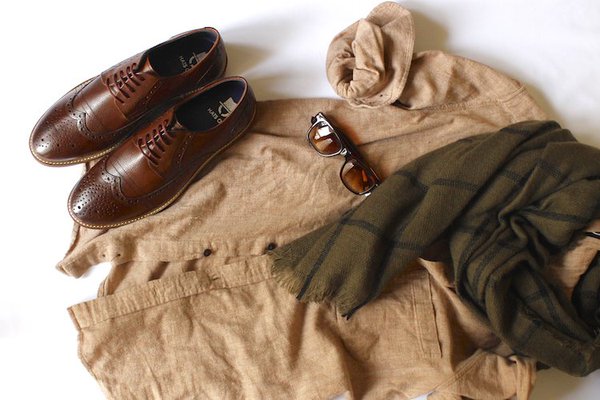 Q. What do you think is the USP of your brand? What helped you build on it the most?
USP is that we provide quality, design and craftsmanship at a value. Production happens in India where we benefit from over 30 years of experience passed on by generation after generation of shoemakers.
Every pair from our high-quality shoe collection is still handcrafted in our workshop and quality controlled by experts at each step of the process. All materials used are sourced with precise craftsmanship. Our artisans thrive on creativity and passion for detail to create high quality with no compromises. We are a vertically integrated company, and hence our business model is based on smart luxury and affordable luxury, without charging high margins, and we achieve the same by selling online, and cutting the middlemen, extra licensing and brick and mortar expenses.
Q.  What advice would you give to young budding entrepreneurs who are ready to dive in the market with their ideas? What made you take the leap into entrepreneurship?
I've always wanted to do this, I think it's first about finding what one likes, and then deciding that, it could possibly be a potential business.
I think we all are trained in business schools, to make plans and do our research, but it's also a lot of about passion – about what one really enjoys doing and finding the perfect balance between lifestyle and entrepreneurship.
It's a full time job, from opening your eyes to closing your eyes, one has to be dedicated to doing what one really enjoys and everything else shall fall into place.
It is important to be accountable for all the expenses and finances, but that shouldn't stop someone from taking the plunge. I think there are too many well-funded start ups, and if we were to compare and see if one can become million dollar venture overnight, that will not happen. It about planting a seed, and making sure it gives returns at the right time. My advice to budding entrepreneurs would be to network, find your passion, and don't give up. Along with that it's also important to do your research on whether the product is unique and work out a marketing strategy with a bare minimum budget.
Q. Why shoes, specifically? What made you delve into an entrepreneurship venture like Hats Off Accessories?
As mentioned, I have always been passionate about making a mark as a woman entrepreneur in whatever way possible. Keeping that in mind, I always keen to study the business aspect of fashion and not so much design, since I come from a family who is into shoes. I'm glad our team has Siddharth Harjai who is footwear designer from London College of Fashion to contribute to our designing. We also have a state of the art facility, where we manufacture our shoes on our own.
Q.What do you think is the reason for the success of your platform?
I think we just started off, and we have a long road ahead. However in just one year we are so glad, that people have appreciated our work, and we have been featured on many portals till now, such as GQ, Little Black Book Delhi, Cosmopolitan and even Bollywood actors like Siddharth Malhotra and Sooraj Pancholi have been spotted in Hats Off Accessories. The reason is that we are true to our brand, and take pride in our quality and aesthetics. We see too many people replicating our brogues, but that's how fashion works, one has to create a name for authenticity which many fail to do, but we are certain we shall live up to it. We provide unique designs, exceptional quality at affordable prices.
Q. Who is your personal role model when it comes to work?
My role model has to be my father, Sunil Harjai, who has been in the footwear trade for over 30 years now. I think it is his dedication and passion, that has been passed onto to us. And I think it's a great deal, as there are shoe brands in Italy and UK which have been runing for decades and are generations old, and I think that's the glorifying aspect of shoe trade – it's passed onto generations.
Q. What do you love the most from your experience in Hats Off Accessories so far?
I love everything. I remember answering to my teacher few years back when she asked me what I really wanted to pursue after graduation. And I replied that with the kind of enthusiasm I have, and maybe not the experience, I would like to explore everything. That is exactly what my role is at Hats Off Accessories, from handling orders, to meeting buyers, merchandising, designing, maintaining the inventory, forecasting, events, and exhibitions, marketing. I'm trying to handle everything on my own, with support from my team at the factory for production.
Q. What are some of the challenges you face in your line of work?
Challenges, probably would be that it's very hard to find suitable candidates or employees who can be associated with our brand in the long term and can contribute with same passion as we have. There are people who are too experienced and there are people who are not trained and serious. So I think we need to build a team, that will stay with us and make it grow.
Manufacturing is as such a male-dominated space, but I wanted to break the cliché and I've received great support from everyone till now.
I think it's a lot about getting your hands dirty with actual work and not just operating from fancy glass door studios. One has to manage both the sides to put that across through the story of the brand.
Q. What are the objectives behind Hats off Accessories, and how do you and your team plan on expanding it in the years to come?
The objectives are very clear to us. We want to be known for our leather brogues and shoes and also our quality and in years to come, we are working on our brick and mortar store. We are still planning the range we can fit in the brand, as we want to cater to each kind of audience and not restrict ourselves as a luxury or a mass brand. We plan to invest more in product development and the marketing of our website.
Q. We imagine conducting something on this scale requires massive investments in terms of time, effort and money, how did you manage these?
Manufacturing of footwear is indeed a massive investment in terms of time, money and effort, and being new in the market and being a start up we are not here for immediate returns or orders on a huge scale. E-commerce is a highly discounted model in India, and many of the retailers sell PU products online in price brackets which are quite high. We want to challenge the same, by keeping affordable prices for leather products, and also work on our design aesthetics. The leader is the one who has control over the supply chain, and since we manufacture our own products, we are able to offer the prices that we offer. We however still need investment for our IT infrastructure.
Q. Any tips for all the shoe lovers out there about buying and maintaining shoes?
Firstly, all the shoe lovers must look out for the material when shopping online or in-store. Most of the time, we are willing to spend on a branded shoe, without knowing if it is leather or PU. One must invest in shoe care kits and must let the shoes breathe. As leather is a natural skin, it can get easily damaged but one must take extra care and it will surely last longer.
Q. What part of being an entrepreneur do you like the most? 
My favorite part is the freedom to explore new things, new ideas, to innovate, and to meet new people. It's a way of living and not a job that one has to make time for, or do it forcefully. I think the most wonderful part of this is the drive to do better, when people appreciate our work. And we are glad that platforms like The Yellow Sparrow are giving a chance to young entrepreneurs like us to share our story.
Things like these are my favorite part. Along with this, it is also about solving a problem for people – we make shoes for college students and working professionals and want to solve their problem of choosing between cheap shoes and luxury footwear. That's where Hats Off Accessories fits in, as an affordable luxury. So offering shoes to people, that they can't find anywhere else in India, is my favorite part.
Check out the amazing shoes on offer at the Hats Off Accessories website.
All images courtesy of Hats Off Accessories