Started as summer project by a group of young designers,
Studio Wood
is a furniture workshop in New Delhi, was started in a humble basement in early 2014. In the company of karigars already present and working tirelessly surrounded with timber, paint and polish for a year and a half, they expanded into a full-fledged design studio with designers, co-workers, and interns stepping up time to time.
Image Courtesy: Image
They set up their office in an urban village of
Kishangarh
near
Vasant Kunj
. This was the new place which then they called their own. '
I see myself growing here
' was Navya's (one of the founders) first reaction on seeing the ground floor plot which had windows on three sides, spanning about upto 700 square-foot. And that's how after a couple of more visits to the new place the journey of designing the
#SWHQ
started!
Image Courtesy: Images
Their studio was designed keeping in mind a sustainable approach by re-using scrap board and metal from the workshop; plate glass from a local vendor, bricks secured after demolition and glass blocks restored from an old project. The décor is minimal with architectural sketches by Sahej adorned on the rough white walls.A vintage Godrej refrigerator freshly painted in sky tones is nestled in one corner of a matching blue wall.
Each corner is highlighted with green palms and other home plants with printed pots nursed by Vrinda whose all obsessed with keeping things tidy around the studio With seating for 10, a meeting room for 6 and a small display area for their products, the studio turns into nothing short of a gallery with hand picked pieces of décor and thoughtfully designed lighting.
Studio Wood has itself grown and shown the potential of being one of the best. To tell you the story in a more interesting way here are some pictures which will show you the growth of this beautiful minded idea!
#Then
#Now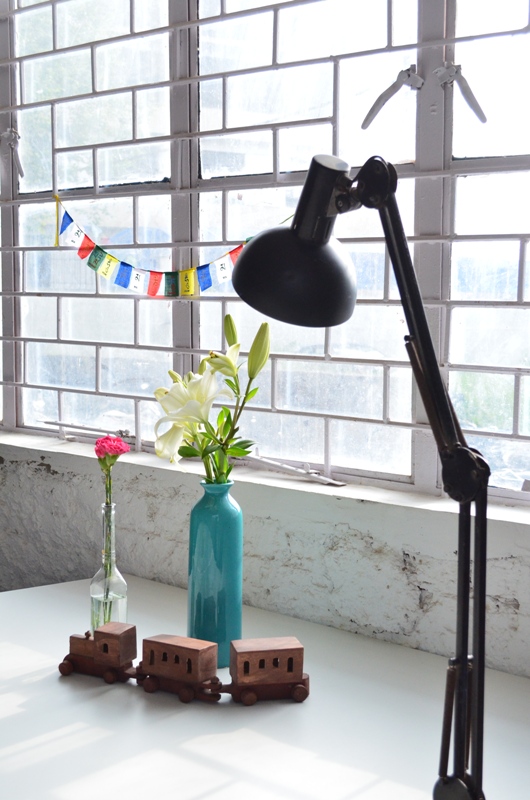 So what are you waiting for? Go check them out!