The thrill of travelling is one we all seek. To wander – not worry and lose yourself in the beautiful maze that the world is. With every trip, a new imaginative door is opened. Travelling is a remedy. It is a thrill like no other–an adrenaline rush, one of a kind. But gone are the days of planned travelling. Hopping on a plane, checking into a comfortable hotel, where is the thrill in that?
Welcome to the age of newfound travel! Real, true, inspiring travel. No more comfortable flights. It's the road's turn now.
The Roadtrip Experience Project, better known as RTX, is one such ride. It started in 2014 and involves a group of strangers coming together to take the roadtrip to traveler heaven. Thrill, fun, danger, excitement–it has it all!
TYS got in touch with Jaytirth Ahya, the man behind RTX, to delve deeper into this phenomenon. And by word, isn't it a roller coaster ride!
Before asking you about RTX, we are really curious about knowing who Jaytirth Ahya is? What are your passions? What makes you tick?
I am an experience designer. A lot of people ask me, "Oh! You mean you are a UX designer or Web Designer?" Most of the time I just nod, but a few times I walk them through a simple example – When you go to a club to listen to your favorite indie band and buy yourself a Corona, you shell out anything between 400 to 500 Rupees. Well, you know that the MRP of the beer you just bought is not what you just paid for it but you are, in fact, are paying for the intangible things that surround your beer like the music, the crowd, the ambience, the interiors, the lights, the band, the way you are spoken to by the staff and the floor you are swaying on. Well, we love such places. An experience designer would play the role of crafting that overall experience for you. It holds true for music festivals, conferences, work spaces, weddings and even services and businesses.
I am passionate, so passionate about creating new-age conversation spaces for right-brained people and enabling collaborations between them.
Roadtrips are my biggest stress-buster and I personally enjoy being in the company of creators, artists & entrepreneurs.
Tell us about RTX. How did this unique idea of connecting people in their raw, creative self, take birth?
Coalition. Oh yes! The Coalition 1 was the place RTX was born, while in conversation with an Art Director from Ladakh and a Sound Engineer from Oxford (Isaac & Anshuman Arya). The kind of people I interacted with during The Coalition was the biggest trigger to set the things that followed into motion.
RTX is one of a kind. What does it aim at?
Create road trip experiences for the new age creators, doers & influencers.
To enable Coalition. TC/1 was the place RTX was born, after all.
Collaborations between creators from diverse backgrounds and fields.
Enabling millennials to invest in experiences and not things.
2 trips, 3000kms & facilitating 20+ collaborations later, RTX aims to be a collaboration space built on top of experiential travel.
We often see travel enthusiasts pinning up the places they've been to on a map. Please tell us about places RTX has taken you.
My pins are all currently pointing due north, but I hope to change this soon.
2 Cardinal Directions: North & North East India
3 States – 15+ towns/cities – 3000+ kms traveled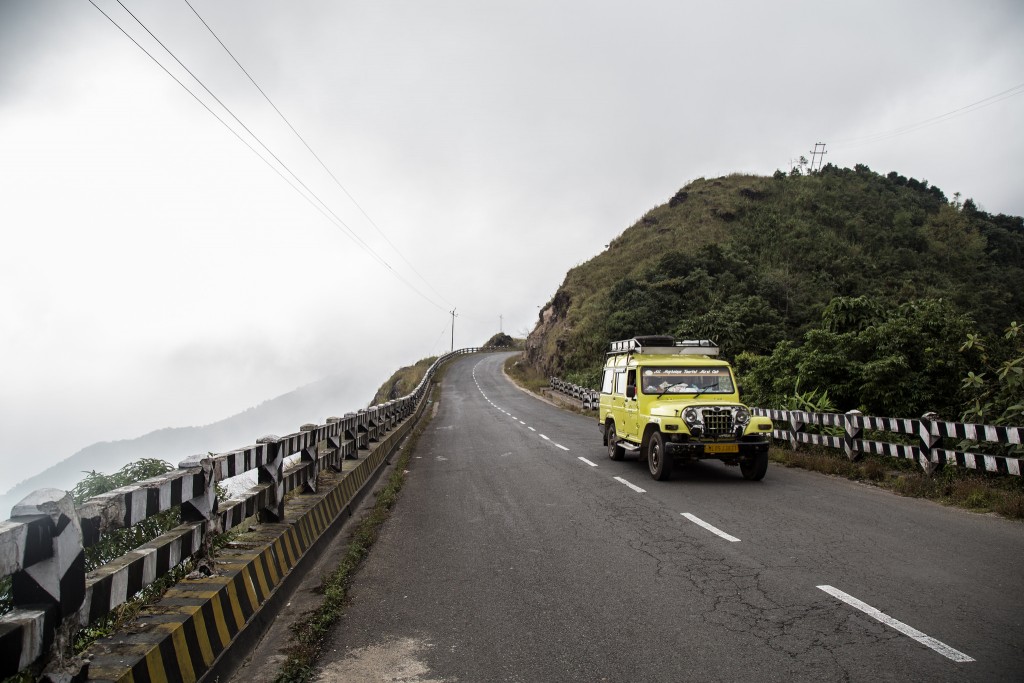 On our first roadtrip, we traveled through the monasteries, cold deserts & pinewood forests of Lahaul & Spiti, where we interacted with local art centers and homestay owners of Asia's highest village. We collaborated with a folk band called Himalayan Routes in Shimla.
On our second roadtrip, we covered Dimapur in Nagaland where we met one of the World's top 100 tattoo artists at his studio. In Kohima, we collaborated with 25+ creative cooks, artists & musicians to create music, wall murals, food and photo projects.
We travelled on the mighty river, Brahmaputra, on our way to Majuli, where we explored a 500 year old mask-making culture. We also visited a one-of-its kind "Hindu" monastery and were invited to watch a play about Ramayana by the District Judge. Dawki gave us the chance to be at the edge of India and cliff jump into crystal clear blue waters while Shillong gave us a chance to attend the NH7 Weekender and execute the Book Project.
We never, ever take the location hunting lightly. Apart from safe roads and beautiful landscapes, we pay close attention to how we can find and leverage creative communities, culture, people & the terrain of that place to craft experiences.
Does the RTX take people from a given creative field or is everyone creative welcome?
Anyone creative is welcome.
Our acceptance rate is 3%; we are very selective about the travellers we invite and spend a lot of time on curation. Over the last 2 years, the team has established a 3-step curation process to ensure that the tribe that travels with us has complimentary skill-sets, brings great value to the table and is inspiring to be with. This is also one of the reasons why we never see groups being formed on the roadtrips and everyone creatively mingles with everyone else.
We really want to know about your team–The people who have made RTX a success and are making it grow further.
Apart from myself, Charan single-handedly brings logical explanations to things, which I, as a creator, always overlook. A founders institute fellow and the founder of GlassRock Traders, Charan brings calm decision-making skills to the RTX table. He is also one of the most fantastic on-ground executioners we have.
Other people behind making RTX successful are the logistics consultants we work with, the drivers that ensure the safety of our cars and us, my boss at LetsVenture, Shanti Mohan, who is the most supportive mentor/advisor to us and Nikhil Kashyap, a travel producer, who brings strong problem-solving skills to RTX.
All these guys, above anything, have a huge heart and are open to help me in my journey.
What goes into planning something on such a large scale as the RTX? Where do you begin and end?
Planning the Roadtrip Experience is an experience in itself.
With over 8 moving parts that need to run in parallel, it is quite exhausting and takes us 3-4 months to sketch out the entire journey. From location recess to research to connecting with local communities to curation of the applications to closing Pre & Post Production to managing Social Media. It's just crazy!
The planning process includes late-night conversations, brainstorming sessions, travelling to unexplored places, attending conferences for perspective, leveraging service design frameworks, spending time with local communities, etc. — for us this is exciting, fun, at times challenging but all we can say is, when we are on the Roadtrip and hear from the tribe about their experiences, it's all worth it.
On the side, we collaborate with youth brands for value-added partnerships where we make sure everyone wins. Some of our partners include, NH7 Weekender, Homegrown, Campus Diaries, JoshTalks, Wildcraft, and Redbull.
What was it that made you take the leap and jump into such a creative endeavour? Did your educational qualification have anything to contribute to it?
When I look back and connect the dots, I had this constant curiosity bubbling inside me about the things happening around me and my need to be at the center of the creative revolution happening in India today. I would always look at creators and keep imagining what goes on insider their minds, what is their process and why they are doing what they are doing.
While I was first attending The Coalition, we (Anshuman Arya & I) were shooting a small short-film inspired by the vibes there, thanks to Laura Quinn & Vijay Nair for allowing us to do that. We spoke to 15 influencers, storytellers, creators and doers. And boy, were we overwhelmed by the things they were doing. It all started with a simple question in my head, "What could possibly happen, if I can put all these freethinkers in a car and send them on a roadtrip to the Himalayas?"
After coming back from The Coalition, all I could think of was this question. That was it, that was the start!
4 months from there, RTX flagged off its first Roadtrip to Lahaul & Spiti for 9 days with 30 creators including personalities like Vicky Roy (Photographer), Honey Bajaj (Design Thinker/Behavioral Scientist), Kranti M (UX Designer/Mentor), Nikita (Educationist), Digen Varma (Luxury Entrepreneur). It was nothing short of a dream project happening in front of me.
What do you love most about your unconventional career choice?
I am a sucker for experiences that move, that translate into the stories that I write on my journey. The most exciting part about my life is that I get to be the sum of experiences, not just my own but also those of people who themselves are on such vivid journeys. I am happy I get to be a part of this collective journey.
Last year, when I met Justin from Meta Agency, we discussed experience design briefly. During the conversation, I remember he talked about how important it is for experience designers to connect with their audience emotionally. I believe in making connections–powerful connections, colourful connections. That excites me a lot.
If you could, would you want to pick up a conventional career instead?
No! I think this bug is so deep that I would have turned the most boring desk job into an experience–a fluid discussion that broadened horizons and pushed boundaries. RTX in an office, you think?
How do you plan to forge ahead with your dream? Can we expect an RTX 3 soon? If yes, we would love to know some details! We can already feel the rush!
This year is the most exciting one for me. Now that we have nailed the concept down on the last two roadtrips, created frameworks to enable collaborations (trust me, it's not easy to keep energies up and high especially when the landscape and people around you are so much more interesting), we are looking at impact.
We had odd 400 applications last year which, we expect, will grow to 1,000 this year.
It is also exciting because we plan to create more concepts, with different types of creators from diverse backgrounds such as a Portuguese Bungalow experience to change the lives of a village. 2016 is going to be crazier, bigger and better.
With RTX3, we plan to explore the 3rd cardinal direction, i.e. south. We might even go across the Indian Ocean this year, that's all I can say right now.
What do you think is the USP of your brand? What according to you helped you build on it the most?
The USP of RTX is experience. Period.
We live in an age surrounded by people who do, people who believe in making stuff happen. People who are interested in music, fashion, art, films, startups all at once. And these freethinkers believe in living life on the edge, experiencing everything the world has to offer.
We hate to call ourselves a travel startup, more than anything we are an experience company that is into creating conversation and collaboration spaces. It's not just roadtrips, we are not travel designers and definitely not tour package vendors.
What is it about the North East which attracted you towards it? We see you've covered North East India at a large Scale.
We picked north-east the same year that NH7 decided to add Shillong as one of its locations. Our reasons might be different but one overlap that we couldn't help but notice was that the people of the North East are designers, they are thinkers, they are musicians, they are the ones embracing creativity like no other community in India.
Reality is that the North East offers deep and diverse cultural immersions–tribes that have a distinct identity unique from the rest of India. We were very curious about the forests of Meghalaya, the life in Nagaland and the river tribe of Brahmaputra. On our research trip, we made friends at the bars, hotels, hostels, cafes and churches we visited — we won't be wrong in saying that the North East is one of the most inspiring places in India for creators today.
Share some vivid memories/crazy experiences from RTX 2 in North East India.
We were on our way to the 5th location on RTX, Dawki, which is a small town in the forests of Meghalaya. The location we were staying at was only accessible through the River Umgot flowing between India & Bangladesh. I remember Jason, the camp guide, telling me that if you swim 5 mins downstream, you will land in Bangladesh.
Instead of reaching before sunset, we ended up there right after twilight. By the time we parked our cars, walked through the woods and reached the river, it was pitch dark. All we could see were a few floating canoes and the moonlight reflecting in the water of the river.
By the time we managed to put all the backpacks in the canoes and send everyone to the other side, Rupam & I were still on the side waiting for the canoe. All we had was a kayak. Jason mentioned that we could kayak if we wanted to. I was pretty confident that we could kayak to the other side, as it's the simplest thing in the world. Rupam is a veteran filmmaker who makes movies and ads for some of the biggest brands in India and his intensity often reflects in even the most mundane of conversations. We put our shoes in the canoe and hopped into the kayak. A 9-year-old pushed us away from the rocks, towards the river.  Rupam got the front seat, while I was the one supposed to give direction from the back.
Within 5 mins all the canoes ahead of us, forged ahead with the silhouettes reflecting off the light from their lanterns, a beautiful view. 20 minutes later, we realised that the canoes were really far away from us, almost near the other bank while we were still floating in a 10 metre radius. Jason forgot to mention the currents in the river.
Getting back to the bank was exhausting, a true test of my energy and will power which were being fuelled by a healthy dose of fear of floating into Bangladesh. Hands down, this was one of the craziest nights of my life.
Later that night I also learnt the funniest tribal dance from Amelie, an artist from Paris. She speaks more with her hands, less with her words. She makes sure you understand what she wants to communicate, even if takes an entire evening. By the way, the dance I learnt from her was the same she teaches to kids back home. That is a memory, a very pleasant and sandy memory.
Coming to the end of an amazing conversation with you, what is your message to all those creative souls out there?
The new age is unfolding as we speak and it belongs to creators, thinkers and innovators. Conferences and Meetups are too passé for the creative junta.
Please believe in your uniqueness, collaborate with people like you and be assured that others will join you on your journey once you start walking.
Well, we couldn't agree more. This is what travelling is all about, rediscovering yourself, only to find out that life can be as exciting as the hairpin turns of the roads!
To know more about the RTX Project, click here or check out their Facebook & Twitter.