Ever since iPods and smartphones took over the task of portable music-playing, CDs and LPs haven't received the love and attention that they used to. They've become somewhat vintage items which you are more likely to find in an enthusiast's collection rather than your nearby marketplace. With the fading away of music CDs, another much-cherished part of them faces an uncertain future—album cover art. Back in the day, cover art was considered as essential a part of the album as the songs. From the iconic Abbey Road by The Beatles to Nirvana's Nevermind, one may forget the sounds on the album but the art gracing its cover is imprinted on the mind.
Even though we still find album art in our digital music players, we can imagine it doesn't have the same effect as it did on the cover of a 12" LP. However, it seems that to keep the legacy of unforgettable album art alive, musicians all over the world are coming up with artistic covers for their albums which don't just stop at 'creative'—they make the album stand out. To inspire you and possibly make you stare in wonder, we've compiled a list of the quirkiest new album covers we could find as a tribute to the glorious album art of the past.
1. A splatter of sound
TRU by Instrumenti
The cover is supposed to give you an idea of the concept of the album as a whole—it is a representation of the music within—and what better way to do that than by using music itself to create it. Latvian band Instrumenti used paint, a speaker and their own tracks to generate splatter-paintings which would grace the cover of their debut album 'TRU'. Instrumenti's sound has been described as a mix of Muse, Sigur Rós and Michael Jackson so it is natural to expect their cover art to be just as eclectic. TRU's album artwork, created in conjunction with design studio Asketic, is a wild mix of colours, giving  you a perfect teaser of the band's electro indie pop music. You can watch the making of the artwork here.
Image courtesy—Instrumenti
2. The collage that wasn't
Terrain by VLP
For their album Terrain, VLP engaged photographer Bela Borsodi who clicked the photo shown below for the cover. We say 'clicked' and not 'created' because the image may look like it's a collage of four separate pictures but in reality it is one single photograph, clicked without the use of Photoshop or post-capture editing. We didn't believe it either till we saw this making-of video. Orchestrated by playing with edges and tangents of various objects, the album cover is clever, quirky and unexpected, just like VLP's music.
Image courtesy—Bela Borsodi
3. A Magnetic Symphony 
Evermotion by Guster 
Boston-based rock band Guster reached out to artist Fabian Oefner after discovering his project Millefiori on Reddit and this collaboration resulted in the psychedelic album art you see below which appears on the cover of their record Evermotion. The exquisite thing about this artwork is that it is created by playing with watercolours and ferrofluids (which is a hydrophobic magnetic liquid). Indie/alternative band Guster's muscular guitar riffs and dense lyrical details are perfectly portrayed by the captivating album cover. Anybody who sees the artwork can prepare themselves for the clanging percussion, brassy trumpets and trombone accompaniments that the album features.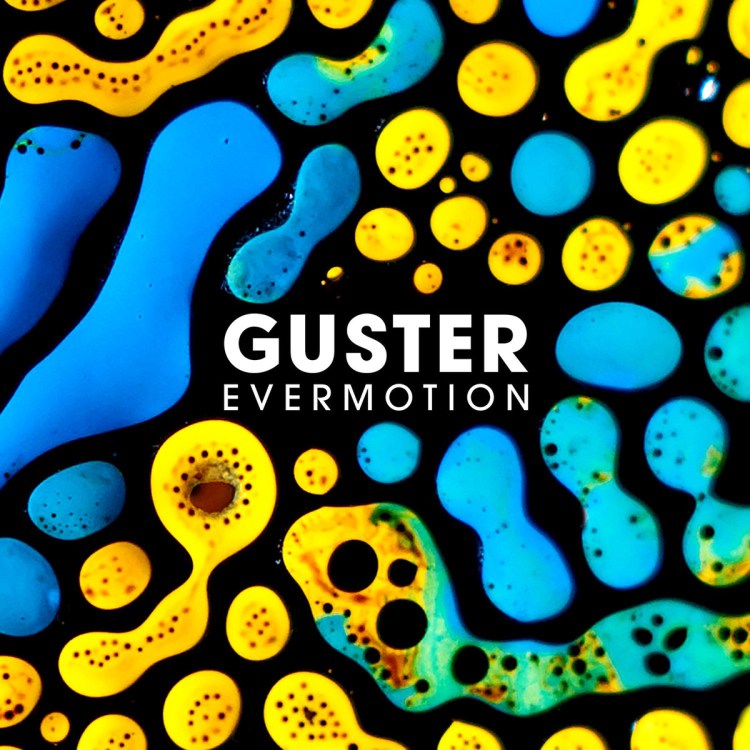 Image courtesy—Guster
4. Futuristic Lover 
Extraterrestria by DJ Qbert
This next one takes album design to a whole new level because it is a blend of technology, immersion and creativity. The vinyl version of Extraterrestria, the new album by DJ Qbert, features a playable set of MIDI turntable decks that lets listeners scratch them when connected to a smartphone via Bluetooth. The album is described as a 'collection of various types of music from other planets and dimensions from around the galaxy'. Designed by Brooklyn-based Morning Breath, the album art features turntables with printed electronics which work as MIDI triggers for an iOS app when touched. This allows listeners to fade, mix and scratch songs through the album sleeve itself. Watch the innovation in action in this video. Extraterrestria claims to give a glimpse into the future of scratch music and its mind-blowing album cover fits perfectly into this agenda.
Image courtesy—Protein
5. 'Wood' you like one?
Chop Chop by Bell X1
Ireland's second biggest band Bell X1 worked with illustrator Alexis Deacon to create the front cover for their album 'Chop Chop' and the end result was, well, literal. Have a look at the pictures below and you'll understand. The album comes encased in an oak chopping board which goes to highlight the fact that sometimes, less is more (and also, puns are awesome). With its brilliant co-mingling of electronic music and anthemic pop rock, Bell X1's Chop Chop (which released in 2013) was described as an album encasing a wholly original sound. If the album cover is any indication, we wholeheartedly agree.
Image courtesy—Bell X1
With physical record sales declining rapidly, artists need to work harder on their album covers now more than ever. The real challenge lies in creating something that listeners would want to physically possess. The covers we've featured above give us hope (and make us envious of those who own them) that album art is slowly but steadily climbing back up to its regaled position in the world of music. Let's hope that this trend of outflows of creativity related to album artwork continues because honestly, who doesn't want to own an album with a touch-to-mix cover? We sure do.
Featured Image copyright & courtesy of Leta Sobierajski