'An apple a day keeps the doctor away' is easily the  most recognizable and widely used phrase in the sphere of public health. Its catchy and recognizable qualities assure that the phrase stays with the masses, for their greater good. There have been numerous public health campaigns on a similar vein (and on a much grander scale, of course) which seeked to educate and provide better health care to the world.  TYS looks at some creative public health campaigns that have been conducted by the government or private organisations, toward the goal of a happier, healthier world.
1. Red Ribbon Express
The Red Ribbon Express is an HIV/AIDS awareness campaign on wheels, an express train which was launched by the Indian Railways on World Aids Day i..e. December 1st, 2007. The motto of the express train is 'Embarking on the journey of life'. It seeks to spread awareness about HIV/AIDS, to promote safe sex and reduce discrimination against AIDS victims in India, especially those in rural regions. There were on-platform and off-site communication activities such as exhibits, street plays and demonstrations. Treatment and counselling services are also available on the coach. The project's target audience included youth groups, women's groups, student communities, urban slum dwellers and farmers.
2. R UV UGLY? 
The R UV UGLY campaign was launched by Cancer Research UK, where the objective of the campaign was to stop teenagers from using sunbeds due to the high risk of skin cancer and damage to the skin that occurs with the frequent use of sunbeds. Their touring R UV UGLY photobooth dispensed UV images that revealed the damage beneath, invisible to the naked eye. This was coupled with a news  story that saw the UK's leading modeling agencies agree to a zero tolerance policy towards sunbed usage. The campaign proved to be both news and feed-worthy, resulting in an overall reduction in sunbed use.
3.Bilardo
This Argentinian campaign focuses on diabetes and awareness. There are about 4 million people in the country who have the disease, and 2 million who have diabetes and don't even know it. Ad agency McCann Buenos Aires targeted men specifically, because they're likely to have routine check-ups and a healthy diet, according to research. The result is a campaign that manages to connect diabetes and soccer by "solving" an urban legend about a doctor named Bilardo who would prick his rivals with a pin during soccer matches.
4. Blood Relations
The Parents Circle Families Forum is a joint Israeli/Palestinian organization for people who have lost an immediate family member in the conflict.  The campaign came about with Israeli and Palestinian members of the PCFF came together on Sunday 18 September 2011 in Tel Aviv to publicly donate their blood as a symbolic act of healing to mark UN International Peace Day.
The blood donations would be shared by Israeli hospitals through the Israeli Blood Bank, Magen David Adom and by the Al-Makassed Islamic Charitable Society Hospital for Palestinians in East Jerusalem. The members of the Parents Circle Families Forum see 'Blood Relations' as the ultimate expression of reconciliation. You can watch the video of the campaign here.
5. Lungclock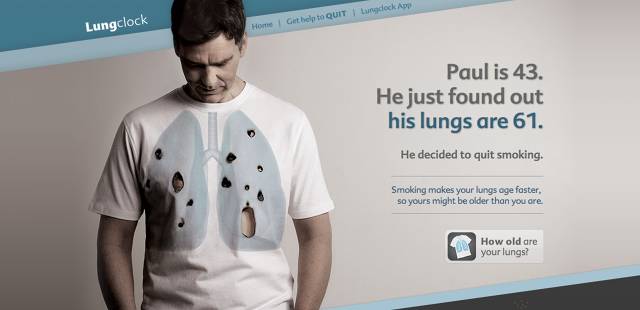 Lungclock is a highly successful anti-smoking campaign that aims at awareness of the deterioration of lung health as a direct result of smoking. Studies have shown that smokers are more likely to quit if they're shown their "lung age", instead of just their percent predictability of lung function. That's the thinking behind the LungClock, a campaign created by Frontera London that tells you your lung age based on answers to a series of questions (and if you use the LungClock app, you can breathe into your microphone to get an even more accurate gauge). Check out the website here.
6. I Saved a Life! 
The I Saved A Life app allows you to track your blood donations, get reminders for future donations, encourage your friends, and look great doing it. The application is currently in use by many people in over 80 countries around the world. It is a part of the healthy social campaign that explores the use of social networks to promote positive health behaviours and attitudes.
7. Change 4 Life 
Change for Life is a U.K. health campaign which begun in 2009 and is run by the Department of Health. It aimed at helping people exercise more. As part of that campaign and they have a fun virtual Walk For Life website. On the website there are virtual walking challenges to encourage users to exercise more. Users can log onto the website and create a walking challenge or select from other popular challenges. For example, you can sign up your group to walk 10,000 miles for the Prostate Cancer Charity. This is a virtual challenge—so the miles your group walks will be added to those of other participants who have also taken the challenge. Other fun features include the ability to create your own challenges (such as getting a company to collectively walk the distance of the Great Wall of China). You can also track your progress, miles, and fitness levels.
These are some of the various extremely creative pro-health programs that have been initiated and used by various governments and private institutions, for the betterment of public health. With emerging social media playing a huge role in festering better and much more widespread awareness among the public, facilitation of these successful public health campaigns is possible.