Are you tired of your boring old workspace, or do you want to tidy up the place a bit and are looking for some inspiration? Well, stop everything that you're up to and hear us out: you need to have PLANTS! The DIY Gods are back at The Yellow Sparrow office and have brought you a list of easy DIY planter boxes and pots to get you going.
Yes, you heard that right. Add a little bit of green to your work space with these super simple DIY planters and they'll not only look refreshing, but will also be super healthy for you.
Vamp up your workstation with these cool and easy planters and fall in love with your workspace all over again (or maybe for the first time ever)!
1. Clothespin Herb Planters
We, personally, love this one because of how easy it is. All you need a couple of wooden clothespins, some tuna fish cans, and a little bit of varnish and you'd be good to go. The rustic wooden planter would go well with any type of space and background and would especially pop out if you have neutral or pastel colored space.
To learn how to go about the super easy planter, see instructions here.
 2. Gold-foil Letter And Glitter Pots
Want to get your inner Kardashian out but don't know how in the workplace? These easy and simple  DIY planters would glam up your work space like anything, and you can write anything on those pots to help you get through a tiring work day. All you need is some gold foil and a printer, some glitter and glue – and voilà!
And if you are the creative kind like we are here at the office or if you don't want gold, you can always experiment with your a choice of colours and give it your special oomph.
So, you really want to glam 'em all up? See instructions here.
3. Wooden Plant Stands
Have a couple of tiny plant pots lying around but they seem to boring as is? Fear no more, for this crafty wooden stand is here to the rescue! These would make your space look neat and would thoroughly complement all the rectangular pen holders you might have lying around.
You can also always polish or paint them up to have them according to your own individual aesthetic.
Get your saws out and follow the instructions from here.
4. Handmade Clay Pots
Nothing feels better than to create something from your own hands. These clay DIY  planters may take more time than the rest of the planters on this list, but they're definitely worth it!
You can use your own templates and use your own imagination to make your planters – and your workspace – stand out from the rest.
To know how to make these pretty little things, see instructions here.
Image Courtesy – Say Yes
5. Plastic Bottle Cat Planters
This is something you definitely need to make your workspace super adorable and make your cat-loving soul scream from the cuteness. You would definitely enjoy making this and if you have a sibling or your own little kid, this can also double up to be a perfect craft session for you all.
To learn how to drown in all the cuteness, see instructions here.
6. Desktop Bottle Planters
These chic bottle planters would definitely snazz up your workstation, all while taking up minimal space. You can use different kinds of bottles to have them suit your style and workspace.
To learn how to make these, this is what you should click on.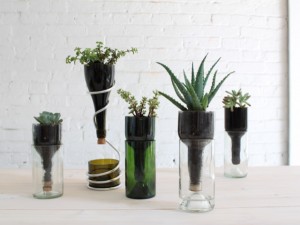 Image Courtesy – Stellar
So what are you waiting for? Head over to your nearest craft store and transform that workspace of yours into the greenest workspace you've ever seen (and secretly dreamt about)!
 Featured Image Courtesy : Pinterest