Ever drove past the National Gallery of Modern Art (Delhi) and caught a glimpse of a hovering giant shape, like an eerie, monstrous banyan tree within the premises of the gallery?
Known for spectacularizing the mundane and monumentalizing the banal to create a captivating, threatening and sublime work of art, the Indian contemporary artist Subodh Gupta created the surreal banyan tree with stainless steel trunks and hanging roots bears foliage and fruits in the form of stainless steel utensils, thereon lending a fresh perspective to art.
The artist elevates the ready-made into an art object, employing many of the original techniques developed by the French conceptualist Marcel Duchamp. Gupta chooses signature objects of the subcontinent and morphs them as art objects, in the form monumental installations of stainless steel and tiffin tins. The maverick artist's varied body of work includes painting, sculptures, video and installation.
Identity, homeland and celebration of rural nativity have always been a recurrent leitmotif in his work. Subodh Gupta's artworks are brimful with references to his past and present experiences. Swaying from elaborate information to seemingly inconsequential motifs, his constructions weave highly idiosyncratic imaginings with public myths and rituals.
Drawing largely using everyday objects and scenarios, his aesthetic characterizes the complex inter-relations of India's urban and rural communities. It shows the effects of consumerism and the modernization of traditional Indian society. His deceptively easy works manage to refer to stereotypes of Indian life, rapidly changing routines in a global economy, and key historical cross-cultural exchanges. Taking an ironic jibe at Capitalism of materialist ethic, the artist nevertheless portrays the social and economic expectations of rural communities and lower class Indians with a commendable compassion.
His fascination with the commonplace and the mundane is greatly influenced and rooted in his observations during his formative years in Bihar.
IMAGE COURTESY – Artsome
My work is about where I come from but at the same time the expansion of the art world means that to a certain extent, everything is shrinking together, and you have to be aware of international discourses in your work.
Growing up in Khagaul, his interest in arts and theatre drew him in to creative arts. His flair for drama that he first displayed at Patna's Art College was precisely what distinguished him from the rest and got him noticed by MF Husain.
His piece, the Bihari, celebrates his identity and homeland using a cow dung smeared paper. My Family Portrait is an installation composed of carefully orchestrated kitchen utilities arranged upon racks typical of an average middle class household. The endemic violence, turmoil and the sterile economy of Bihar is emphasised through an installation of empty thalis, bowls and tiffins comprehensively strewed with toy revolvers presided over by white fibreglass of a bovine animal.
Unlike other artists, he seldom uses people in his installations. "I've always been surrounded by people. But I play with objects. Very few people appear in my works," he says. "I'm looking at surroundings. And I'm definitely looking at objects in a different way."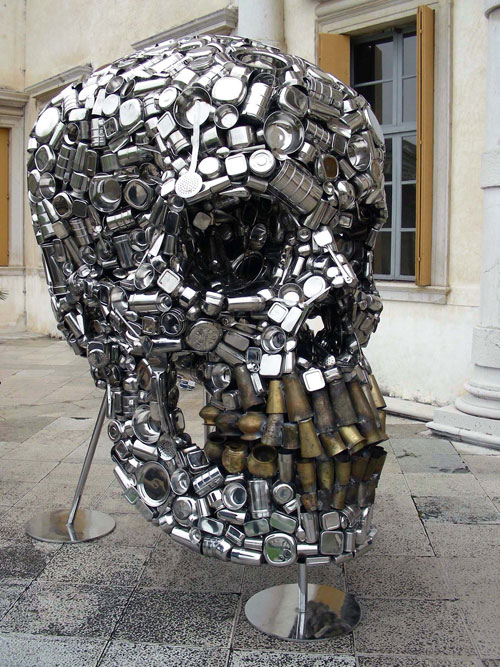 IMAGE COURTESY – Artfacts
Subodh Gupta deals with Indian themes in manners that appeal to not just the Indian but also the Western society. Setting up exhibitions at venues such as the Venice Biennale and Chicago's Museum of Contemporary Art, he has become one of the most eminent figures of the Indian art boom.
His flabbergasting Pinault-owned skull, a vanitas par excellence, reminds the visitors of the transiency of earthly pleasures. But as with his other sculptures, utilizing the tiffin pots and stainless steel buckets that make up a majority of work carry a specific, personal meanings in this world. "Buckets are very resonant to me," says Gupta. "Where I grew up, big families lived together, and taking the bucket meant you were going to bathe. It's all creating juxtaposition between the personal and something bigger."
The titles of his works often conceptually titillate the viewer to think beyond the immediacy of the work that surrounds them. The top of a sliced off immobile ambassador taxi is used to load two migratory labourer's belongings packed into tight bundles made of bronze. Titled "Everything is Inside" from where the exhibition draws its name, the mystery that is contained within these bundles is emphasized just as much as is the transition, movement and liminality. A brass door installation placed against the wall creates a moment of tense anxiety between the interior and the exterior positioning the spectator in a threshold of anticipation.
IMAGE COURTESY – BBC
Be it the simplicity of a glass of water tantalizingly filled up to the brim or the cascading stainless steel utensils seen through the sophisticated mechanism of a peephole in a terracotta vase encapsulating the complex Buddhist and Hindu philosophy of the universe in a vase, Everything is Inside after all.
So the next time you drive past the apparently spooky tree installation, tell yourself that what you are looking at is one of the finest art installations of Subodh Gupta and appreciate his adroitness!
FEATURED IMAGE COURTESY – Artsome