'You will go to the paper towns and you will never come back', or so says Margo Roth Spiegelman in John Green's famous novel Paper Towns. A fitting quote when you think of an art form like Paper Quilling. Paper Quilling is like a rose with many names. Throughout history, it finds a mention by way of paper filigree, paper mosaic, etc. It uses strips of paper which are rolled, looped, curled, twisted and otherwise manipulated to create shapes and designs. The paper is wound around a quill to create a basic coil shape. The paper is then glued at the tip and these shaped coils are used to create artwork in patterns similar to ironwork. Quilling has been seen throughout time to imitate the original ironwork of the day.
While it is difficult to pin down the exact timeline of its origin, it is known that during the Renaissance period, high quality work produced by French and Italian monks and nuns, used quilling to decorate book covers and religious items. The paper most commonly used then was strips of paper trimmed from the gilded edges of books. This ecclesiastical connection was maintained when art spread to England with the development of paper, though vellum and parchment were also used.
In the 18th century, quilling became popular in Europe among the genteel ladies of quality (also known as "ladies of leisure") who considered it to be a decorative art used to work panels and coat-of-arms. However it was an art form confined to the "upper classes" and was never practiced by working class women. In Colonial times, quilling also spread to America and there are quite a few remaining artworks of those times preserved in museums all over the world. Quilling gathered such a following that it finds a mention in the works of Jane Austen – notably 'Sense And Sensibility' – and the Brontë sisters.
In 1983, a voluntary organisation named 'The Quilling Guild' was formed, now registered as a non-profitmaking charity in the UK. They staged the first International Festival of Quilling in 1992 at Ragley Hall, and enthused by the response they followed it up with the second festival in 1997. Recently in 2013, they celebrated their 30th Anniversary Celebration of Quilling in Liverpool.
In the last few years, Quilling has seen a resurgence in its popularity with artists and layman alike using it to indulge their creative juices. The simplicity of the technique and low cost of the materials required has only helped the art grow. It's quite easy to find several video tutorials for learning the basic techniques. Fret not, we have picked out two YouTube tutorials, should the fancy of paper quilling strike you – Quelling Demo and Butterfly Quilling Tutorial.
As seen in all art forms, some artists, with their creativity, innovation and passion, set examples for millions to follow while delighting the people who come across their art. The artists featured below have achieved the same with aplomb.
1. Crafting Wonders
Internationally renowned artist Yulia Brodskaya (whom we've featured before) is a Russian wonder, now based in UK where she moved to pursue a Masters in Graphics Communication from the University of Hertfordshire in 2004. While studying for her degree, she started working as a freelance graphic designer but soon switched to the illustration field. However, her graphic design background echoes in her artwork with a lot of her pieces having a strong typographic focus. Yulia herself says,
Typography is my second love, after paper and I'm really happy that I've found a way of combining the two. Having said that, I don't want to exclude non-typobased designs, I'd like to work on different projects.
Combining her love for typography, paper, and highly detailed hand-made craft objects, Yulia has earned an international reputation for her innovative paper illustrations. She created the official poster of the recently concluded 2015 Wimbledon Championships and has a client list that boasts of Oprah Winfrey, Ferrero, Starbucks and The New York Times to name a few.
2. Paper Towns
Born and based in Istanbul, Turkey, Sena Runa held a cushy HR specialist position which she quit in January 2015 to pursue her passion for quilling as a full-time job. She says,
I began quilling three years ago. While I was searching the internet for inspiration to find the right hobby for me, I found a colourful picture that was made from paper using the quilling technique, but I had no idea what it was called. I tried to make  it, but it turned out awful! After exploring many quilled creations online, I soon found my own style.
Each one of Sena's designs is cheerful and festive. She often incorporates ink flourishes into a dimensional paper illustration, giving them a playful vibe. Just 7 months into working as a full time artist, Sena has acquired quite the following on Instagram with over 46K+ followers. She sells her designs through her Etsy shop, and judging by her sales, her most popular design is the beautiful illustration 'Love is All Around' heart. Her design 'The Place Where Wishes Come True' shows that castles built with paper don't always fall down!
3. The Anatomy Of Paper
With a graphic designer father and his brother, an illustrator, Lisa Nilsson grew up surrounded by art, which served as her early inspiration. She is a visual artist, who in the 1980s attended the Rhode Island School of Design, learning the art of creating illustrations. After graduating from art school, Lisa worked as an illustrator at American Greetings in Cleveland and went on to do freelance work in Sports Illustrated, Rolling Stone and Entertainment Weekly, to name a few.
It was in 2010 that Lisa began working in the field of paper quilling and started creating anatomical cross-sections, a feat extremely complicated to achieve and one which she has perfected. Her unique cocktail of quilling and anatomy has caught the eye of many, with her work first being displayed at the Austen Riggs Center in Stockbridge, Massachusetts. Currently she is represented by the Pavel Zoubok Gallery in New York City.
4. Emote And Amaze
Living in Manilla, Philippines, Mary Imbong is a relatively new quiller who found inspiration in the artwork of Yulia Brodskaya and Ashley Chiang. Back in 2013, Mary was doing creative work for a youth non-profit in NYC, which she says has influenced her style, as her stint in NYC exposed her to a variety of art forms. Like a lot of up and coming quilling, she discovered her prodigious talent when she came across Yulia's artworks in a book called 'Mid-Fi'. A journey that started out as a mere effort to pass time one day, Mary's art has grown into designs that have a light and airy sense, with lines that curve gracefully. She joined her first art fair in May 2014 and got her first client which soon snowballed into a plethora of custom orders. In August, Mary bagged her first big client when a chain of stores in Philippines called Watsons approached her to design their 2015 Journal.
Talking about her inspiration, Mary states that while she makes a lot of pretty art pieces, she's also inspired by the sheer ruggedness of street art. Her love for quirkiness shows in her playful subjects. Her aim, she says, is to "draw with paper, as one would on paper."
That idea seems to really amaze people. So I prefer creating pieces that people won't expect to see being made with paper, she says.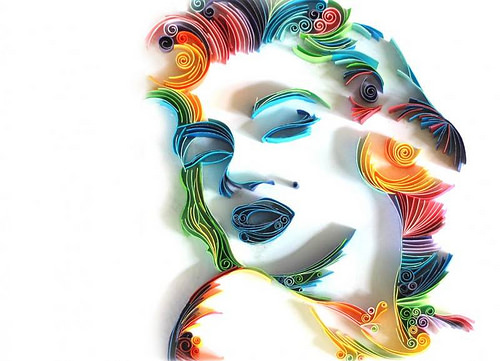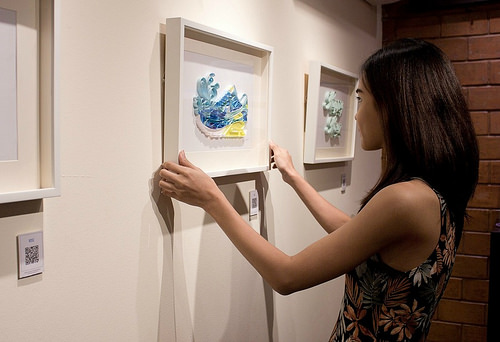 5. Curioser And Curioser
A quilling artist who works as a prop builder for theatre companies by day in Ontario, Canada, Michelle Jamieson lives and breathes art. Quilling, however, she says is very different from prop design, "It's more zen-like and calming. Thus, the added bonus of relaxing while I create." Michelle finds inspiration in everything around her, from Mexican woven blankets to a summer trip to Falcon Lake, almost everything finds itself immortalised in her artwork.
Her quilling journey started through her participation in craft swaps on craftster.org – which is like pen pals, except you send craftwork instead of letters. Her partner saw some interesting designs which Michelle tried out by making two monograms. After seeing the positive reactions on her blog, she started making custom orders and has since then started to experiment with a variety of techniques. Michelle sells her art pieces through her Etsy shop which is uniquely called 'aCoCC', inspired by the name of her blog, "A Can of Crafty Curiosities."
6. Imagination And The Infinite
A long-time illustrator based in Istanbul, Turkey, Isil Panirbasi has found renown for giving a contemporary twist to the classic art of quilling. Just near the start of the current year, while searching for art supplies online, Isil came upon quilling and got excited about its possibilities, which just goes to show that sometimes the best things that happen to us often take us by surprise. Never one to waste time, she immediately ordered papers and the basic tools and taught herself to quill. With time, Isil started missing drawing, so she decided to combine sketches with quilling and came up with her own potent artistic cocktail!
About her love for quilling, Isil says,
One thing I like about quilling is that you can shape paper strips into whatever you can imagine.
She displays her artwork on her Instagram page 'partialart' and sells her work through her new Etsy shop 'Isil Paper'.
7. A Chance Encounter
A mother of three children, Ashley Chiang lives in Maryland and runs an Etsy shop 'Paper Liberated' and is quite popular on Instagram. Back in 2012, Ashley decided to try her hand at quilling when she needed an original idea for gifts for her relatives and found it in stumbling upon Yulia Brodskaya's work. In her own words, she was "taken over with this fantastic craft." Speaking about her process, Ashley admits,
I have never done traditional quilling and I don't use any tools beyond scissors, a pair of tweezers, and a Scotch pen. I also cut my own strips using heavier paper and cut them quadruple the width of typical quilling strips (1/2 inch instead of the usual 1/8 inch).
Unlike other paper artists, Ashley starts out with a blank board. She sometimes sketches out a word or a phrase in order to keep the letters uniform but otherwise everything is done completely on the spot. Her style, it seems screams spontaneity and the liberation that accompanies emotions.
Art, in its very essence, is something that can never be limited to one style or form. Nothing essays this better than quilling which uses paper – a material that is only considered as a platform ON which art is rendered in most art disciplines – and draws with it rather than on it.
Whether by chance or by having started with it, these artists have found their passion in quilling. A sentiment shared and appreciated by one and all at The Yellow Sparrow. Now, let me leave you to marvel at the sheer talent of the artists featured while I go and steal my sister's quilling kit and fiddle around with it.