What do you look for when you hunt for a cafe? This sparrow thinks it's more than just food. The essence of serenity is experienced in a cafe with excellent aesthetics.
There are tons of cafes and restaurants in Pune which have shown their creative potential with the charm of their ambiance.  We've picked the five creative restaurants in Pune which you must check out if you're ever on the hunt for something more than just grub.
1. Paghdandi Cafe
A concept store, Paghdandi Books and Chai Cafe, promotes conscious yet alternate lifestyle choices and also provides multiple services under one roof. It provides a wide collection of books with a focus on independent publishers, both for rental and purchase in a café environment. Started by two backpackers Neha and Vishal, the idea was to create an interactive environment.  An open space is given where one can relax and ideate over the multiple facets of life yet unexplored.  Started only a year ago this cafe has successfully become an 'adda' for like-minded people and creative collaborators.
To know more about them, visit their site or contact them on: +91-7755908525. Or if you happen to find yourself in Pune, pay them a visit on this address – Shop No.6, Regent Plaza, Baner Pashan Link Road, Baner, Pune – 411045.
2. German Bakery
German Bakery has been Pune's favorite joint for a very long time. From being a regular cafe to a trendy Italian restaurant to offering sinful European deserts, this place has got it all. Being the victim of an unfortunate and devastating incident this cafe stands strong to prove that it still has what it takes to be the best of the best. With outdoor seating, the cafe also has music which you can tap your feet to and can treat your taste buds with excellent food! With beautiful paintings on the wall and graffiti's on the interior staircase this cafe makes itself  uniquely creative with the little things.
For more information, visit their site.
3. Sauteed Stories
The place serves excellent coffee and a has menu which will make your eyes pop out. A beautiful story in itself this cafe has tress growing inside the cafe area! (That's just amazing!) The Cafe's creative team has taken this place to a next level by serving drinks in light bulbs and in jars which are beautifully decorated with every little detail. Don't believe me? See for yourself below!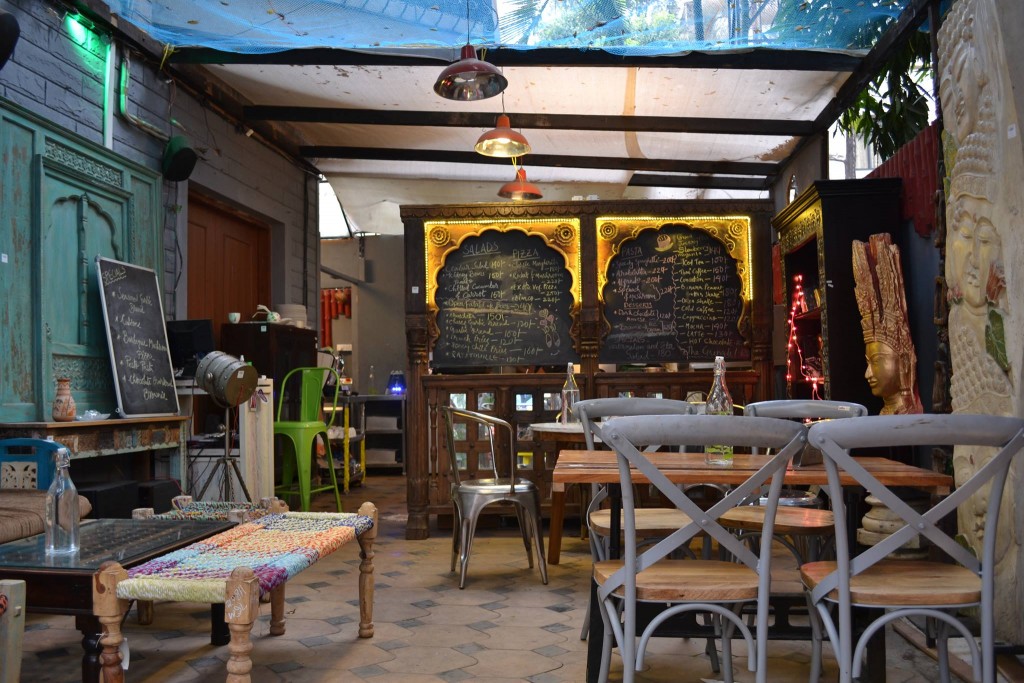 Image courtesy: Burrp
Food at its very best and decor too at almost perfection, this cafe is to be definitely visited if you ever find yourself in the magical city of Pune!
To get more information about this cafe visit their site.
4. 11 East Street Cafe
Situated in the oldest area of Pune, 11 East Street Cafe is most famous amongst the youngsters, though everyone is welcome. The cafe is street-themed as the name suggests, the kitchen is in a bus which adds on to the aesthetics of a great ambiance. The food is excellent. Seating area consists of half the ground floor and and a balcony view. The ground floor has a big screen which you can enjoy at any match day. The music is light. Occasionally the waiters of the cafe put up a show of dancing which intrigues the customers to come more often. You can enjoy the cafe for a long time as, it is beautiful and the food as scrumptuous!
To know more, visit the site!
5. The Urban Foundry
Trending all over Pune, this restaurant has taken creativity to another level.  The decor is very industrial, very naked and very quirky. There's a huge gear on the wall which is always rotating, the furniture, cutlery and everything else has a foundry touch. The utensils they serve you your food in are the best part, right from aluminium and enameled plates to little pressure cookers, engine oil measuring jars and big, aluminium mugs – they have it all! The best and the most unique thing about this place is the way they have done their menu! Check it out below for yourself.
To discover more about this amazing place, visit the site!
Do you think we've missed out on any? Let us know!