My first visit to Dharavi, the biggest slum in all of Asia, surprised me quite pleasantly. I went their as a design student who was a member of the Rotary Club of her college. Our college had recently partnered with The Dharavi Art Room, an NGO set up in Dharavi. As design student we were fascinated by the idea of making art accessible to some of the most artistic, but deprived kids in the country.
As we entered Dharavi we saw, a big English medium school right at the entrance, which made me quite happy. The streets were filled with children returning home from school. The lanes were full of their chirpy voices and playful footsteps. There were women working on small-scale businesses in every nook and corner of the slum.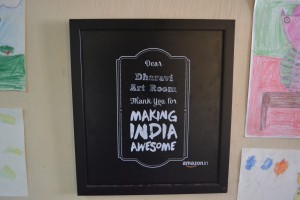 We finally reached our destination, the art room where the NGO operated. It was located on the first floor of a tiny settlement. The staircase led us to the room where we met Himanshu, the founder of the NGO. The walls were filled with paintings made by the children, from 7 to 15 years old. There were also paintings made by artists such as Vincent Van Gogh and Salvador Dali.
The Dharavi Art Room works with twelve hundred children, interacting with them teaching them art and drawing techniques. They work with schools and other NGO's. A major source of funds for the art room is through exhibitions and merchandise of student artwork. All the funds collected are invested in buying new stationary, books and spaces for the children.
Himanshu is an alumnus of JJ School of Arts in Mumbai. He has been passionately working for his cause for the past twelve years. "Art is not given adequate attention in schools, although it can really help children to express their views and thoughts" he says. Being a fine arts graduate, and having grown up in a similar environment, Himanshu can really empathize with the children around him. Art has also been his personal form of expression in life. Aqui Thami joined him five years ago and has helped make the foundation of the NGO stronger.
Upon further conversation, we discussed the curriculum of the NGO. It covers the color theory, painting through different mediums, learning about famous artists and painters etc. The children are divided into first, second and third years according to their age group. The curriculum is taught on the basis of this distinction. The corner of the room also has a mini library which contains books related to art history and painting.
It was at this point that we heard the sound of joyful footsteps coming up the stepladder. Mamta and Srishti were the first ones to come in. School had gotten over earlier than usual, as there was no water in the entire area. The situation was to remain the same for the next three days. They were, however, not affected by this, as they are used to such shortages occurring from time to time. They ran downstairs and hunted for water to start their paintings.
They were constantly smiling but were also shying away from all of us. Most of them conversed with Himanshu in Marathi and didn't talk directly to us. More children started coming in with time; all of them were happy to see us. They started opening up slowly as we talked to them. The conversation revolved around their favorite mediums to paint, their Bollywood actors, movies, hobbies etc. One of the children had his birthday that day and was distributing sweets to celebrate the same. He insisted that all of us have two toffees each and not any lesser.
We had no idea how two time flew by. It was heartwarming to see how happy these children were, and how much they loved coming in and painting. Himanshu and Aqui tell us that many parents also come complaining that their children don't give adequate attention to studies, as they are too busy drawing half the time! They posed for us and talked to us with pure affection and innocence. Two of them came and asked us to click selfies with them. After a long and fun photo session, we finally bid farewell, with the promise that we will come back again to visit them. A promise we intended to keep.
 Featured Image Courtesy – DNA India