I think I can safely say that a majority of our population would prefer to 'live to eat' rather than to 'eat to live'. If you're from the first category, this article celebrates all that brings saliva to our mouths and always leave us wanting more and more.
Here are ten Instagram accounts of food photographers, stylists and chefs that provide us with a food photography bible that we can happily follow.
[separator type="space"]
1. Nora Eisermann & Laura Mutherius ( @_food stories_)
The duo based in Berlin are both food stylists, photographers and of course, cake lovers. They are always looking for inspiration around them and they make sure that all their photos tell story, no matter how simple that tale maybe. Most of their food featured on their website and Instagram account are gluten free and vegetarian. Some are even low on histamine and are vegan. Now, who can say no to something that looks this good and is also super delicious and healthy?
[separator type="space"]
[separator type="space"]
Paola is a recipe developer, photographer and a food stylist. She has maintained her website like a travel food blog and she makes it a point to take her followers through her journey in life and her never-ending food endeavours.
If you want some live action on her food photography scenes or her travel journeys, do follow her on Snapchat- cravingsinams.
[separator type="space"]
[separator type="space"]
3. Colette Dike (@fooddeco)
The 'Food Deco' is a project run by Colette who is based in the Netherlands. A food photographer, stylist and a cookbook author, she believes that food must be easy to make and must ALWAYS be super delicious (even if it not always healthy). She used to work for home decor magazines before this, and so she knows her way through various appealing aesthetic senses. This helps her create masterpieces that are very different from the ones we rather clumsily whip up together at home. You can check out her website here.
[separator type="space"]
[separator type="space"]
Obsessed with the rustic feel, Ashley (currently based in Melbourne, Australia) often puts together her food with vintage cutlery, rustic wooden boards and beautifully handcrafted dishes (which she claims are her treasure). As a food photographer, she loves playing with colour, texture and lighting, thus making the photo so captivating. She also, recently put together a recipe ebook that is sure to leave you begging for more.
You can also follow on her Snapchat- gatherandfeast for live adventures.
[separator type="space"]
[separator type="space"]
Anybody would love to wake up to this kind of a breakfast (especially on rainy or cold winter days). Marta perfectly encapsulates everything that a breakfast in supposed to look like on her Instagram and her website. Breakfast is said to be the most important meal of the day, and after looking at these photos, everyone would be in the mood to whip up a breakfast that would look as good as this. She also has these unique food guides for various cities on her website. You should definitely check out these guides before hitting up one of the cities on the list.
If you want to wake up to a good breakfast snap every morning, do follow her on Snapchat- marta.greber
[separator type="space"]
[separator type="space"]
Now coming to the eastern side of the globe, Sony Dinesh, a food photographer and stylist captures all that Indian food has to offer. She brings out its divine characteristics through its unique shapes and forms and also pays equal attention to the raw ingredients that help make these beautiful and scrumptious dishes.
You can check out more her work on her Facebook page: A delicious affair with Sony.
[separator type="space"]
[separator type="space"]
Gurgaon-based food photographer and stylist, Deeba Rajpal is a Bake-a-holic and a recipe developer. In a world where everyone focuses on taste rather than presentation, Deeba ensures that presentation is given equal importance to and lures you to consume the chocolate fantasies that she creates. You can check out more of her work on her Facebook page and her website.
[separator type="space"]
[separator type="space"]
8. Sonali Ghosh (@sugaretal)
Based in Sydney,  Sonali was greatly inspired by the fresh produce and seasonal ingredients. This is what influenced her to create these magnificent pieces of art in the form of food. This self-taught artist and chef, turned her hobby/passion into her career and is now living the high life amidst these rich and delectable delicacies. You must definitely check out her Instagram and her website to gorge your eyes out on these artistic, scrumptious creations that you can never get enough of!
[separator type="space"]
[separator type="space"]
Mumbai Foodie takes its viewers through various energy re-fueling pit stops that serves the best of any kind of cuisine. So do give this Instagram page a follow, if you want to get an idea of which places deserve your attention and time in Mumbai.
[separator type="space"]
[separator type="space"]
10. Singapore Cafe Food (@sgcafefood)
This Singapore cafe guide takes you through the various cafe type restaurants, bakeries and baristas around the island, that serve dishes that are not only incredibly delicious but are also photo worthy for your Instagram and Snapchat (sgcafefood) accounts!  Who ever said cafes are pretentious?!
[separator type="space"]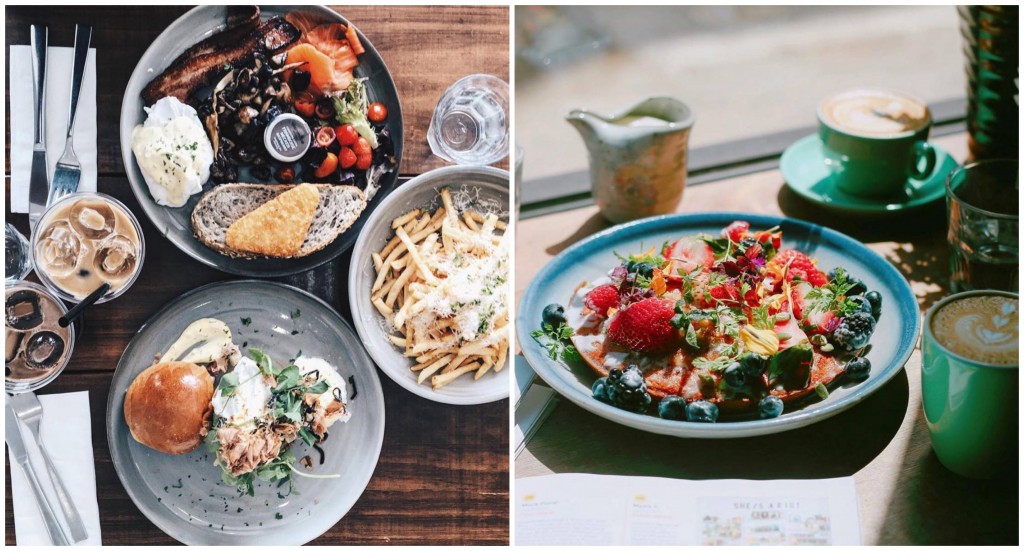 [separator type="space"]
It is absolutely essential for you to follow these Instagram accounts, if you want to wake up to encouraging food posts on your feed, that will give you more than enough energy to pull through your day. So click on their follow buttons right away!