The diversity in Indian art today is at a high. With influences from around the country and across the world now available to our indigenous artists, the confluence of cultures has led to the creation of new beauty. Young Indian artists from all over the country are increasingly entering the art scene, each of them with  their own eccentric take to offer.
While some of these quirky artists use Indian symbols and motifs to take them to a new level, others draw from their surroundings and culture, and others still create altogether unique things, finding inspiration inside their own heads.
Come explore with us five such incredible individuals, who are making the country an even more stunning place, one stroke at a time.
1. Artist(s) Anonymous
Kochi's newest street artist is here to give Banksy a run for their money. GuessWho, as they call themselves, have been covering any available surface in the Fort Kochi region with art that strikes the exact balance pop-culture and progressive. After rising to fame through a Reddit thread and then being covered by Buzzfeed, GuessWho's real identity, like that of any good street artist, is unknown. Their cross-cultural work brings together Indian tropes and Western symbols in their curious yet entertaining graffiti.
Funny, thought-provoking and relatable- they do it all. From figures like Michael Jackson, Jimmy Hendrix and Bob Marley shredding on their sitars and veenas, to Mona Lisa carrying a matka, and… well, just scroll through their artwork at imgur; we assure you, it's fantastic.
2. Going Dotty
This artist uses the Indian traditional bindi motif in all her artwork. Fascinated by the ritualistic wearing of the bindi by millions every day, Bharti Kher examines all the different interpretations of the symbols' significance and sees them as one, merging the diversity of Indian cultures into a single force.
She considers the traditions and customs of the country to be its unifying as opposed to dividing factor and therefore attempts to bring out this unity and sense of collectiveness in her work. With paintings and fibre glass sculptures as her mediums, Bharti attempts to push herself further with every piece.
Her spectacular work can be accessed at her Saatchi page.
3. Heroes of India
Illustrator Raj Kamal Aich says he likes to spend his time imagining different things- and that he did when he created his series featuring Western superheroes as Indians, drawing from superstitions and culture to re-imagine them. Whether it's Thor smoking a beedi (the local, cheaper variant of a cigarette) or a turbaned Spider-Man, Aich has explored them all, and hilariously at that.
His quirky, cheeky illustrations are a response to him feeling that, other than Chacha Chaudhary, there have been no real Indian superheroes. One day, he wishes for his Superheroes projects to be adapted for animated movies or shows for TV. He is also building the background stories for his heroes, developing plots on their lives and is exploring new things with each story.
To stay updated with his work, superhero-related or otherwise, you can follow him on Twitter or Kyoorius.
4. Photo Synthesis
Mumbai's Anil Saxena does photo manipulations that range from playful to profound, but each one of them is sure to make you look twice. The artist started out with conventional darkroom photos and retouching them before he began his experiments with Photoshop and painting. A true perfectionist of his art, he says his goal is to have his work done on the picture go unnoticed.
Saxena merges Indian themes with Western images in his fascinating works that touch topics such as diverse as social issues and humour. His objective is to please the eye and finds that without little surprises and things that make you take note, life would be bland.
His contributions to adding a little spice to life can be seen on Behance.
5. Fairytale Wedding
Amrit Grewal was like any other wedding photographer before inspiration struck. He now re-touches photos that re-imagine Indian brides as Disney princesses! Or is it Disney princesses re-imagined as Indian brides? We're not entirely sure, but what we can definitively tell you is that the effect is striking, to say the least. These pictures perfectly hit the mark with their gorgeous ethnicity and are a delightful blend of East and West.
You can find out more about his work (and maybe hire him to be your wedding photographer!) on his website.

6. Mad Hatter Party
The collection of eccentric artistic work by a modern artists' group in the Sikri Bagh in Modinagar is, according to the India Today article that covered it, like a Mad Hatter party. Sudarshan Shetty's huge, fake-velvet aeroplane lies on a sofa; C.K. Rajan has painted eggplant and carrots in purple and pink, while Ajay Desai has painted bits and pieces of shrubbery that he found in the jungle-like garden; Subodh Gupta is building a walled enclosure with gobar (dung cakes). Iftikar Dadi is superimposing translucent lice combs over cards of Bollywood stars to show how Pakistan's efforts to censure Indian popular culture only make them more seductive. There's even a cloth-covered tunnel winding towards nowhere that Jyoti Kolte is making.
This motley crew flouts every rule, making up their own as they go along, because what is art if not spontaneous and a little bit crazy? They work in a free space with no boundaries and encourage others to do the same in their workshop 'Khoj', with 12 artists from India and 12 from around the world. You can read more about their whacky workshops at their website.
Images Courtesy- Khoj
7. Being Indo-Western
Dhruvi Acharya reveals in her works a passion for the Western genres of street art and comic strips. However, wanting to express the everyday struggles of her life as a woman and a mother, she Indianizes these forms of art in a way that suits her subject. She uses Indian motifs and patterns, repeated across her body of work in order to express the emotional aspect of an urban Indian woman's everyday life.
She sometimes uses images with an indication of text but none given to tantalise, while at other times she provides only text with the images eliminates in a provocative assertion of revelation. Either way, speech bubbles are a regular feature in her art. For her therefore, an image is the garment that clothes the body; it must be represented in just the right way to simultaneously leave enough to the imagination as well as offer the suggestion of something more.
Her works can be seen at her Saatchi or Saffron pages, or her website.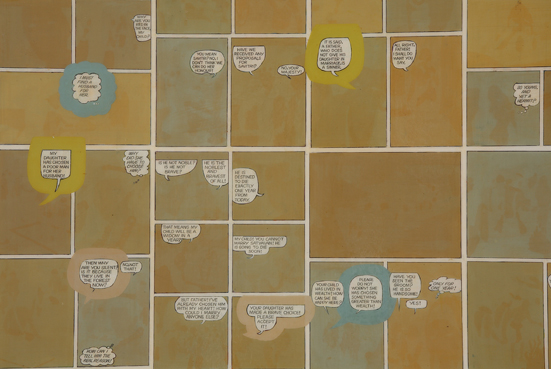 8. Take it to the Street
You know we like to save you the best for last! This initiative is beautiful, simple and made for the average, ordinary artist in India that wants to share their work with a larger audience.
St+art India has been adding colourful street art to Mumbai and making the city a lot brighter, prettier and interesting. As part of their campaign to give young Indians a fresh perspective on art, they have been working to put up graffiti and murals all over Bandra, Dharavi and Peddar Road. Their aim, they say, is to:
Provide a platform for street artists from all over the world to come and connect with the Indian movement. It is also a platform for Indian artists to showcase their work and exchange ideas with the global community.
At the same time, Hanif Qureshi (the Creative Director) says, they want to change the city's landscape to a more colourful and exciting place, rather than only grey building on building.
You can read more about their movement as well as browse through all their lovely work, on their website.
Not all their work is quite so inspiring, however, and some of it simultaneously intrigues us and creeps us out. We're not sure we'd like to know what's going on inside this building below.
These artists, through their distinctive works, have set the bar for creativity in the country that little bit higher. Letting no boundary or convention hold them back, they mingle influences from foreign countries with their firmly-rooted, deeply Indian thoughts and ideas. In this captivating convergence, artists have found their own space and made their mark on world art. Be sure to take a look at these artists and their work! You're in for an aesthetic feast.