How is success achieved? Not in the blink of an eye, I tell you. After a series of tedious tries, failures, repetitive implosions, a plethora of experiments and experiences, does one achieve success. Success requires incessant effort and a mindset augmented with a determination to never give up. Success requires exorbitant passion and a lot of courage, courage enough to pick yourself up each time you fall, irrespective of the number of times you have encountered failures in life before. One of such successful people, a worshipped icon of the chocolate industry is Katrina Markoff, the CEO and founder of the prestigious and autonomous luxury chocolate manufacturing company based in Chicago, the 'Vosges Haut-Chocolat'. Katrina has a Twitter and a Linked In account, where she is a moderately active user.
Katrina describes her story of becoming an illustrious chocolate maker as an 'evolution' since her childhood. Katrina had been an immense lover of cooking since her school days and had already established her cake business in high school. Initially a generic mindset made her think of pursuing medicine, but in her last year of the Vanderbilt University, she realised that becoming a doctor was not exactly what she was interested in and decided to go to Paris to pursue her passion for culinary arts. After a deluge of experiments with cooking and baking, Katrina came to a conclusion that chocolate was the most powerful word in the food dictionary. Katrina claims her trips around the world and her interaction with people from a variety of different cultures, to be the greatest inspiration responsible for driving her ambition. Her ultimate goal, to spread world peace through the medium of chocolate, seems really interesting as well as genuine.
The Vosges does not manufacture ordinary chocolates like other chocolate companies, it is in essence, known for its exotic fusions of chocolate with other items like oysters and curry. According to Katrina, people are initially skeptical to try out such bizarre sounding blends but most people tend to relish these innovative fusions, which inculcates an impulse in them to try out other eccentric flavors like Wasabi, mushroom, bacon or olive oil. Katrina thinks that when these unusual  amalgams of chocolate come to them as mouthwatering surprises, the experience makes them open to trying out not just new chocolate aliments, but new ideas in many other aspects of life as well. Katrina deems traditional chocolate bars as 'sour milk' as she thinks that chocolate is not complete on its own, and rather is an ingredient to a variety of treats that can be derived from it. Katrina explained how the reasoning behind her bizarre innovations in a Taste3 conference, followed a 4 step process;
To fall in love – To initiate unique a thought process, according to Katrina you need to have invincible passion about something in life. Katrina fell in love with travelling and the beauty of different places across the world. Her chocolate cuisine was provoked by many things she saw while touring the world, such as Antonio Gaudi's Sagrada Familia, mosaic work, Nagaland people from East India, Aboriginal culture of Australia and Yoga.
Inspiration – After you fall in love with the beauty of something, that is the point when you need to start digging deeper, and connect yourself with the story and the cause behind its eloquence. When you feel connected with the cause, there arises a vision of how to approach your passion. Katrina is an admirer of Bob Marley, and his quotes and songs are the inspiration behind her never ending drive to invent and innovate.
Action – There are three types of people in the world. There are people who have humongous dreams, plans and ambitions but are ignorant when it comes to working them out; there are people who have the capacity to work as hard as it takes but do not dream big; and then there are those, who are 95% dreamers and 5% activists, who according to her, actually make a difference. Katrina feels that she was one such person, who put in a decent effort into making her dream come true. Her role models include Martin Luther King, Mahatma Gandhi and Shakespeare, who constantly kept reminding her to act on her ideas.
Experience – The last phase is when you fall and learn to pick yourself up. Katrina explains how consumer interactions and feedbacks were an important aspect in her creation process. With experience, she was able to analyse where she went wrong and improvise on her chocolate blends.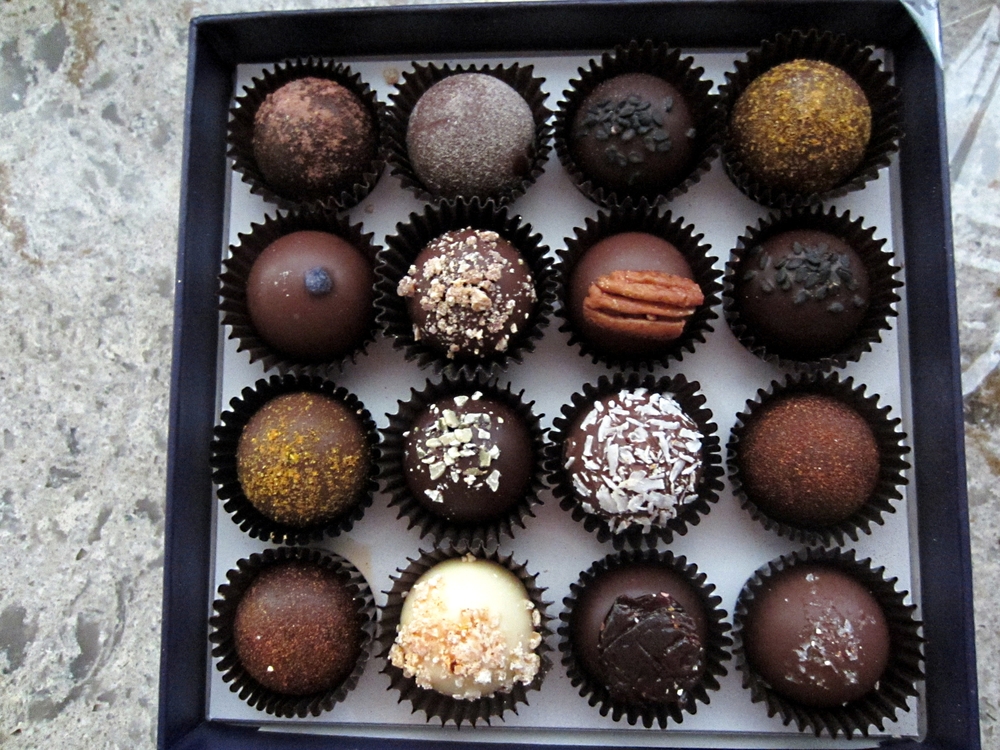 Not only is the approach of formulating chocolate grubs of Vosges extravagantly creative, but also thoroughly environment friendly and sustainable. Vosges operates on 100% renewable energy. Chocolatier Katrina Markoff selects ingredients with outright sustainable merit and uses packaging made of 100% post-consumer recycled material for her chocolate bars and purple boxes. Katrina's source of chocolate is mainly organic, and also Rainforest Alliance certified. She has managed to plant cacao crops and waits impatiently when she can have her very own source for manufacturing chocolate.
Katrina Markoff is one of the greatest and most idealistic female figures in the history of United States and has made a significant mark symbolizing her success. The woman whose chocolates are as beautiful as her, continues to work her way up the infinite ladder of success by the sole medium of unconstrained creativity.
Picture Courtesy : travel4foodnart.files.wordpress.com,  jesswords.com