I clearly remember the day I finished the last book of the Harry Potter series. I was devastated, to say the least. My entire childhood was filled with beautiful memories that revolved around this epic, and with the series over, it felt like a large part of my life had just come to a standstill. For the longest time, I would just re-read the books multiple times and watch all the eight movies on repeat. If you are like me, and genuinely miss the series, here are a few ways to keep the Harry Potter magic alive, and keep the fandom intact.
1. RE-Read the 7 Books- (The most obvious technique)
A true Harry Potter fan can never get bored of the seven books. The intricacies in the writing style, the development of the characters and the chronicles described in each book are simply captivating. I can safely say, that you haven't read the book enough, unless you can predict what the next sentence or dialogue is going to be. So go on my harry potter friend, go on and immerse yourself in the great books ONCE AGAIN!
2. Watch all 8 movies again- (Second most Obvious technique)
I think we all remember the first time we saw Harry Potter as a 11-year-old boy, in his room under the staircase. The movies are magical and now we simply cannot imagine anyone else replace any of these characters. It has reached a point where we imagine these actors in our heads whilst reading the books yet again.
3. Read Harry Potter Fan Fictions-
Fan Fictions are a way of staying in touch with the Harry Potter magic alongside your community. There are various platforms like harrypotterfanfiction, hpfanficarchive, fanfiction.net or reddit, where you can read stories written by fellow Harry Potter fans. Whether it be stories based on the events written in the books and shown in the movie, or simply a story that is a product of a wild imaginative mind- you get to read an infinite collection of stories and re-live the magic. Here are a few that are sure to start your journey on the fan fiction path, if you haven't gotten hooked just as yet.
i) Delicate
ii) Still Delicate
iii) Everything happens for a reason
iv) The Other Reality
v) Lady Malfoy 
Most of these are based on the infamous fictional Dramoine (Draco/Hermoine) pairing and this is simply because the fan fiction world is crazy about this couple. However, there are over a million fan fictions out there, and I am 110% sure that you will find something that will strike your fancy. So, do give these stories a look and re-emerge yourself into the world of pure-bloods, half-bloods and gifted muggles.
4. Read other Harry Potter related books-
Here a few books that every Harry Potter fan should read, if they have not done so already.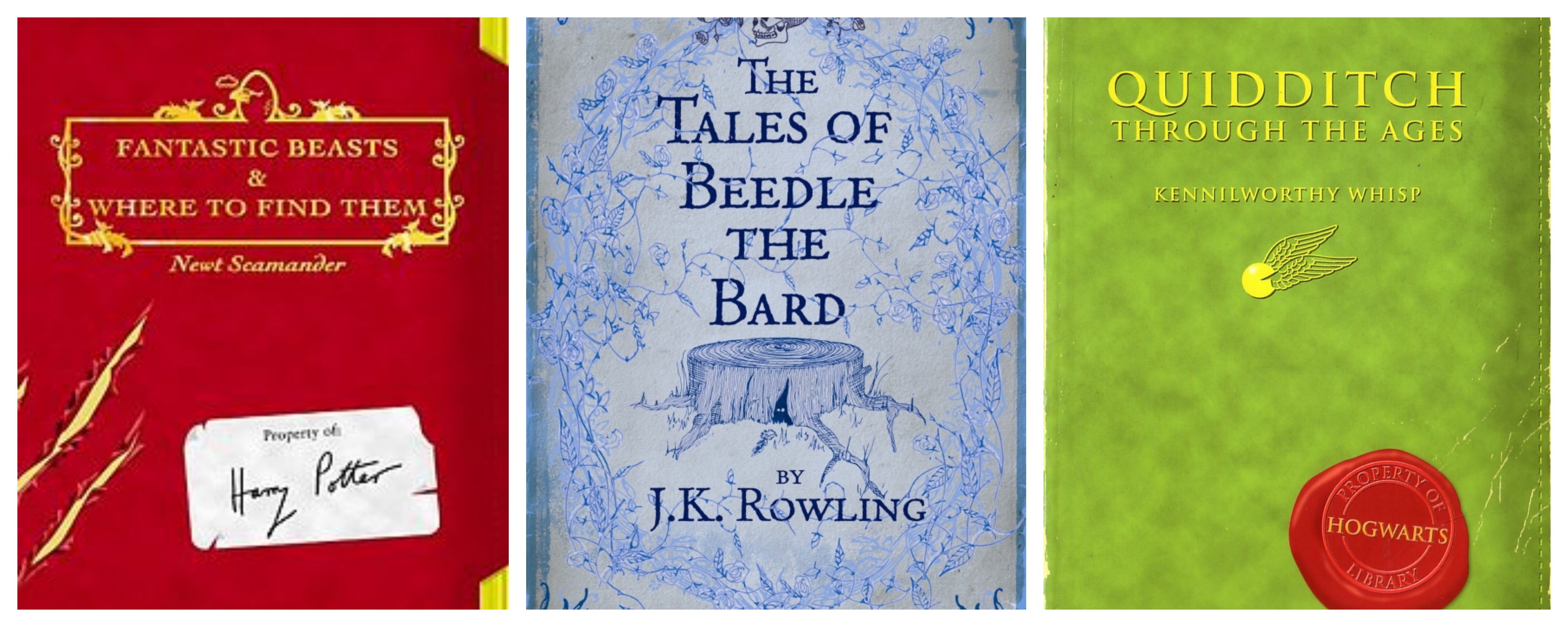 i) Fantastic Beasts and where to find them 
This book was published in March 2001 by J.K Rowling, under the pseudonym of Newt Scamander.
ii) Quidditch through the ages 
This book was also published on the same date as Fantastic Beasts, and was written by J.K Rowling, under the pseudonym Kennilworthy Whisp.
iii) The tales of Beedle the Bard 
Published on 4th December 2008, this book was mentioned in the Deathly Hallows when the trio go visit Xenophilius Lovegood, in enquiry of the Deathly Hallows. The tales of Beedle the Bard is a collection of fairy tales from the wizarding world.  It is considered an equivalent to our muggle storybook, 'The Canterbury Tales'.
iv) Harry Potter Prequel
This book was published in July 2008 and as the name suggests, is a prequel that is set before the birth of Harry Potter. It is a short story that describes an adventure set out by Sirius Black and James Potter.
v) Harry Potter and the Cursed Child
This is the most recent book/play-script that everyone has been going gaga over! This was published on the 31st of July 2016. I'd suggest you quickly grab a copy of this book here and quickly read it before watching the play!
5. Read the other series that JK Rowling has written-
J.K Rowling has also written a few crime novels under the pseudonym, Robert Galbraith. Her first book, The Casual Vacancy was published on 27th September in 2012. This was a success and she followed this book with the Cormorant Series that has three books as of now-
i) The Cuckoo's Calling- Published on 27th September 2012.
ii) The Silkworm- Published on 19th June 2014.
iii) Career of Evil-  Published on 20th October 2015.
6. Take part in Harry Potter Related Events-
There are several Harry Potter events that take place all over  the world. Let's just hope that at least one of these events are in the same city as you. Or, if you're a die-hard fan, you could travel to one of these cities/countries and experience the event and the city of course!
iii) Harry Potter and the Cursed Child Play
iv) International Quidditch Association
Unfortunately, all the cool Harry Potter events in India have just come to halt. But you should surely look forward to more interesting events at the Potter Mania Facebook Page or the Hogwarts Experience Facebook page.
7. Look forward to the new editions in the Harry Potter Series-
Now all of you Harry Potter fans come to the edge of your seats, because there are bunch of interesting Harry Potter related books, films and TV shows that are going to come your way this year.
 i) Hogwarts: An incomplete and unreliable guide – Published this September 2016
ii) Short Stories from Hogwarts of Power, Political and Pesky Poltergeists- Published this September 2016
iii) Short Stories from Hogwarts of Heroism, Hardship and Dangerous Hobbies- Published this September 2016 
iv) TV Series-
The Casual Vacancy- Aired on BBC One- 3 episodes out till now and it will soon be online. 
v) Film-
Fantastic beasts and Where to Find Them- Starring Eddie Redmanye. If this is not reason enough to get you to watch this movie, alongside it being an offspring of the Harry Potter series, I don't know what will! It is expected to be released on November 18th, 2016.
Alongside all of this, we always do have Pottermore that would forever make us feel like a part of Hogwarts and the Harry Potter family. I am sure we have all realised by now that Harry Potter is a religion and in order to keep this alive we have got to get together as a community and keep the magic alive. Long live Harry Potter and everything related to Harry Potter! 😀