We're pretty sure you have a stunning collection of nail polishes which look brilliant on your neatly manicured nails, but for Clayrene Chan, nail polishes are made for paper.
Wait, what?
Meet Clayrene from Artclaytion, who's known for making stunning fashion illustrations with just nail polishes! Based in Singapore, Chan thinks that haute couture is not only for runway, we can own it through our nail polish & brushes!
And other than posting daily bits of magic on her Instagram, Clayrene's magic has also touched the likes of Christian Louboutin, Longchamp, Harper Bazaar, Diane von Furstenberg, Rouge Magazine and so on.
And that's exactly why we sent out our Sparrows all the way to Singapore to get to know the master behind the magic better!
Q. Tell us a little more about yourself! What is Chan Clayrene like, not as an artist but as a person?
A person who loves to travel around the world, the wife of my husband, and a person who loves to dream!
Q. The conventional way of painting on paper is oil, water color or acrylic paints. How did you get the idea of using nail polish instead of paints? Were you always interested in nail paints and art?
As a nail polish lover, I always wanted to try it as a painting medium for my artwork because they are so colorful, and I really love the glitter and shine effect you get from them! Art has always been the love of my life – I cant live without art, and I think I'm blessed to explore such a medium. Nail polishes have become my signature and everybody loves it!
Q. Let us in on more details about the kinds of nail paints you use for your work!
I haven't tried working with gel polishes yet and I'm always really concerned about the quality of the nail polish that I work with.
So far I have tried Christian Louboutin, OPI, China Glaze, Red Earth etc., and I love them all because their color is always rich and vibrant.
Q. Is there any other medium or technique that you would like to use or work with in the future?
Yes, definitely! I'd love to try working with more different mediums and material, and it could be anything you could think of! It is always fun and exciting to experiment on a new medium.
Q. What were the kind of hardships or difficulties that you faced in your work initially?
I think it has to be my busy schedule, and to take out time to think for the concept and the context of my artwork and to create something better.
Q. What are you working on right now? What kind of work can we expect in the near future?    
Currently, I'm working full time as a fashion illustrator, and I'm working to get my art studio by November. I will definitely be doing more collaboration work with artists, and hold art workshops, and at the same time, I'll continue to paint my favorite haute couture pieces!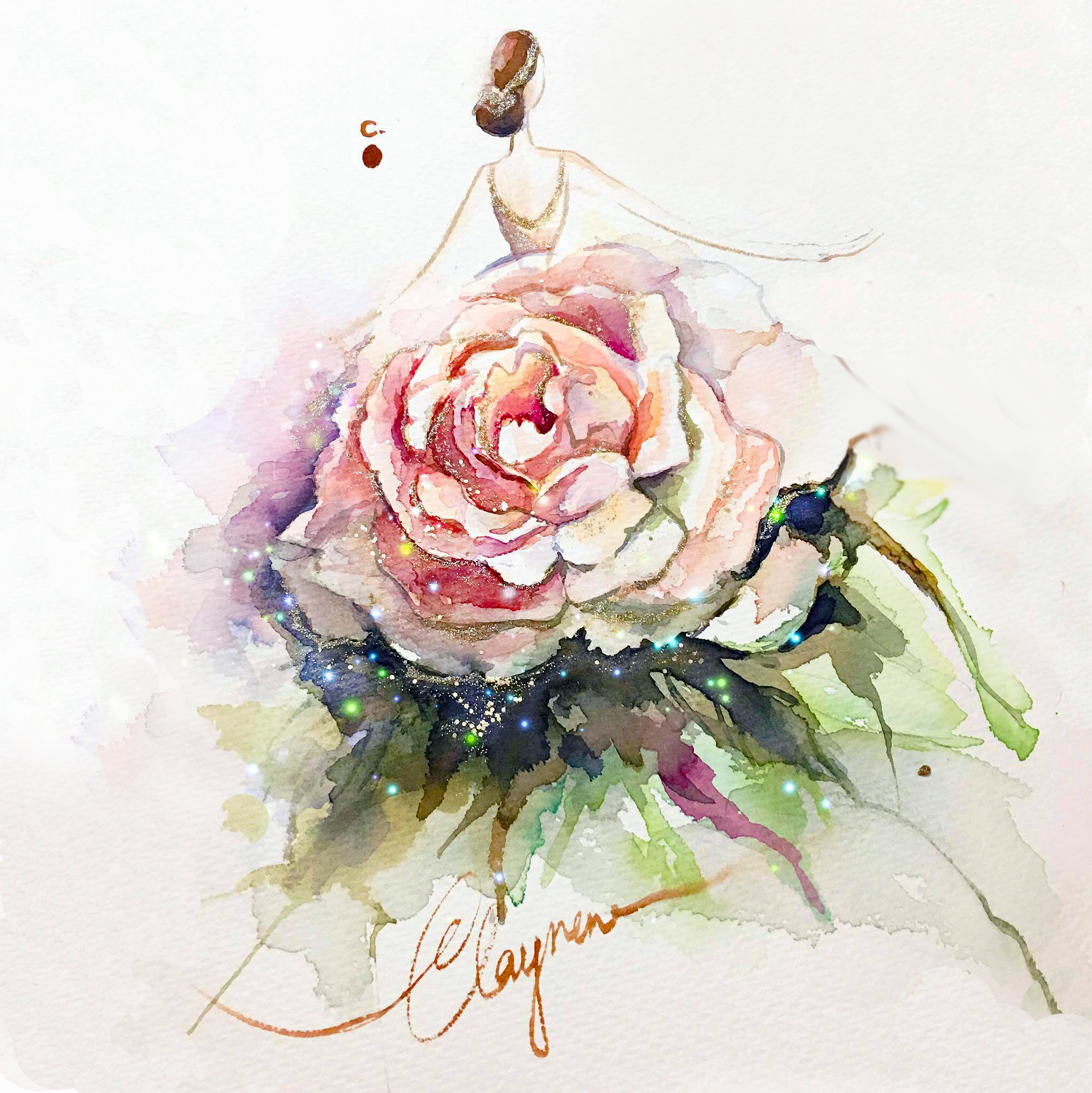 Q. What is the creative process that you follow for your work? Are you more methodical in your approach or spontaneous?
I always sketch when I'm free, and I research and follow up on the latest fashion collection on social media in order to keep myself updated.
Traveling is also very important to me and has inspired me to create artworks.
I love it when I get fully relax myself and work on my favorite paintings, apart from the usual commission jobs and deadlines. So I guess that makes me stand somewhere in between methodical and spontaneous approach when it comes to my work.
Q. Tell us a little more about your educational background. Are you an artist/designer by profession? When did you discover your talent and ability in this field?
I've loved drawing and painting ever since I was a kid, and I was always promoted as the "Art In-charge/Leader" back in the days, while my artworks were always praised by my classmate and teachers.
For me, art is my passion and I know I can keep doing it forever.
After finishing high school, I got scholarship to pursue Diploma studies at the Nanyang Academy of Fine Arts in Singapore and the later I pursued my fine art degree at the Loughborough University in United Kingdom.
Q. What, through your work, do you want to propose to your viewers?
To make the impossible possible, and inspire my viewers to look at things with a different perspective so we can create something extraordinary from the ordinary!
Q. Which your personal favorite among your entire collection? Is there a reason for that?
My favorite has to be my first collection: the Disney Fairy-tale Series! The reason behind it is that I love all the fairy-tales from Disney, ever since I was young, and it inspired me a lot to be what I am today.
Most importantly, I created my own unique style of water-based nail polish art and have been recognized for it since then.   
Q. Who or what do you draw your inspiration from?
I love to draw women, and I think women are the best gift to this world. My inspiration comes from everything that I love, especially all the beautiful haute couture from fashion runways!

Q. Are there any stereotypical notions about creative art which you oppose?
 Not at the moment, because the world of art is all about freedom and being limitless!
Q. What advice would you give aspiring artists out there who want to do unconventional art like you?
Step out from your comfort zone and dare to dream,  your life will be filled with surprises and you'll be seeing things with a  whole new perspective.
Q. If you had to spend the rest of your life eating one food, which would it be?
Rice!
Q. Which country or place brings out the artist in you the best?
Anywhere with my art-bag along!
Q. What can we find you doing on an average day?
 For that, follow my Instagram and check out my Instagram stories (which you should by clicking here to go to her Instagram page!)
And here we thought nail paint art was pretty damn fantastic! Clayrene's creativity is awe-inspiring! Who would have imagined that nail polish could be used to make such gorgeous art on paper?! We know one thing for sure – never again shall we be impressed by intricate nail art, not after looking at these amazing works by Clayrene Chan! Don't you agree with us?
All Images Courtesy of Clayrene Chan