CHOKER – As bizarre as it sounds, has a more baffling history. Wanna know more? Let's trace it back to the 19th century because that's when it all started.
It started as the plaything of the famous and rich,
Later it symbolized the grunge and the witch.
Fashion knew no boundaries and seeped through eras,
From Sabrina- The Teenage Witch to RiRi, we all sport it fellas!
Let this sparrow take you through an array creative DIYs for chokers you can rock this season, without any shilly-shallying.
1. The Versatile Scarf
If they ever tell you it's not the right season, scarf it off.  They not only emphasize the boldness of your look but it's so Jenner like that you Ken-Deal with it. Geddit?  All you need is a piece of cloth and sass. Learn some really cool ways to drape the choker scarf here.
2. The Denim in Distress
Don't you worry, Damsel.  This is so eco-friendly that you almost need nothing but your old pair of jeans and your old shoe laces will work just fine. Go a little offbeat with this denim accessory round the corner. Want to know how to go about it? Check this out.
3. Tubularly Tangled
So out of-the-box, so exclusive that it breaks through the default image you have in your mind – of the 'choker'.  This kaleidoscopic choker fills your day with a splash of glitter.  Lighten up your day by following the simple steps here.
4. Wrap Up!
Let's wrap it up the bohemian way. Oh! That magical confluence of the threads can do wonders. Be the magician of your own kind and nail that boho-chic look in different ways by just following these simple steps here.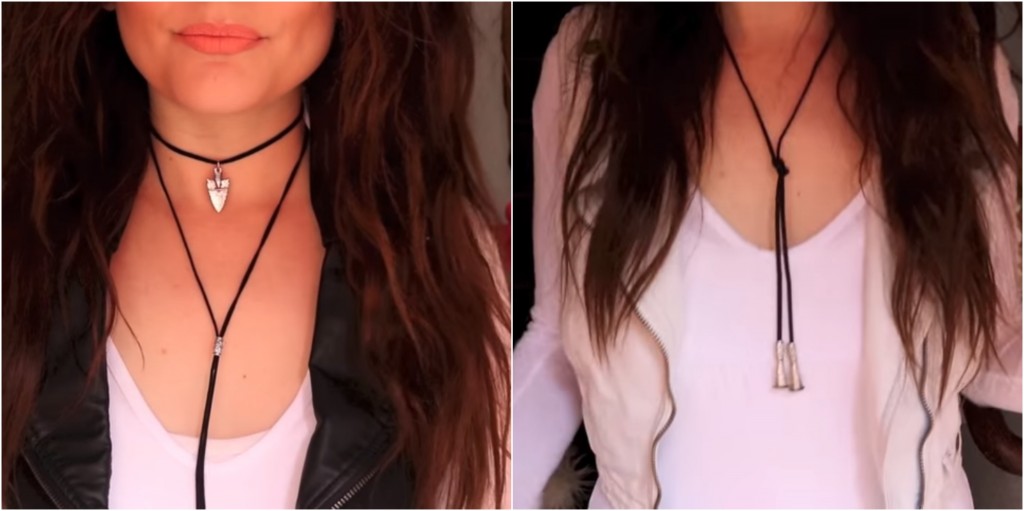 5. Chain It Down
Be it the Little Black Dress or a plain white shirt, this one choker makes or makes your day. This chain-choker ain't never getting' older (whaddup favorite song reference).  Make one for yourself by following these steps.
6. Let's Tassel-it
With tassels never running out of fashion, how do we miss out on a tassel choker? Graceful yet classy and easy to make is the tassel choker. Don't sit back and contemplate, check this out right away.
That's how you use the charm and get your hands (or necks) on them. It's your turn to DIY them. And remember, the Choker isn't just an accessory, it is a part of you and your razzle-dazzle.
All images courtesy of respective authors on Pinterest / YouTube