Do you feel as if your beloved jewellery box lacks a few pieces that are bound to make headlines? If you do, you're at the right place, but even if you don't, by the end of this gorgeous list you'd definitely feel otherwise!
The Sparrows bring you a list of a few absolutely chic Indian jewellery brands that you need to get your hands on ASAP!
1. Kichu
Kichu Dandiya's jewellery brand Kichu is what you'd call a fusion of various ethnicities into a visually modern concept. As their website states, Kichu is "not bound by social fads, the brand aims to be ever-changing and always evolving."
The pieces showcase a variety of natural elements which would make you stand and stare at them in awe. The designs include elements such as bison heads, antlers, shark teeth, and scarabs which makes them stand out from the rest. That's not all, the brand also features minimal but absolutely gorgeous designs as a part of their collection called Antarr, which includes tube necklaces and motif earrings, so not only you can rock them with your western wear, but also with your traditional wear.
Trust us when we say it, Kichu Jewellery deserves a place in your beloved jewellery box!
2. Aditi Bhatt Accessories
Bright. Bold. Beautiful. These are the three words which will pop in your mind as soon as you see a piece from Aditi's collections. As the website says, the pieces are "colourful, happy and vivacious," and that's exactly what you would feel when you get your hands on one of their electrifying designs.
The pieces incorporate traditional elements like lotus flowers, camels, flowers, and oh, how can we forget everyone's childhood favorites Haathi Cheenti from all the tales that our nani and dadi used to tell us!  Yup, you heard that right!
And that's not all, the collection also features fairly traditional pieces like Jali Cuffs, Danglers, geometric earrings and much more.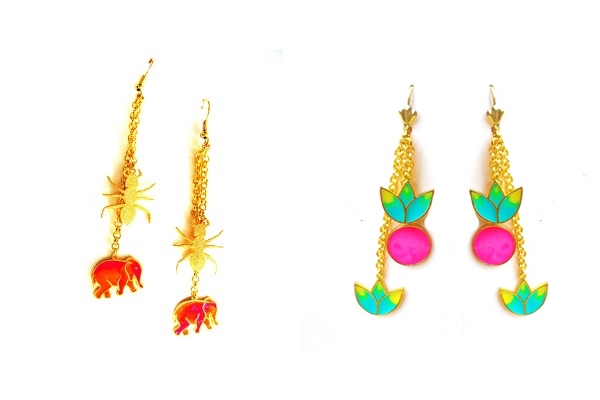 3. Cult Curators
Cult Curators features statement jewelry which is all that you can think of – it's not just simple and minimal, but also bold and eclectic. Founded by Aanchal Rathee and Sanjana Bhuwalka, Cult Curators is exactly what the name suggests: the brand has various jewelry designers, from around the globe, on board, each of whom has their own collection under the banner of Cult Curators.
They don't only feature necklaces and earrings, but also brooches, hairbands, bracelets, rings and cuffs. The designs are fairly geometric and minimal and would make you feel like a queen of all things chic and classy. You'd definitely be turning a lot of heads around with this one, that's for sure.
Check it out here.
4. Benaazir
Benaazir is basically all things Indian. From their Balis and Jhumkas, to their statement rustic necklaces, to their antique heavy silver bracelets, it's all going to hit right back home. Flaunt your formals with these pieces and we promise you, you're going to end up being every aunty's favorite!
It's an Indian dream come true, yes! Shop Benaazir here.
5. Indiancultr
Indiancultr, again, features traditional kundan and silver pieces which are sure to make you stand out whenever you wear them. They're literally as Indian as it can get, and you really don't want to miss out on that, now, do you?
Check out your new all-time favorite Indian pieces here.
Are you ready to shine bright like a diamond?
All images courtesy of respective brands