They say some of the best ideas come out of the blue and that is exactly how the Indian band Advaita was born. Wanderers in search of a destination met and discussed a few ideas over a cup of tea–turns out these wanderers were extremely talented musicians who were aware of the transformation occurring in the Indian underground music scene, yet wanted to produce music that would come straight out of the heart and speak to the soul.
Eight members namely, Abhishek Mathur, Aman Singh, Anindo Bose, Chayan Adhikari, Gaurav Chintamani, Mohit Lal, Suhail Yusuf Khan and Ujwal Nagar handling instruments like guitars, drums and sarangi along with their mellifluous vocals in both Hindi and English continuously create magic with their music. They call it a rendition that is 'spacey, psychedelic, rustic and earthy yet sprinkled with all those electronically produced sounds and feels very spiritual'.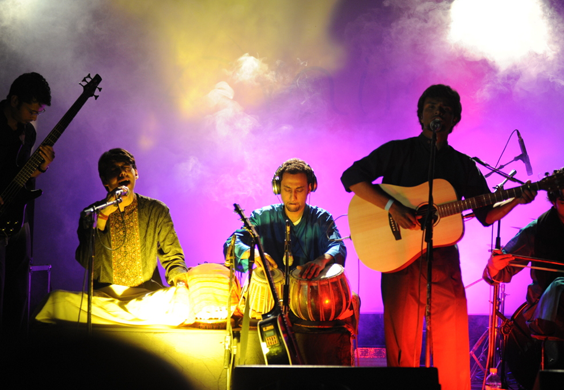 MAGIC IN THEIR MELODIES
"We speak in ragas and taals, modes and time signatures. But in the end all that matters is that there is a story behind every song."
Advaita literally means non duality. The band believes that the very philosophy that there is no difference between the perceiver and the perceived–the jiva (being) and the atman (universal spirit)–is what drives their music and everything in our lives. More than that, what keeps these wanderers going is their desire to create music that makes you stop, close your eyes and pay attention–music that is so beautiful and harmonious that it somehow makes all problems disappear, music that can somehow breathe life into the dead, music that has driven them on their ride since 2004 with no plans to get off.
A Climb Towards Success
The growth of Advaita since its inception has been immense. Their fresh and soulful music was an instant success among the public. With such a large ensemble of musicians, each having their own interests, they anticipated problems. But with a few line-up changes initially, their musical journey only got better. They have played for audiences all across the country, be it in the hills or on the beaches. Moreover, they have also shown their musical skills abroad, in countries like Maldives, and South Africa. They have successfully recorded two albums namely 'Grounded in Space' and 'The Silent Sea' and have also had the pleasure of performing on the TV show MTV Coke Studio in 2011. Another feather to their musical cap was added when they were one of the four bands from India to be selected by John Leckie to record two songs with him for a compilation released by the British Council.
The band seems to be working hard to make a difference in the world with their newfangled melodies. They played in Delhi during the Earth Hour Green Fair in April this year. They also performed at the 'Kasauli Rhythm and Blues Festival' in Himachal Pradesh in which they played tunes for children aged 15 months to 16 years suffering from various diseases.
THE SKY IS THE LIMIT
Their music has added a new dimension to Indian traditional music and has been lauded as one of the most ground breaking sounds to ever come out of underground Indian music. The fusion of Hindustani classical and rock they have created has allowed them to stay close to their roots while flying high and creating a concoction of tunes that cannot be missed, this being one of the very reasons that makes fans flock to them. They continue to perform in clubs and cafes to showcase their music to as wide an audience as possible and have us all waiting with baited breath for a third album with fresh tracks to rejuvenate our minds.
Having a tough day? Take a break and get lost in the harmonies, listening and humming to the melodious tunes of their incredibly addictive number 'Ghir Ghir'.
Once you hear their sound, we hope that the musicians (read: magicians) of Advaita cast their mesmerising spell and earn a fan in you just like they have in us.
IMAGEs COURTESY: Advaita