Girl Code 101: You never forget earrings at home. Just in case you do, you always carry an extra pair for emergency purposes. We picked out the quirkiest pair of handmade earrings for you on Etsy that will not only make but save your day.
1. Even When The Lights Are Out
This pair will light up your life (just don't offer your ear if someone asks you for a lighter for obvious reasons). You can also give it to someone special because they say, "Give lights and people will find their way". They could be used as gumballs back in the 60's and now they are used to enhance your look, hence redefining the phrase 'bold and beautiful'.
Get your hands on these here!
2. And We Will Try to Fix You
When you try your best but you don't succeed, let these handmade charm and silver plated hammer and spanner fix you! The silver color adds more to the Hammer and Spanner duo, you can adorn it with any kind of outfit and "nail" the look.
Buy these here!
3. Tweet It or Like It
Cannot eat a meal without Instagramming it with hashtags? Going through Facebook even when on the pot so that you don't need to count the number of tiles on the wall in front of you? Has a day gone by where you haven't sent a tweet? Fret not my friend, here's something to pamper the social media junkie in you.
4. Right Outta Jurassic Park
Let your ears get Jurassic with this T-Rex pair. Let nostalgia and fossils get out that gangsta-sauras in you.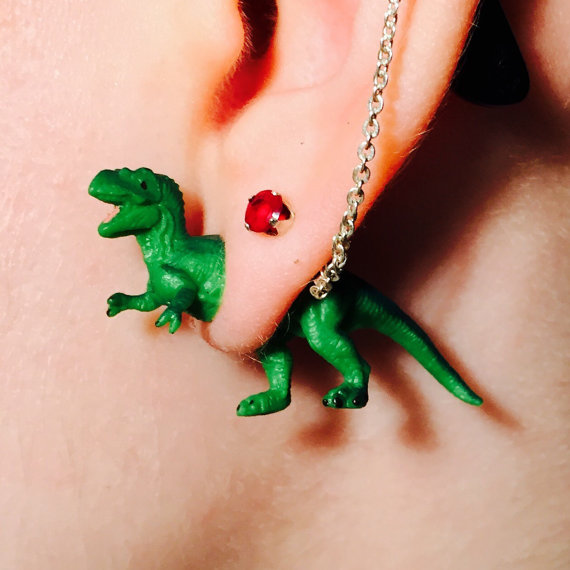 Add these to your collection ASAP, here's your button!
5. Ruling Planet Ear-th
Show your love for the outer-space by sporting these extra-terrestrial earrings. They might look adorable (seriously, aren't they?) but looks can be deceptive so watch E.T! Geddit?
Hit the link here to get your hands on these.
 6. Let Your Light Shine Everyday
We all know that lighting affects our mood, and fairy lights make life better. Isn't it? These adorable pair of party starters will light up your face and your mood!
Buying these is a bright idea here.
7. Captivating The Beauty
Nature doesn't stop for time and this beautiful pair of earrings captures the essence of nature, so preserve it while you can.
Buy these preservative-free here.
8. Stud-Bucks
Obsessive coffee 'n cake disorder? Pamper your sweet tooth and sugar cravings with the studs that best define you.
Get these with whipped cream on the top, here.
9. Flower Power
Be the Aloha you wish to see! Put on this Hawaiian pair of earrings and feel the sand and salt of the sea, all in your ear!
Add these to your aural closet, here.
10. Let's Willingly Wonka It
"The maker of music, the dreamer of dreams…"
I'll leave it to Roald Dahl and nostalgia to define this pair of earrings for you.
Get your golden ticket to these, here.
Single ladies, that's how we put e-A-r Ring on it!