Valentine's is just around the corner and we assume that you might be either running busy with your work schedule or you might be in your pyjama's watching netflix wondering as to what could you possibly gift to your loved one?
Well, firstly strike off the thought of buying something cliche from a gift shop, take a deep breath and let us do the brainstorming for you. We bring to you the best picks of DIY's for Valentines from across the internet, helping you to get in your best imaginative and creative mood to cut, assemble and make presents for your sweet, sweet Valentine. Gather your pair of snippets, pencils, colors and much more as we start off our little trip of art and craft to make your Valentine's a memorable one.
1. Hogs and Kisses Valentine's Day Mason Jars
This cute couple of piggie mason jars, with an intentional pun as a tagline make the perfect gift for someone who loves to play with words. They can be used to store your pick of chocolates, hand written notes or accessories. Easy to make, you need mason jars, pastel sheets, thread or ribbon, acrylic paint, a pair of scissor and glue. Click here to find the details of the entire process.
2. Light My Fire
How about a small token of love which expresses the immense passion you feel for your partner? If yes, you should totally try giving a matchbox (lying somewhere in your house) a quick makeover. All you'll need is a black pastel sheet, few pieces of chalk to write, red tic tacs or candy and Voila! This is one of the wittiest and probably the most simplest DIY Valentine's craft.
3. Liquor It Up
If you and your partner like indulging in long conversations over a candle lit dinner, with a bottle of Bordeaux red wine with the finest of cheese and strawberries (Doesn't it sound lovely?), then my take on the best DIY would be these finely crafted wine cork stamps. Oh don't you worry, they are so easy to make that you'd be done making them in barely 15 minutes.
Materials Needed:
Wine corks ,Glue, foam shapes and Stamp pads or Tempera paint
Process:
1. Select foam shape or cut your own.
2. Glue shape to end of wine cork.
3. Stamp away
4. With Love, R.
Do you often scribble your name with the initials of your loved one onto the last page of your notebook? I bet you do! So here's a small present which will immortalize your love by having your's and your partners initials engraved in a cupid's heart.
Materials Needed
Candle (of any color), Golden or silver marker or paint, A knife and A small piece of wood
Process
1. Carve out the first letters of your name and your partners name in a cupids heart by using a knife onto the candle.
2. Color it golden.
3. Stick it onto the bark.
5. Heart to Art Conversation
Spill the best of your raw, wild and creative side telling your loved one about how they bring out the best in you with a few abstract strokes of paint on any fabric. Cut it out into hearts and stick it on a card with threads as stems. There you go, your heart art card is ready to go!
 6. Love in Monochrome
Pictures in greyscale and a handwritten note on a box team up to make a true classic present for Valentines Day. Few greyscale prints of your favorite pictures, 'I love you' written in bold with felt tip pens and few pins to secure them on the cardboard box covered with a white sheet, that's all you need to bewitch your beloved.
7. Nuts about you!
Tell  your boyfriend that you're totally nuts about him (literally!), by giving him this quirky pair of cufflinks made out of nuts and bolts!
Materials needed
Nuts and bolts, red enamel or acrylic paint and tape
Process
1. Use tape to cover the area you don't want to paint.
2. Paint the top with red enamel.
3. Allow it to dry.
8. On Point!
For those who love minimalism and are always on point! Fold a sheet in half to make a card, make a heart with a matrix of dots by using puffy paint or acrylic paint with a fine tip brush.
9. Key to my heart!
Create this vintage 'key to my heart!' canvas by tying up an old key on a brightly painted mini canvas with a heart cut out from a newspaper or a dictionary. We're sure it will help open many doors when it comes to your Valentine.
10. Strumming Heart Strings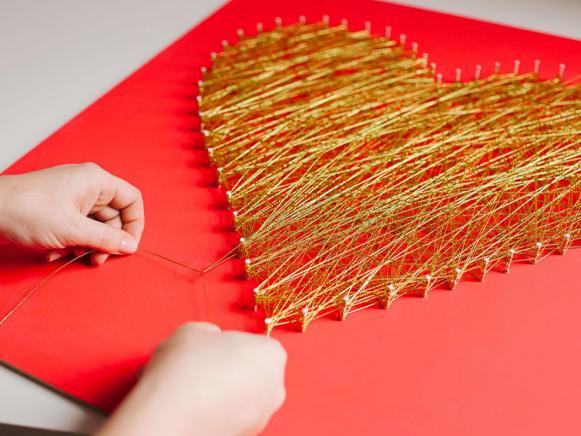 One of my personal favorites, this DIY is an artwork in itself. It's simple, refreshing and an artistic present for Valentine's. Click here to find the entire process.
So there you have it! 10 simple ways to put a spell on your beloved this Valentine's Day! Do send us pictures at chirp@theyellowsparrow.in if you decide to try any!
          Sources: www.hgtv.com
www.realsimple.com
www.thinkingcloset.com