Scroll through articles on stag dos and they are all about bars, strip clubs and babes. Move on to the hen dos and it's bars, shopping and … spa week. The common thing here is booze really. And we think that's quite a misconception. Many brides do want a crazy hen do and many grooms want a laid back vacation.
The truth is that many stag do destinations are also great hen do destinations. And the goals of a stag do and hen do are not VERY different.
So, we made the ultimate guide of destinations that would be perfect whether you're a stag or a hen.
This one crosses all the boxes of a perfect hen/ stag do destination. Amazing beaches? Yes.
Wild nightlife? Hell Yes!
Albufeira is a town in the southernmost part of Portugal. A former fishing village, it is now a popular holiday destination.
Where to drink and party?
The Strip's Avenida Francisco Sá Carneiro is the place to be. It is lined up with a variety of bars, clubs and restaurants. There's everything here- dance clubs, sports bars and karaoke. Most clubs here are used to party craziness and people drinking so you can party without any hesitation.
Kodac is possibly Albufeira's best nightclub. With five dance floors and a garden terrace, this massive place can accommodate up to 7,000 people. DJs like David Guetta and Afrojack have played here and apart from regular theme nights, it also hosts a foam party.
Liberto's Club is another hugely popular nightclub on The Strip. Done up in white with fluorescent light and a Buddha theme, it has a great crowd and attracts the best DJs in Europe.
What else to do here?
It is a coastal city, so beaches and bikinis are quite expected. There are about 25 beaches in the area so you will be spoilt for choice. Grab your bikinis or swimming trunks and swim into the azure waters.
Praia da Falésia is the longest beach here and considered as one of the best ones in Europe. It has extraordinary red cliffs, soft sand and clear blue waters. Water sports like kayaking, parasailing and jet skiing are popular here. Also, a trail above the hills takes you to Vilamoura (a resort town frequented by celebrities).
If the partying gets too crazy and you want some relief, head to Old Town. It has cafes, restaurants and bars where you can drink and still manage conversations.
Also, there are several caves in Albufeira that are accessible only by canoes or kayaks, which is exciting, and the Albufeira bullring is close to The Strip too. Those with a penchant for ruins can visit Castelo De Paderne.
Where to eat?
Seafood is the specialty here in Albufeira, so do indulge in some lobsters, prawns and fish. They are available everywhere- from shacks to the best fine dining restaurants.
Restaurante Dom Carlos is a husband and wife run restaurant known for its seafood-centric five-course meal and delicious cod.
Iguana café is a cafe and snack bar overlooking the bay. Go here for a laidback meal and delicious cocktails.
Vila Joya or 'House of Joy' is a double Michelin Star-winning restaurant that operates from March to November. There are German, French and Asian influences in the menu which are prepared fresh by up to 25 chefs.
The Palacete is a restaurant that serves traditional Portuguese. It's perfect for an intimate dinner with the troupe.
Eurasia is the place for vegans and vegetarians to eat. While Asian and European cuisines dominate, some hearty Portuguese dishes find their way into the menu.
For him?
There are several strip clubs for men in Albufeira- classy and raunchy. The women are gorgeous, and plenty of companies provide entertainment for private parties in apartments and boats too.
For her?
Albufeira has many entertainment nights put together, especially for hen dos. Apart from your usual hot stripper, there are topless waiters who engage in some harmless fun with the bride troupe.
The Portugal Rocks have created a crazy package for the bridal party that also includes cocktail making lessons, burlesque classes and a gin workshop.
Approximate market prices:
Domestic Beer (0.5 litre bottle)         1.00 €
Imported Beer (0.33 litre bottle)      1.50 €
Bottle of Wine (Mid-Range)                4.50 €
Cigarettes 20 Pack (Marlboro)          4.90 €
(Information courtesy: Numbeo)
Barcelona needs no introduction. One of the most well-known cities in Europe, it is a favourite for art, culture and a fervent nightlife.
Where to drink and party?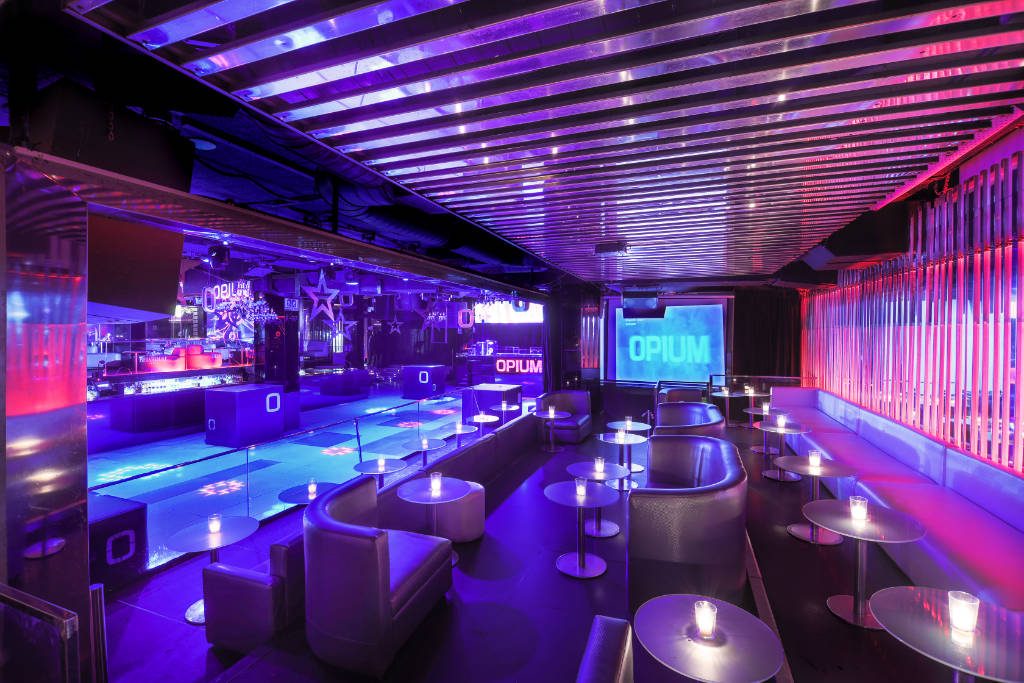 Courtesy: Opium Barcelona
Barcelona is particularly famous for its electronic dance music scene. The Sonar Music Festival is one of the best festivals in spring and has featured some of the world's best artists such as Diplo and Dr Dre.
The city has dozens of nightclubs which play everything from EDM to Indie rock. Opium is one of the most prominent ones. It has a capacity of 3000 but is rarely ever not packed with young partygoers. A host of famous DJs like Tiesto, Avicii and David Guetta have played here.
Pacha is another great club that offers Ibiza style clubbing. On Fridays, the crowd moves to the beats of underground electronic music and is particularly edgier. It also has a terrace and a restaurant that serves Mediterranean dishes.
Espito Chupitos serves 600 kinds of shots. That's quite an achievement. Head here to get hammered quick and easy.
Good to know- Barcelona's parties start quite late (around 2 am) and go on till the morning. So grab a late dinner and head to your favourite club.
What else to do here?
Indulge in football fever of course! Home to FC Barcelona, even the name of the city gets hearts racing for every football fan. Camp Nou is a must visit; While it is expanding to accommodate more people, it should be completed by La Liga 2021-2022, so if the wedding's far off, catch a game here!
The Picasso museum is a must visit and features over 4000 of Picasso's works. The magnificent painter spent his entire youth in the city, and his emotional and artistic connection is visible in the paintings.
The Sagrada Família is the unfinished masterpiece and crypt of Antoni Gaudi. A UNESCO World Heritage Site, it remains popular amongst tourists throughout the year. If you plan to visit here, book a ticket in advance to avoid your time get wasted in long queues.
Barcelona food tour and Tapas is a 3.5-hour long tour where a native guide will take you on a historical journey and make stops at four monumental restaurants. You will taste the best of Catalan cuisine here like cheeses, ham, octopus and local wine.
Speaking of Tapas, you can spend half a day at Núria's home where she teaches Catalan and Spanish cooking. A main dish, two fresh market tapas, and a dessert are taught in each class.
Where to eat?
There's loads to try in Barcelona. The restaurants here offer Catalan cuisine but don't shy away from international favorites like Pizzas.
Head to Can Vilaró for authentic Catalan cuisine
Mescladís offers a menu with dishes from around the world
Try some fantastic fondue at La Cua Curta
Bar Tomás in Sarrià, Platilleria in Poble Sec and La Monroe in El Raval serve some of the best patatas bravas in the city.
Tapeo does the fabulous tapas. Try their Spanish omelette and cured ham.
Bego and Iván are home-chefs that cook fresh paella using Alacant's traditional recipe.
Good to know- If you head here anytime between December and April, the calçots should be the first thing on your mind. Calçots are a hugely loved variety of spring onion. They are mostly charred on fire and dipped into spicy romesco before being served. There are also calçotadas in this season- a special meal dedicated to it organized throughout the city squares.
For him?
Barcelona has many strip clubs that offer pole dances, erotic shows and private dances. The law, however, does not permit the strippers to be fully nude in the club. There's usually an entry fee at the establishments of 20 or 30 € with the price of one or two drinks included. This generally varies from one club to another.
For her?
Plenty of options in the city for women too, the most popular are the hen do packages though. Most provide with your choice of drinks and course meals and sometimes a free entry to a top nightclub in the city.
Approx market prices:
Bottle of Wine (Mid-Range)                      5.00 €
Domestic Beer (0.5 liter bottle)               0.71 €
Imported Beer (0.33 liter bottle)            1.29 €
Cigarettes 20 Pack (Marlboro)                5.00 €
(Information courtesy: Numbeo)
Where to drink and party?
Partying in Bratislava is not as popular worldwide as partying in say, Ibiza is. But this Slovak town has a splendid nightlife scene of its own and partying here is quite cheap in comparison to the rest of Europe. The clubs stay open till the wee hours, and since Bratislava's nightlife is only starting to attract major crowds, you'll find partying here easy and hassle-free.
The Club is the biggest… um club in Bratislava. It's also one of the best. What's interesting is that not only international DJs like Fatman Scoop, Junior Jack and Sidney Samson have played here but also local artists such as Igor Kmeto frequent here too.
Channels Club is located in Bratislava's party area Župné námestie. It is spread over three-storeys- one houses a selection of 17 gins and the other two open dance floors and bars.
Barrock is the place to be for rock lovers. It has a massive variety of whiskeys, and it's great to both dance or just to even sit back and watch sports.
Nu Spirit Club is for those who wish for a slightly less conventional stag/hen do night. It has a rare feature, an underground floor where you can't smoke! Reach here before 10 pm for free entry and relax with jazz, soul and indie music.
The UFO Bar is one-of-a-kind. You take a 45-second elevator ride to a nearly 100 km view of the city. Head here for a quiet evening and watch the sunset as you sip any of their 12 cocktails.
What else to do here?
Climb to a castle- the Bratislava Castle is iconic and a big part of the city's history. A climb here just takes 15 minutes and gives magnificent views of the city. You can explore the castle and visit its Museum of History.
Roam through Old Town, which is actually just a 10-minute walk. But the area houses some beautiful buildings of the city, cafes and the St. Michael's Gate, which has been preserved from Medieval times.
The Modra Vineyards lie on the foothills of Little Carpathian mountain range in Modra, a small town near Bratislava. On the Modra Wine Cellars Day, there is a special all-day wine tasting session held, take this opportunity to taste the region's famous red wine,  Frankovka modrá.
Try a bunch of different alcohol. Slovakia produces some of the unique and most potent varieties of it. Tatratea is, for instance, a tea-based herbal liqueur that comes in 6 flavours and varying amounts of alcohol. The strongest kind, Tantratea Outlaw, contains a whopping 72% alcohol!
Another thing to try here is Medovina or honey wine, which is usually served as a dessert wine. There is also slivovica which contains 30 to 50% alcohol and usually a plum flavour.
See Cumil. Bratislava has some funny bronze statues placed everywhere. Cumil is the most popular though- a man who's been working in the sewers and has popped his head out for a breath of fresh air!
What and where to eat?
Bratislava has a mix of both Slovak and international cuisines like Thai, French and Mexican. But Slovak cuisine is quite underrated, so while you're there, we'd recommend you to try some things native to this area.
Modrá Hviezda takes inspiration from the Bratislava Castle and has been done up in traditional Slovak country style. Go here for a piece of history for your eyes and authentic cuisine for your taste.
Fabrika Beer Pub serves a large variety of Beer and burgers. They brew their own craft beer and also have some tempting Slovakian dishes.
Located at the centre of Bratislava is Zylinder Cafe & Restaurant, a pioneer of traditional Austro-Hungarian cuisine. Try its Slovak potato salad, schnitzel and stuffed pepper with dumplings.
Zelený Rodrigéz isn't fancy, but its food is undoubtedly top notch. It serves traditional Slovak cuisine, so sip on some Slovak wine and pair it with a delicious dish like pork medallions with honey or grilled aubergines and mushrooms.
Bratislava's coffeehouses were to the place to be for aristocrats in the 18th century; Over the next century, World War II and the split of Slovakia and the Czech Republic left them stagnant. However, the coffee shop culture has rapidly picked up again. Stur Cafe is often credited with the first coffeehouse revolution but offers much more. Try a slice of their fresh cake and decadent breakfasts.
St. Germain does some fantastic desserts, particularly a variety of cheesecakes. Pick anyone, and you won't be disappointed.
Soupa Bistro celebrates a staple of Slovak diet- soup. There are at least four soups available that change daily and the main dishes here always include a vegetarian option.
Good to know- Do try Slovak's Bryndza cheese- A crumbly and tangy goat cheese that is used in a variety of dishes such as bryndzové halušky, Slovakia's favourite dish.
For him?
At Bratislava, you won't be disappointed at the variety of adult entertainment. Most strip clubs here work on the 'champagne system', that is, you pay for your drink at the regular price but pay more for the lady's drink (since you'll be using her services). Apply the other standard rules of strip clubs such as tipping well and being respectful and you're good to go for an absolutely unforgettable night!
For her?
There are strip clubs specially made for women in Bratislava. With only ladies allowed, it's sure to be a time to let loose. 4ladies, for example, wants to bring back some imagination and fun into exotic entertainment. Head here to give the bride live some unforgettable times.
Approximate market prices:
Bottle of Wine (Mid-Range)               5.00 €
Domestic Beer (0.5 liter bottle)        0.68 €
Imported Beer (0.33 liter bottle)     1.19 €
Cigarettes 20 Pack (Marlboro)         3.90 €
(Information courtesy: Numbeo)
Cancun is the perfect place for beaches, booze and bikinis rolled into one. Take a place to stay close to the Hotel Zone and you can tequila (yes, tequila) the night away!
Where to drink and party?
Cancun knows how to party. There are so many clubs and each with such a different vibe that you can spend a week clubbing, and you'd find something new every time.
Courtesy: Congo Bar, Cancun
Congo Bar is an open-air bar in Cancun's Party Center. While this isn't really a dance floor, it doesn't hold anyone back. See go-go dancers, shot girls and random bursts of confetti here.
At Palazzo, expect a party that doesn't stop until the sun comes up. There are stripper poles and even stripper pole contests (so if you've got some moves that nobody knows about, now's the time to show off)
The City is the largest club in Latin America. Spread over three storeys, a whopping 5000 people can party here. Besides performances by international artists like Snoop Dog and Fergie, acrobats and dancers are performing in the club.
Coco Bongo is possibly the most famous club in Cancun. A Micheal Jackson impersonator will lip-sync and perform to some classics and a Spiderman will fly across. There's no dance floor, so everywhere is a dance floor.
Enjoy the best of Latin dance styles like Salsa and Bachata at the Grand Mambo cafe. The party will go on until the wee hours and so will your feet.
What else to do here?
Head to Isla Mujeres; it is about 20 mins off the coast. It literally means "Island of women" by the way. And there's a lot to do here- Playa Norte is a pristine beach lined with resorts and you can snorkel and scuba dive in the surrounding coral reefs. There's also a sea turtle sanctuary and the remains of a Mayan temple.
Swim with dolphins! There are plenty of companies that provide such an opportunity. While this is not a conventional activity on a stag or hen do trip, this is great for the time when you're not drinking or well… recovering from it.
You can also take a tour from May to September to see whale sharks. They are the largest fish in the sea (and earth) and can reach lengths of 40 feet.
There are some amazing beaches in Cancun. Playa Norte is, of course, one of them; however, several beaches are not frequented by tourists, these are perfect for drinking a chilled beer, sunbathing or simply enjoying the waves.
Puerto Morelos is a laid back and peaceful fishing village with friendly locals and mesmerising beaches. The Mesoamerican Coral Reef here is an excellent spot for diving and snorkelling.
Playa Chac Mool has small crowds but significant water sport opportunities. You can dive in its clear waters and rent water sports equipment such as motor boats.
Chichen Itza is declared as UNESCO World Heritage Site and is one of the most iconic structures of the Mayan civilisation. It holds the Kukulcan Pyramid, one of the seven wonders of the world. Spend a day here gazing and clicking the amazing ruins and tick a wonder of the world off of your bucket list.
What and where to eat?
This is the time to have the original Mexican- tacos, quesadillas and burritos the way they were made originally.
Lorenzillo's is a must visit. It is more than 300 hundred years old and has its own lobster farm with a capacity of 20,000 lobsters. Have them steamed, stuffed or grilled; there's a menu here that's full of choices.
At Du Mexique by Sonya Grimond, there's a mix of Mexican dishes and French techniques. The atmosphere is cozy, and if you can grab a table, you get to experience the personalised service of the owner and chef themselves.
La Destileria is the place to be for both traditional and modern Mexican in a quiet setting. (If you need some encouragement- there are more than 100 brands of Tequila served here)
Parque de las Palapas isn't a restaurant but a park lined with stalls of street food vendors. Everything is excellent here but don't fill up on one thing- try quesadilla, Mexican cakes, empanadas and marquesita( a wafer snack filled with cheese).
Had enough of Mexican? Thai Lounge in the La Isla Shopping Village serves classic Thai dishes. It overlooks the Nichupte lagoon, so you'll have a great view to go along with the delicious food.
Elefanta also has a similar view of the lagoon but does Indian food. This place is a great option for vegetarians and vegans as Indian cuisine is full of vegan recipes.
For him?
Latin women are some of the most beautiful women on earth. See them at Dassan Gentlemen's club, Kiss and Divax- some of the well-known strip clubs here. Most of the strip clubs here have a bachelor package to make your trip extra special. We do like everything Cuncrawl's bachelor package has to offer, but the company does not have female strippers, so if you are hell bent on getting one, you'll have to arrange from elsewhere.
For her?
There's plenty of your kind of entertainment here. As mentioned before, we love Cuncrawl's bachelorette package. It offers entry to 3 bars or clubs in Cancun, Unlimited bottle service in at least 2 of the clubs, bachelorette goodies (fun and erotic), a variety of drinks and oh, a stripper.
Approx market prices:
Bottle of Wine (Mid-Range)               150.00 MXN
Domestic Beer (0.5 litre bottle)        20.45 MXN
Imported Beer (0.33 litre bottle)     34.40 MXN
Cigarettes 20 Pack (Marlboro)         55.00 MXN
(Information courtesy: Numbeo)
We know Morocco as a stag/hen do destination has its inhibitions. But hear (read) us out. A stag/hen do is essentially about bonding with your gang and having a great time. This is the destination for kids on Santa's nice list but Marrakesh has a mesmerising culture and amazing nightlife.
Where to drink and party?
Experience nightlife 'The Oriental Way' at Azar. The restaurant is done in ivory and deep red with a Moroccan-Lebanese vibe. There's beautiful belly dancers and plenty of shishas to smoke. Every Friday and Saturday, a DJ plays in the lounge.
Jad Mahal has a mix of Moroccan and Indian decor. The menu includes dishes from a range of cuisines. There's live music, fire breathers and belly dancers here. What's not to love?
Lotus Club is home to great food and fabulous dancers. Along with resident DJ and live guitar shows, international artists perform here every month. Go here to find who are the 'Oh la la' dancers.
VIP Room is one of the best places to party in Marrakesh. It does get crazy here with dancers and performers. Enjoy techno music and fusion here.
Theatro is a must-visit on weekends. There is also a ladies night every Tuesday, theme parties are common and some of the best artists performing frequent.
What else to do here?
Visit the Jemaa El-Fnaa, Marrakesh's town square. In the day there are morning stalls that sell spices, orange juice and snails. In the night, the area comes alive with snake charmers, acrobats, dancers and fire-eaters.
The Bahia is a palace and surrounding gardens that took a long 14 years to build. It was intended to the grandest palace of its time. There are rooms divided according to administrative purposes and open into a vast courtyard. The entry here costs 10 MAD.
The Jardin Majorelle pleases nature lovers and artists alike. French painter Jacques Majorelle spent 40 years to bring it to life, and it remains some of the most famous attractions in Morocco. It is perfect for some quiet and calm in the busy city.
A hammam, that is, a bathhouse is another unique Moroccan experience. You can visit any of the many hammams in Marrakesh. Go here, strip down and indulge into massages, and saunas.
Saadian tombs, the final resting place of Saadi dynasty's rulers, is located just out of Marrakesh and is quite easy to reach. Beautifully decorated with mustard and blue tiles, visiting them is a distinct experience.
Tanneries are a great insight into the making of local handicrafts, clothes and bags. It is situated in the northeastern medina, and you can watch tie-dye happen here.
What and where to eat?
Morocco has soulful food that's full of flavour.  Influence of North African culture combined with young chefs venturing out into French and Italian cooking has resulted in a food scene that's flavoursome and exciting at the same time.
Grand Cafe de la Poste serves classic French dishes and a hint of modern international cuisine. The cafe was originally built in 1925 as part of a post office. The night are filled with jazz, candle lights and delectable food.
Terrace des Epices is another perfect place to forget your worries. A rooftop cafe designed by Anne Favier, the young staff and hip music keep the place young. There's a mix of Moroccan and International cuisine here.
Riad Kniza is one of the best places for traditional Moroccan food. Brought to life by some of the best-skilled craftsmen, it is part of a Haj Mohamed Bouskri's luxurious hotel.
Cafe Arabe is the perfect place for fine dining. Beautifully designed with deep reds and golden lamps, it serves Moroccan and Italian cuisine. There are fountains, lemon trees and alcoves. Groups can take up the Berber Lounge, drink Moroccan wine and pastries.
Approx market prices:
Bottle of Wine (Mid-Range)                49.50 MAD
Domestic Beer (0.5-litre bottle)         11.18 MAD
Imported Beer (0.33-litre bottle)      20.50 MAD
Cigarettes 20 Pack (Marlboro)           33.00 MAD
(Information courtesy: Numbeo)
So go ahead, get the gang together and get the most out of your single days!