Contrary to popular belief, children's fun is not limited to amusement parks; A sense of wonder and excitement is the best way to capture their attention. And amusements park are only one way to do that.
The best family vacations are those that provide knowledge, fun and wonder at the same time. A great destination that broadens your children's horizons (and maybe yours) and quite possibly help create future 'citizens of the world'.
So we put together the best destinations to take your child and show them an entirely different world. Your children will be laughing with glee all the time and won't even realise how much they have been learning!
Bali, Indonesia

Bali has something for everyone- you may be going on your own or with your children, you will find something that you'll love here.
Waterbom Bali is considered one of the best water parks in Southeast Asia. Its maintenance meets the strictest international safety standards, and the water-sanitising techniques are skin-friendly, so you don't have to worry exposure to harmful chemicals. There are small rides available for little ones and big adrenaline-pumpers for enthusiastic teenagers. The tickets cost around IDR 350,000 (21.7€) for a single day pass and IDR 650,000 (40.4€) for a two-day pass. There are also packages available for children that offer discounts.
Bali has a host of beaches, and while all of them may not fit for children, most beaches in Bali are child-friendly; Tanjung Benoa and Mengiat beach, for example, both have calm waves and shallow waters making them an excellent choice for a family beach day.
The Elephant Safari parks in Bali not only allow riding an elephant through a forest but also feeding and washing them. While these activities are exciting for adults, often, small children are scared of animals, this is a safe way to show them that animals can be friends and early interactions such as these also help inculcate a positive relationship with them.
After, treat your children at the open-air pirate-themed restaurant Pirate's Bay Bali. They have an oceanfront playground, a big pirates ship and tree houses that will make your children's lunch fun.
Hong Kong
A trip to this city will be one that your children will always remember. I went twice myself as a child and still cherish the moments of those vacations.
Ocean Park is definitely a favourite. There's a lot to do that will excite children and parents alike. The 'Amazing Asian Animals' at the waterfront has Giant Pandas and Red pandas. There is a bird theatre show that comprises over 70 different species of birds. A cable car ride takes you from waterfront to the summit part of the park where there is a parachute ride. All in all, ocean park is the perfect place to see some of the world's extraordinary creatures and take part in their conservation.
There are also flower festivals held every year in Hong Kong, so if you're there when one is going on, do go! It's fun to see humongous figures like Mickey Mouse and dolls constructed entirely out of flowers.
The Kowloon Park, located in Tsim Sha Tsui, is a great visit any day. There are above a 100 bird species in this park- flamingos, parrots, swans and ringed teal ducks. Take the iconic Star ferry to reach Kowloon from Hong Kong Island.
Hong Kong Disneyland is of course a must visit. Besides rides and rollercoasters, there are several shows conducted throughout the day- A Festival of the Lion King, Moana- A homecoming celebration and a Disney Paint the Night Parade. There are plenty of accommodations inside as well as dining options (including a 'Chef Mickey' meal). Breathtaking fireworks are held at the amusement park closes at the end of each day.
Tokyo, Japan
While fluorescent lights and wacky themed restaurants do come to mind when one thinks of Tokyo, you will actually be surprised how child-friendly the city is. Besides the usual amusement parks, Tokyo has several museums that host activities for children and teenagers-
Nara Park has about 1,500 wild deer. You can feed the deer by purchasing deer food available around the park. This is fun for both children and adults. However, you need to be careful as deer can get excited looking at the food.
The Todaji temple, also located in Nara, houses a Buddha weighing 500 tons. A wooden pillar here has a hole of the size of Buddha's nostril at its base. It is believed amongst the locals that those who can fit through the tunnel will gain enlightenment in their next life. Besides experiencing some spirituality and calm at the Todaji temple, this is an enjoyable competition for the family to do as children often fit through it, but adults don't.
Tokyo's Disney has something in store for children, teenagers and parents alike. Disneyland Tokyo caters well to children- there are carousels, tree houses, roller coaster rides and even a haunted house in it. The Tokyo DisneySea, on the other hand, is the ultimate thrill for teens and adults with intense and adventurous rides, The Magic Lamp Theatre and a steamer ride.
Hitachi Seaside Park is quite famous amongst families. It has a Ferris wheel, a vast playground, bike roads and water playgrounds. There is a field too lined with millions of flowers. Spend an evening here when sightseeing seems too much work.
Samurai Museum celebrates the history of Japan and the Samurai culture. Children can dress up in samurai armour and watch sword-fighting demonstrations. What a fun way to learn history!
The Mitsubishi Industrial Museum in Yokohama is a hit for any child who loves transports. It is a technology museum that offers interactive activities for children and prototypes of jets and submarines.
Fire Museum in Tokyo lets children dress up as a fireman and play with fire trucks. Dedicated to firefighters of the city, most exhibits come with English language guidance, and there is no admission fee!
The Cup of Noodles Museum in Yokohama loves to hosts kids. There is an entire ride that gives a virtual experience of being a noodle- from manufacturing to shipping. And of course, children can make their own noodles here.
Jaipur, Rajasthan
Jaipur is a great place to discover the rich history of India. Founded in 1727 and it is named after Maharaja Jai Singh II who was the Rajput ruler of Amer. After India's independence, the city was declared as the capital of the state of Rajasthan. There are many forts and palaces in this city; in fact, a part of Jaipur is still a royal residence.
Amer Fort is made from marble and sandstone and is located about 11 km away from Jaipur and is one of the main attractions of the city. It overlooks the Moata Lake, which was its principal source of water. There are English-speaking guides also available that offer a tour and explain the different parts of the forts and each one's significance.
Amer Fort
Hawa Mahal was built in 1799. It has 953 windows that allow cool breeze to blow into the castle. It was built so that female members of the royal family could watch processions and street activities without being seen by those outside.
Chokhi Dhani is probably the best place to soak up the flavour of Rajasthan in one night. It is the mock-up of a traditional village about 15 km away from Jaipur. There are exciting traditional dances, puppet shows, fire dances and camel rides. They also serve dinner- a thali which is an assortment of Indian dishes. The thalis are quite large, so it's best to share one among you and your child to avoid wastage.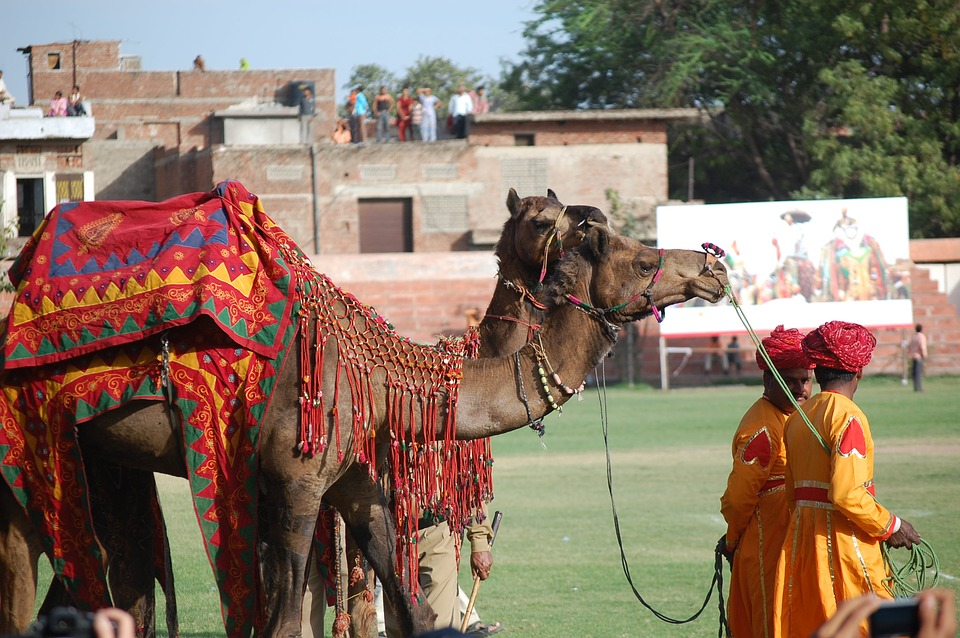 The Jal Mahal or the Water Palace is a beautiful sight. This low-rise palace is made out of stone and sits at the centre of Lake Sagar. While it once served as a shooting lodge for the Maharajas, it is currently under renovation to become a luxurious restaurant. However, it makes a picturesque spot even at a distance as the blue of the lake strike against the faded light sand of the palace.
Cairo Egypt
This will be a favourite for history buffs. The rich culture and history of this beautiful country will be fascinating as well as knowledgeable for your children.
Till date, 130 pyramids have been discovered in the country. The Great Pyramid (and Sphinx) of Giza is one of the seven wonders of the world, and a must visit destination. It is right next to Cairo, so travelling won't be a problem. Get a camel ride to discover the Giza complex.
The Papyrus Museum offers a unique insight into the production of paper. Egyptians gained a monopoly on producing papyrus paper which they discovered in 3,000 BC. The paper comes from Cyperus papyrus, a long-stemmed plant that grew in the Nile delta of Egypt. While the plant was primarily used in the production of paper, it was also used to make baskets, ropes and tables. After hundreds of years, this lost technology was rediscovered, and kids today can themselves take part in the production of this paper.
Dr Ragab's Pharaonic Village is a treat for anyone who enjoys their history. It is a re-enactment of ancient Egypt where employees dress as King Tut and Cleopatra and do rituals, meetings and play the lives their muses had lived.
The Egyptian museum or The Museum of Egyptian Antiquities is a house of knowledge of the ancient civilisation. There are sculptures, coins and artifacts, amongst many other things. This destination also gives your family to see a real-life mummy! The museum has a mummy room that displays not one but 11 of them. There is also a lego version of King Tut; if that isn't kid friendly, what can be!