Are you tired of the same old, ordinary looking, boring house? Are you daring enough to take your interior to an entirely another level? Yeah, that sounds like a stodgy infomercial but it's about to get better! Make your interiors stand out by revamping your staircases and unleashing your crafty soul which had been caged since forever.
Here's the backstory: we stumbled upon this woman's DIY staircase in which she painted the covers of her favorite books on each of the risers, and we fell in love!
And so, us creative Sparrows thought to bring you that, and more, with a list of super easy DIY staircases that would make your guests stand and stare at your stairs in awe.
1. Chevron
This project requires commitment, but trust us, the end result is going to be worth it. All you need are your paintbrushes, some painter's tape, a stencil, and some paint, of course and you will be good to go. Feel like you really need this in your house, and your life?
Wondering how to do this? Look no further than here.
2. Washi Taped
This one here is easy, but it looks like you've put a great deal into it? Is that a win-win? Yes, it is!
Washi Tape your staircase by following the instructions from here.
3. Chalkboard
This one has got be our favorite! Not only that it looks super creative, it can also serve as the perfect way to remind you of things that you always forget, or to motivate you at every time of the day like it does in this picture. Plus, all you need for this is Chalkboard paint. Yes, that's it!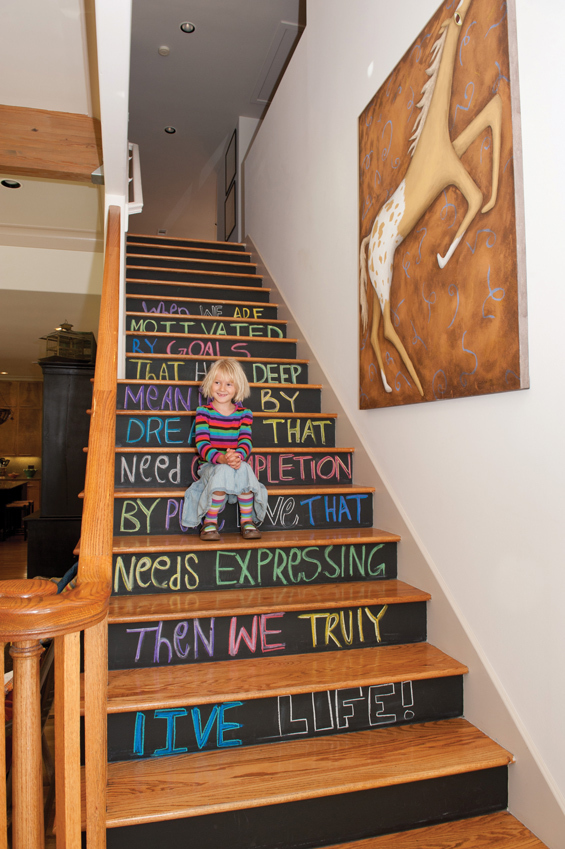 Found on this blog right here.
4. Mirror
Use these adhesive mirrors on each riser to make your staircase look like one straight out of a disco.
Photo Courtesy – Buzzfeed
5. Ombre Staircase
Make your staircase uber chic by painting the risers in ombre – choose consecutive colors on the same paint strip. As for the stairs in the picture below, five shades are used, on three stairs apiece. A small, angled brush is best for edges; use a larger brush to fill in.
So yes, make your house stand out from the rest and bask in the glory of all things good and beautiful!
Featured Image Courtesy – Demilked