We all love staring at empty walls when we have super important things to do. But empty walls aren't exactly the ideal surfaces to get lost in. How about we invest in a few pies of art by Indian artists and wander within them instead?
The easiest way to liven up a room is to add a spark – and a spark that us sparrows are totally in love with? ART!
So here is a list that will help you get started with your own collection of Indian art!
1. The Cultural Painting
For those who love to get some insight into Indian culture time and again, here is a beautiful oil on canvas by Yashwant Shirwadkar. He has beautifully brought in Banaras' chaos and culture in this one scene from the ghats with its vibrant colours. One almost feels like they can hear the sounds and easily walk into the painting and live the moment.
Artist
: Yashwant Shirwadkar
Title:
Banaras – 6
Medium
: Oil on Canvas
Size:
24 x 24 inches
Available at:
Indiart.com
2. The Religious Space
If you would like some quiet and peace in your life, then what can be better than a painting of Lord Buddha and his followers? The beautiful tones in the painting will give a warm glow and serve as a masterpiece in any space with its imposing size.
Artist: Vijay Kulkarni
Title: Preaching of Buddha (Ajanta series)
Medium: Acrylic on Canvas
Size: 48 x 72 inches
Available at: Indiart.com
3. Abstract Space
This painting is a beautiful and abstract one that can be perceived in many ways; be it in the general context of women or their sexuality. A powerful and eye-catching piece of art, it can serve well for a studio or even your own bedroom as a statement piece!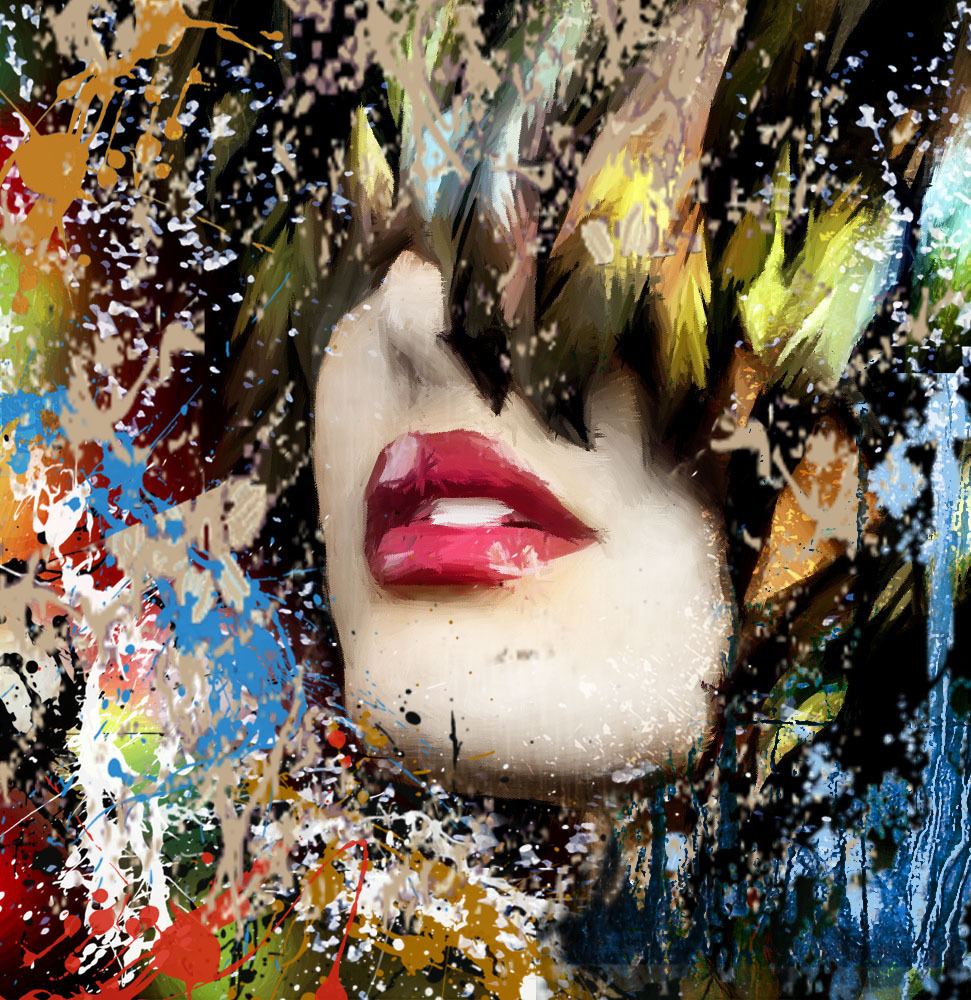 Artist: Community Artists Group
Title: 56Figure01
Medium: Oil & Acrylic on Canvas
Size: 32 X 32 inches
Available at: Fizdi.com
4. M.F. HUSAIN
When talking about Indian artists, it would be a sin to not mention M.F. Husain. Here is a very minimalist approach by him to depict the street culture towards women in India. It may be subtle because it is in shades of grey but it surely packs a powerful message.
Artist:
M.F. Husain
Title:
Culture of The Streets
Medium:
Watercolour on Paper
Size:
22 X 15 inches
Available at:
Mojarto.com
5. The Indian Edit
When we talk about the most iconic Indian artists, one cannot forget Jamini Roy. His paintings are recognisable from a mile away like this Untitled piece with its Durga Maa inspired eyes and simple yet powerful colours and forms. If you want to be known as an art lover and want to flaunt it, then what better way than to pick a painting by an artist so easily recognisable and appreciated!
Artist:
Jamini Roy
Title:
Untitled

Medium:
Gouache on Board
Size:
27 X 15 inches
Availability: 
Mojarto.com
6. For The Bachelor Pad
Say you want to liven up a bachelor pad in style? What better way than to bring in this vibrant painting of Robert Downey Jr. into your room! He will not only add the exact amount of Iron Man awesomeness to your space but will also inspire you to be a genius, billionaire, playboy and philanthropist just like him.
Artist:
Jay Ramani
Title:
Robert Downey Jr.
Medium:
Watercolours and Acrylic on Paper
Size:
21 X 26 inches
Availability: 
Fizdi.com
7. Quirky Settings
Looking for a piece to liven up your kitchen? How about a cup of tea for that? Literally everybody loves chai and this hyper realistic painting of a cup of tea is probably exactly what you need to keep you going through the day!
Artist:
Community Artists Group
Title:
Bed Tea
Medium:
Oil and Acrylic on Canvas
Size: 
24 X 24 inches
Availability: 
Fizdi.com
8. For Those Who Like A Twist
There is a housewarming party that you have to attend in the coming weeks and you are absolutely clueless about what to get as a present? A good bottle of rosé probably? This painting is the perfect way to give a sophisticated twist to any living area. You can get it for your own bar area or gift it to a friend if you are feeling generous enough!
Artist:
Community Artists Group
Title:
The Toast- 2
Medium:
Oil on Canvas
Size:
24 X 36 inches
Availability: 
Fizdi.com
9. Monsoon Diaries
If you are also a lover of rain and petrichor, then this painting will bring in the feeling of monsoon indoors with its sensual and realistic approach. It is a beautiful piece of bold art that can bring character to almost any mundane room in your house or office.
Artist: Kamal Rao
Title: Baarish
Medium: Oil on Canvas
Size: 48 X 36 inches
Availability: Artzolo.com
10. The Traditional Miniature
Without any traditional painting, this list could not be complete. This miniature painting by Rajendra Khanna is done in the traditional Pichhwai style from Rajasthan that depicts the life and times of Lord Krishna. It is a beautiful piece that will bring in a holistic aesthetic to your traditional décor.
Artist:
Rajendra Khanna
Title:
Krishna Nauka Vihar
Medium:
Stone colour on Cloth
Size:
60 X 36 inches
Availability: 
Artzolo.com
These paintings are all rooted in India and reflect our lives in some form or the other. They will not only bring in a certain vibe to any space you put them up in but also bring in a piece of India as we know it and some amount of nostalgia with it.
All images courtesy of respective artists