Scoot Art is a newly opened platform for showcasing the talent of budding fashion designers and artists. Inspired by the stephanie of a scooter, symbolising the backstage of the film-making profession, Scoot Art gives a creative frontstage to the hardworking backstage innovators or in this case the young artists who are the backwheel of innovation. Represented by a speed meter inside a stephanie covered with glass for a table, the creativity of fresh talents reflects the heartbeat of uninterrupted success.  A unique "Steaphanie of the Month" title is given to the best designer depending upon their creativity.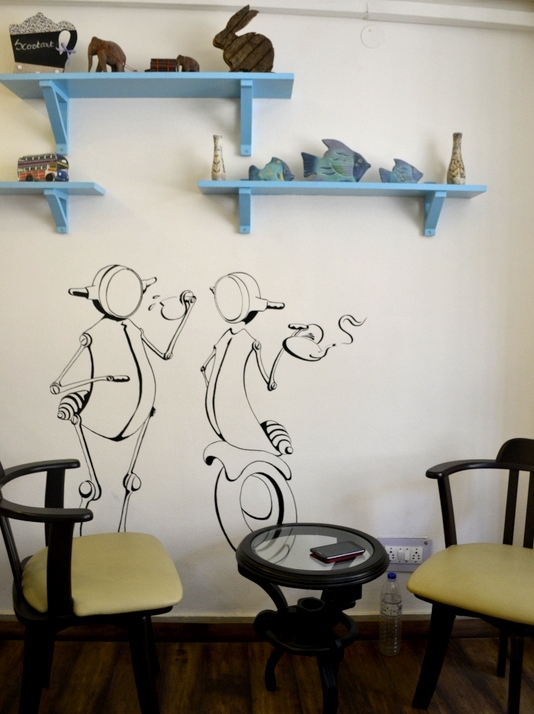 Scoot Art is owned by a team of leaders who were earlier in the advertisement industry.Their curious tagline "fashion cha" means fashion chai or tea. Scoot Art serves it's own special 'Scootea' which is indeed very delightful. This place is one of the few designer showrooms that incases fashion/travel/cinema books. They also conduct workshops for writers, photographers, artists and designers; to support the growth of their initiative to hone rising talent among amateurs and  budding artists. They take in students as interns as well.
The interiors of Scoot Art are of course based on the theme of a scooter, with retro scooter-like sofas, wall paintings of Classic Lambretta, labels of art,fashion, cinema, cha, hand crafts, scooter, and roots on the trial room doors to signify their motifs. One of the owners said and I quote, "Creativity lies in the roots", which is yet another inspiration. As you step outside, you will find an untiring man behind a podium signifying the very of essence of Scoot Art.
Written By| Lakshita Joshi
Photographs By| Shruti Maheshwari